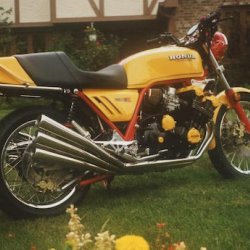 Moo Strength
Beaverton, Oregon (via Pickerington/Bexley Ohio)
MEMBER SINCE June 19, 2015
I'm a former tOSU student, and I also worked as a System's Specialist for CAMM, a research group in the Mat Sci & Engineering department under Dr. Fraser (former Buckeye Simon Fraser's father). My wife is also from tOSU, she has her Bachelors, Masters, and PhD from the Mat Sci & Eng department.

We both work for Intel here in Portland OR as Engineers, she's used to be pre-Silicon in fabrication, and now works in final approval for all chips... I'm post-silicon in functional validation. I test and verify that a new as-yet-to-be-sold CPU line works with all the components and peripherals on a computer platform (USB, Video, Audio, etc). I've been in the IT/IS field for the better part of 25 years, and I'm happy to help with any computer questions if someone here needs it.

There's quite a few Michigan Alumni here at Intel, and we regularly give each other a hard time when we see each other. I try not to stomp on them too much since they have a lot more to be sad about then I do, and like me, we tend to root for each others team all but one day each year, since it doesn't do Ohio State any good to beat a 2-9 Michigan team in the polls.

We have two boys, born in 2012 and 2017, and both wear Buckeye gear far too much. There's no mistaking that my kids like Ohio State thanks to all the clothing outfits they get from extended family and friends.

My older son always wears his J.T. Barrett home Jersey on Friday's. If I'd let him he would wear it every other day. He's getting a Dobbins jersey for his birthday in 2 months... He frequently plays basketball and football and pretends he's Ohio State playing Michigan or Clemson. He also calls Michigan Meatchicken on a regular basis. Since my younger son is just a baby, he's not yet pretending to be someone from Ohio State, but my older son routinely says that "Ethan michigan'd his pants" when referring to poop.

I'm an avid vintage motorcycle collector, as my avatar is actually one of the bikes, I inherited the interest from my late father, who when he passed away in 2009 had over 180 vintage motorcycles. I also enjoy reading about history, aircraft, military, and science. I am a huge fan of Mp3 music, having been making my own MP3's since the late 90's before most people knew what they were...
Favorites
SPORTS MOMENT: Close tie....

a) sitting in the A section for the OSU Michigan game in '06 with my future wife.

b) flying the OSU flag all week after beating the locally favored Ducks after the 2015 CFB NC when all my neighbors kept telling me how bad Oregon would smash Ohio State.
COLLEGE FOOTBALL PLAYER: current: Nick Bosa or JT Barrett, past: Orlando Pace or Joey Galloway
COLLEGE BASKETBALL PLAYER: none
NFL TEAM: Browns :sigh:
NHL TEAM: none
NBA TEAM: Cavs (with or without Lebron)
MLB TEAM: Indians
SOCCER TEAM: Barcelona/ManU
Recent Activity
Holtmann was like "Coach Day, hold my beer"
Agreed
"You don't smack the bear in the face when it decides just to take your salmon instead of your life."
i am totaling stealing this line, though I'm curious where you heard it first, that's quite original!
What possible benefit does Chase gain playing against what amounts to an FCS school caliber program (and a crappy one at that). Young doesn't seem to care about accolades or trophies, he seems to care about what he can do to help his team.

he's playing this Saturday at Rutgers offers no tangible benefit, and all it does is open himself up to the possibility of an injury that occludes him from playing in the much more important Penn State and Michigan games.
I'm convinced that people who write up these preseason top 10 posts are either morons or high, because they have absolutely no credibility whatsoever. It's like me trying to pick what the temperature is going to be next year every day of the week next year in March.
Translation:
LSU/SEC "slurp, slurp"
Apparently getting the snot kicked out of you to a shitty SC team (Georgia) is better than losing to a 2 Loss Sec Team (Oregon)
Apologies, but having 40+ points scored against you is not what I would call a quality win. OSU would flatten both LSU and Alabama frankly.
There are honorable journalists, the problem is the few bad ones get far more press than the vast majority who screw it up for everyone else.
that being said, I think the bar on what's acceptable decorum in journalism has been lowered from where it was 20+ years ago. It seems the ethics behind journalism has become incredibly flexible.
Brett would claim the "agent" was Putin just to make it look worse
How the heck is Westerville South Division II???
Fixed LOL
Beat *ichigan
F**K TTUN Up
That's like straight out of Gladiator when they had that CGI shot of the Coliseum, only better.
I can't wait until we stomp both Alabama and/or Clemson this year if we see both/either in the CFP... (fingers crossed), and officially push both of them off the pile of CFB skulls.
Day is building a monster dynasty. Considering how Urban started, Day I think is going to surpass what Meyer did.
That being said, if we land 6 five star recruits (assuming none drop/rise), that would be incredible. AFAIK only Clemson has ever signed 6 five stars right?
The ACC has routinely been a pathetic conference. It's filled with legacy great teams like Miami, V-Tech, and FSU, but all of those teams are shadows of their former self. They're like the Nebraska of the ACC or the Texas of the Big 12
When I watched Mike Vrabel years ago, I got the distinct sense that he wanted to drive his own ship, and not just stay in his own lane.
Listening to Hafley and Hartline, I think they may very well be content to stay at Ohio State for over 5 years. Both remind me of Johnson or Venables. They are both phenomenal coaches who seem content to simply be the top tier in their field.
AFAIK, Hafley has never done anything but DB/DC and Hartline is too new for much history.
I wonder if Hafley is looking at the sheer plethora of talent coming in and also looking at the past failure of say someone like say Chris Ash as a cautionary tale....i hope he continues to be content roaming on the defensive side and not putting on the head coaching cap.

We're also very fortunate to have Washington at LB
the only one I'm still a little concerned with is Alford. I think our RB success is more due to Wilson than anyone....and I wonder if our recent struggles with several RB's is somewhat related to Alford.
If Michigan thought 62 points was bad with 39 for them, wait until they have 62 points scored on them with only 10 points for themselves.

and Wisconsin has to be delusional, the last time we played them in a dome we hung 59 on them, and the 2019 team is significantly better than that one....
I agree, Wilson is electric with the ball, I want to see him field more punt/kickoff returns.
There isn't a position we don't send anymore, QB was the only one missing really thanks to that asshat Art Schlichter
Agreed, it's talent by attrition. There's just too many premiere athletes on Ohio State
A talking pig > Bert
seriously
I've seen worse, but only when it's intentional.
Oregon has more of those by far, and personally I see a lot of Heffers in the stands at Wisconsin frankly.

it's like 4-H heaven up there in cow land
While there are many reasons to hate Wisc, I have to give them props for their 4th quarter Jump Around tradition. Started in an era when Rap was still greatly frowned upon by the old fuddy-duddy's, that is one of the earliest big places I can think of embracing a hip-hop/rap song at a major venue, and it is well worth the trip to Camp Randall to see at least once in your life, though sweeter when they're getting beat by us.
I agree. It's almost like some mad scientist merged Terrelle Pryor's speed, Braxton Miller's agility, JTB's toughness/leadership, and some roots of Haskins maturity and accuracy and said "viola". Maybe in another year he'll develop some of Cardale's moxie and Cannon strength... I'm not sure he needs it, in 6 games I've never seen a better QB1 come out of the gate as developed and with as much ceiling as JF has.
if he stays healthy and we can get two more years out of him, I'm thinking he could go down as the greatest ever.
It kind of makes you wonder what in the heck Kirby Smart was thinking and not fighting to keep him around.
Wait, does Fox actually tell us when we can play the game? Who controls that if not the team?