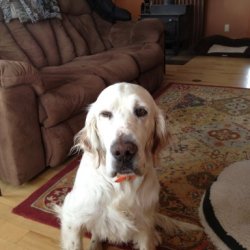 Montana silver bullet
---
Clyde Park, Montana (via West Portsmouth, Ohio)
MEMBER SINCE February 09, 2014
Born and raised hardcore Buckeye fan with an autographed picture of Woody Hayes on the fire place mantel, moved to Montana in '88. Wife graduated from Penn State. House divided one day a year! We put our T.V. up in August and take it down after the Superbowl, just use it for football, ESPECIALLY college ball! GO BUCKS!!!!!!!!!!
Favorites
SPORTS MOMENT: 2015 NCG
COLLEGE FOOTBALL PLAYER: Chris Speilman
Recent Activity
He's 13 living in mom's basement-
Haskins wasn't responsible for the defense. His stats are still bright and shiny-
Williams needs a nickname along the lines of lawn boy or daisy cutter, boy is going to mow some linebackers down-
One of the DJ's at a local free format radio station played that Friday and I thought that the song still applies today
Sir Grateful, sup dude? Hope things are going great for you and your wife!
No way a normal schedule happens, but I'm holding out hope for a conference schedule that starts late at least-
Coach Mick has a hell of a challenge right now. Got to think outside of the box, for sure.
……………..so your saying your not impressed with the medical and social insight of geniuses on a sports fan website?
And then there's Andrew Norwell To throw a monkey wrench into things
Still some folk that think it will be a normal season-
Thanks for your effort! The days of winning big with a conservative offense are long gone, Kirby needed to step up his game. Don't know if Monken is the answer but at least he's moving in the right direction.
Not everyone is on Instagram. I'll check back in later to see if someone explains the story/situation.
So is the song of the day
Sure hope Crowley is good to go by August. Sermon, Steele and Crowley plus Williams coming in gives Alford some depth and competition. Teague probably won't be able to be effective until mid season at the earliest. I was really looking forward to him putting on a Master class.
Day late and a dollar short, games passed him by
Or maybe that deciphering your prose is a challenge
Silver lining-
Seems like someone always gets injured in the spring.
David is ahead of his time! Thanks for the sensible chuckle-