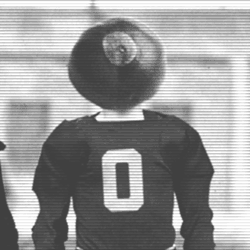 Moneymike
---
from Ozark,Alabama
MEMBER SINCE March 31, 2016
Recent Activity
Lejond is playing corner at IMG
Read somewhere ...I believe bucknuts that the staff isnt sold on him
Wiltfong did say he didn't think he would be a draft pick
Seems like they just dont want to make browning a champion without making tuf one. The one browning got is the Cincinnati game and that's the only one tuf got. Harrison was out of position a good number of Times but was still a champion.
Some people just hate the thought of tuf being negatively talked about. Tuf gets outran, ranover and barely makes plays. Being in position means nothing if you cant make the play. All the plays browning makes and you search for one bad play by browning, and they say that's the reason he isn't starting? Ok
Olave transferred schools and had to sit out. That's why he was rated so low.
Overrated coach
Even the teams you want to consider bad would still whoop the majority of the country. So not really bad logic.
If its Georgia,Florida,California or texas. Just go ahead and assume great competition.
I did and they dont look great. People keep trying to overrate them because its cincy and luke fickell
Haskins most definitely didnt learn anything about being a passing QB from JT
They always rotate 3...Swift played alot when chubb and Michel were there...and they still do a better job of getting the 4th and 5th back touches
They will play at Georgia way sooner than at Ohio state. Georgia rotates 3 backs and still gets the 4th and sometime 5th back some burn. We have a hard time splitting time between 2 backs and when Weber was hurt instead of letting another back get those touches they ran dobbins almost 40 times.
if you asked urban he would say JT was better than haskins
It was reported on other sites when the first team defense first came on the field it was Pope not Werner that started out with them
They rotate 3 backs in effectively
This is the internet, no way of knowing that.
They signed 21 in 2018 and 24 in 2016
I personally think they only took him because they didnt expect oline recruiting to go the way it did
I read that Edwards is the top target on the RB board
Osu I think
The boarding house said someone around him reached out
I live in Florida and love every second of it. In Jacksonville all we get is some rain at the most. No reason to really evacuate here but some still do
I've seen multiple insiders say he was a reach and they were surprised he even got an offer
I honestly think they only took him because they didnt know how the class would turn out. I bet knowing what they know now they would've never took him. He should get a nudge to look around. That spot could go to a way more talented player