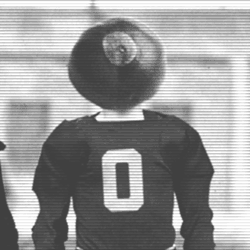 MoneyMac
---
Milwaukee (via Cleveland)
MEMBER SINCE May 13, 2016
Favorites
COLLEGE FOOTBALL PLAYER: Ted Ginn Jr.
Recent Activity
Michael Thomas has been annoying for a while now
Any chance Jaelen Gill gets a crack at running back or has he been relegated to WR/H-back? He was recruited here as an all-purpose back
I'm hoping Tyreke Johnson bounces back from injury. He was a 5-star from the same high school as Shaun Wade so he has the pedigree!
I'm not crying. You're crying
I just don't understand how the SEC has so many BS advantages like this yet nobody bats an eye. How isn't this a conflict of interest?
Why are people downvoting this? This is hilarious
I was upset we lost the one seed at first. However the more I thought about the matchup with the Clemson the more fired up I got for revenge. I want the Bucks to absolutely DESTROY Dabo and the rest of their arrogant fan bases hopes and dreams.
Those are some pretty unbelievable stats
Last time we played Clemson the writing was on the wall that we were gonna get embarrassed. Nothing about this team says they would get embarrassed, let alone lose to Clemson
This is huge for the Big East. Now add Syracuse and the BEAST of old will be back.
At least one of our Bishop Gorman prospects worked out!
In all seriousness, I was so psyched when he committed without ever visiting. He looked like the real deal then, and has obviously put in the work to become a solid college ball player.
What did his mom say? All I was her calling out an unknown "liar".
I actually feel horrible for Tate. Imagine waiting and putting in work for two years, finally seeing the light at the end of the tunnel, then having the entire fan base turn on you once a new prospect becomes available. On top of that, your biggest fan, Urban, is seen chumming it up at a b-ball game with Fields. I don't blame him for leaving and actually will be pulling for him wherever he ends up.
That's what I was thinking. His Nike SPARQ scores were off the charts in high school. There's gotta be a place on the field for someone like that at wr. If he ends up losing the competition, hopefully he realizes his shot at the NFL is at wideout.
As much as I despise ND, I actually want them to beat he who must not be named.
Anyone else think Ryan Day looks like the Property Brothers?
I've been thinking a lot about this lately. Imagine if Haskins was starter last year or even 16. We wouldn't have won in 16, but he would've had time to mature and gain experience. With a full year under Haskins belt, I think they win and 17 and/or 18. Oh well...
Anybody else feel slightly cheated? These last four years we only got to see one team, which ironically was the least deserving, in the CFP. I'm not blaming Urban at all, it's just not fair we never got to see another one of his teams compete against Alabama. What he's accomplished in his short career is virtually unmatched, and he deserved another shot at greatness these last two years. It's not fair that we never got to see him and his players ball out when it matters most.
PS - my saying "it's not fair" is the epitome of a spoiled fan base lol
I used to think he was a boss for how he basically told ESPN to get lost making the B1G a ton of money in the process. Now, not so much. We need someone like the Big 12 and SEC commish who will go to bat for us.
Would it be possible for us to play Georgia?
Get rid of this farce of a committee. Did anyone else notice Texas had twice as many penalties???
OU - 5/60
texas - 13/128
the fix was in..
But then the committee would ding the B1G for a "weak" SOS...