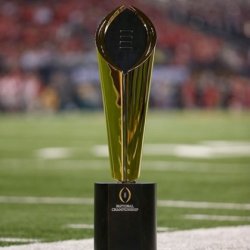 Monclovabuckeye
---
Monclova, Ohio (via Fostoria and Defiance)
MEMBER SINCE January 15, 2017
It all started in a small, but comfortable duplex in Fostoria, Ohio.
Favorites
SPORTS MOMENT: The Bucks shut out Purdue 13 - 0 in the Horseshoe in 1968 and takeover the Number 1 spot in the polls. One of my first games in the Shoe.
COLLEGE FOOTBALL PLAYER: Archie Griffin
COLLEGE BASKETBALL PLAYER: Jerry Lucas
NFL TEAM: Detroit Lions
NHL TEAM: N/A
NBA TEAM: Meh
MLB TEAM: Detroit Tigers
SOCCER TEAM: What's soccer? (If you haven't guessed I am old)
Recent Activity
It's all Greek to me.
But at least Urban had the decency to use KY. I think Urban calling them pricks might have riled Jimmy up, the prick.
But, not controversial. Harbaugh's not exactly Einstein when it comes to hiring assistants.
His shirt matches his cheeks!
Unless it involves ttun.
As an old man, if I knew I was going to look like this, I wouldn't have wasted the time trying to take care of myself.
This same MichiganFootballHotTakes clown probably predicted multiple Heismans for Jabrill Peppers.
I wish for many successful PATs this season, perhaps ten or so on November 30.
So Patterson didn't compose the tweet, but you know he thinks that way.
Zeke's apology sounded like it was written by a sixteen year-old who was caught stealung somebody's homework. Cone on dude, grow up.
Love his speed and wide receiver background. Perfect for a role in a fake field goal play!
Harbaugh needs a PR manager worse than anybody known to man, not named Hitler.
Ryan Day + tOSU > MENSA + UT.
I always enjoyed KY's slippery inside moves.
If he doesn't shoot from the perimeter, the defense won't guard him, setting up 4 on 5 situations.
I agree, to early to talk. Find another way to express yourself, like a Block O tattoo, what can go wrong with that?
Not when they're taking roids.
High football IQ.
I have followed the Basketball Bucks for a long time, I have never seen a nonconference schedule this difficult.
+1 for a good chuckle. But, Urban and Shelley helped raise millions of dollars for The James for cancer research.
Zeke looks quite a bit younger too.
I'm not surprised, the man is obviously cheap, look at the pants he wears and the shirts he sometimes wears.
I understand his drink of choice was rum and coke.
And shot a 30 on the back nine on Sunday to win it!
I'm not sure you could get away with that in today's politically correct world.