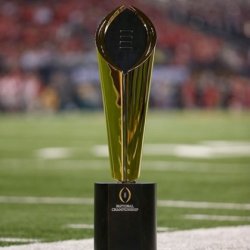 Monclovabuckeye
---
Monclova, Ohio (via Fostoria and Defiance)
MEMBER SINCE January 15, 2017
It all started in a small, but comfortable duplex in Fostoria, Ohio.
Favorites
SPORTS MOMENT: The Bucks shut out Purdue 13 - 0 in the Horseshoe in 1968 and takeover the Number 1 spot in the polls. One of my first games in the Shoe.
COLLEGE FOOTBALL PLAYER: Archie Griffin
COLLEGE BASKETBALL PLAYER: Jerry Lucas
NFL TEAM: Detroit Lions
NHL TEAM: N/A
NBA TEAM: Meh
MLB TEAM: Detroit Tigers
SOCCER TEAM: What's soccer? (If you haven't guessed I am old)
Recent Activity
Then tell Mr. Recruiting.
When you get passed the second round all the teams are good, screw the seeding.
One more time, Dan Jenkins 10 Stages of Drunkenness 1. Witty & Charming 2. Rich and Powerful 3. Benevolent 4. Clairvoyant 5. Fuck Dinner 6. Patriotic 7. Crank up the Enola Gay 8. Witty & Charming, Part II 9. Invisible 10. Bulletproof
Jenkins wrote the funniest line I ever read in a novel, "If women didn't have a vagina, there would be a bounty on them." RIP Dan Jenkins.
"Every B1G game I've watched for the last couple years I find myself thinking the same thing. Its just not good basketball." Xichigan reached the title game last year, so obviously there is some good basketball being played in the Big Ten. Sometimes when two good teams play they make each other look bad.
What if she married somebody named Tang?
I don't.
I don't see any down side to additional student involvement in the football program. They can certainly use the occasional diversion from the stress of being a college student.
At least he got the glitter off.
The Northwestern game of 1963, NU 17, OSU 8. Pro Football Hall of Famer, Paul Warfield dropped a pass (He was wide open!) which would have won the game for the Bucks. Warfield didn't drop many others in a wonderful college and pro career.
The officiating wasn't as bad as the Hawkeye defense. The one constant in an up and down season for the Hawks is their poor defense.
Loved Chaney's Tenacity
"Going to bring a lot of value to us." It's amazing how quickly these new coaches pick-up the jargon.
Loves Cultural Tours
In 2018, if it would have been a 7:30PM start and the whole Buckekye team took sleeping tablets at 6:30PM we would have still kicked their sorry asses.
Do you know what he looked like before?
Only his snake oil contains roids.
Metcalf isn't even flexing; unlike Paris. Lol
Likes Crossfit Trainees
Rim shot, please.
Sounds like Cris Carter may regret not being eligible for his senior season.
So if Arnette doesn't improve in the 2019 season, is it on Coombs, Johnson, Hafley or Arnette?
Two of several reasons for Buckeye turnovers: 1. Too many lazy passes. Passes aren't snapped off at a fast pace. 2. Todays players want to stand at the arc for the catch and shoot. They don't take the step or two to meet the pass.
They pass like they're in an intramural league.
Do you really think Chugunov expects an equal opportunity this spring? I don't.