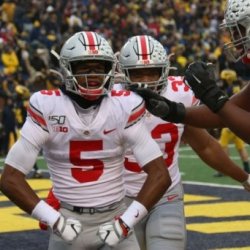 MoEddieRobtCarlosBeanie
---
MEMBER SINCE January 28, 2014
Recent Activity
I think you just missed Jeffrey Dahmer, who lived in Morrill in 1978.
Zach Harrison's development will be huge.
It's been several years since we have been without an all-american level pass rusher.
Defensive backs and RB are my biggest worries.
Fields will get better, but even if he doesn't, when healthy he is already a championship level QB.
Thank you for the very lucid and grounded take on the situation.
No need to make excuses. No need to point fingers. This was a close game where unfortunately 3-4 big plays that could have gone either way were left in the hands of the officials, and didn't go our way.
I can think of a bunch of close calls throughout history that have gone our way. JT Barrett, 4th and inches.. Chris Gamble in the end zone, pass interference.. these things happen.
Great season and it was a hell of a ride. Thank you to this team for the memories, and we WILL be back.
Now.. I'm going to go drink until I pass out crying.
Short answer is yes.
But not enough.
I'm sure he is feeling the same way... Not enough.
Damn it.
He'll be fine, we'll be fine.
Good luck.
You must not have heard... Chase Young is staying for another year.
Yes, crazy to think how close we were to landing both Lamont Wade and Micah Parsons.. I hate Penn State, so it is hard for me to say this, but they got two very good players with Wade and Parsons.
It was a bit... off, but calling it awful is a little hyperbolic.
To me, the lack of aggression before half time left me scratching my head. We had the ball across mid-field with 34 seconds on the clock and took a knee.
And then at the end of the game, Fields taking the ball on first down and running directly for the side-line seemed to be a strange choice when your RB had had great success throughout the game... And then of course the infamous 4th down, again choosing not to kick a FG to go up 14 points, instead having Fields run for his life against a very fast and athletic front 7 for Penn State, that was somewhat peculiar, and almost very costly.
In a vacuum those 3-4 moments seemed to fly in the face of our teams offensive identity, but hey, it's really very easy to call plays from my sofa, but in real time, on the field, I'm sure the way you see things and the way they end up progressing, can be very different.
I grade the play calling a C- for the game, but not as bad as say 2015 Michigan State. Either way, we got the big W, and if not for a few fumbles, which had nothing to do with play calling, it would have been a lot more comfortable.
I think we are a bit beyond that territory already.
Gus Johnson stats > official stats.
You're right, the fact that they didn't even mention Vic Janowicz really shows how out of touch they are.
I haven't heard many people "berating" Alford for missing out on Jaylon Knighton.. In fact, many people in the know (more in touch with recruiting than me), kind of assumed that even if we got a commitment from Knighton, that the race would have been far from over. Even so, I don't think most of us that would have liked to have landed Knighton would have looked at him as our future primary work-load runningback.
It was more the sting of losing a great RB (Robinson) and a potentially great APB (Knighton) in the same week. Not to mention, as the above commenter mentioned, I think most assumed that Knighton, being only 17 years old, would also fill out physically a little bit before we would have ever dreamed of relying on him as our #1 primary RB.
Either way, I am happy we have McCall, and I would have loved to land Knighton. A team can always find a utility for an elite athlete, even if it isn't to be your bell-cow primary RB.
I agree with your post and that only an ass-hole would celebrate an injury to any player, in any sport, at any level... But these are not kids by any legal or socially acceptable definition.
We don't have to straw-man to make this point.
If not for a fair amount of criticism and honesty about what were seeing on Saturdays, I would have no reason to visit this site and read these comments.
Only so many vanilla "the future is bright in Columbus" comments I can read before I lose interest completely.
I'm downvoting because we are getting close to the season starting and we need to eliminate mistakes.
It seems like you have done your research, so I am inclined to agree with most of what you are saying. However, I think a surface level rebuttal would be that if top players sitting out is becoming a growing trend, I would have to think that tv ratings would eventually decline to a point where renewal of those contracts could be a challenge at the same rate. Purely anecdotal, but I feel like I personally skipped at least one or two bowl games last year because the top NFL talent was electing to sit out. Maybe I am the anomaly and viewership will remain relatively consistent and in 5 or 10 years when it comes time to renew contracts, my theory would prove to be wrong. I am far too lazy to look up bowl game ratings year by year to try to parse out the data and figure out if there has been a noticeable drop, but I have to think that if those ratings are declining, the networks and sponsors will not leverage that into more favorable contracts when the time comes to renew.
I don't think it would affect television ratings amongst die-hard fans, but I do think it could affect gate/ticket sales. Even the die-hards might be reluctant to travel to say El Paso if the best players in the game are sitting out for both teams. I also think TV viewership could take a substantial hit because most bowl games are televised nationally and I think a decent percentage of viewers are just your average Joe trying to watch a little college football at the end of the year. I, for example, could see myself tuning in to a say Florida vs. Michigan bowl game, only to find out that a few of the best players are sitting out. At that point, I might decide that it's more important that I turn off the TV and spend some time with my family instead. I do think, on a national level, viewers are more interested in seeing certain players perform as opposed to just two random teams.
I don't think this is a big problem yet, but the way this is trending, it could really make bowl games, outside of the big ones, a lot less interesting.
I like the idea of the schools themselves paying for a substantial insurance policy for any player that is somehow confirmed to be a likely 1st or 2nd round draft pick.
Elias Ricks would be the epic finale to this class.. i have a feeling if were going to get Ricks we will not know until after the season concludes. Good to know Lejond is on the case.
Curious about the "don't want Jarrett" comment...
Seems like you take any 5 star kid that you can get, unless there are some serious issues with a kids character, which I am unaware of with him.
I'm sorry to be so thin skinned, but I just want to offer a more nuanced rebuttle to the person that down voted me. If I disagree with a comment, I usually offer some sort of counter.. but if I think the commenter is just being an a**hole, I just down-vote and keep it moving. So I guess I will just assume someone thinks I'm being a jerk, and I will respond accordingly.
I meant absolutely no disrespect to the University or some of the great QB's that we have had play here. Troy Smith, Dwayne Haskins, Terrelle Pryor, Braxton Miller etc are some of my all time favorite Buckeyes, and I would never disparage them for any reason.
That being said, Ohio State has had just (1) heisman winning QB, and (2) QB's selected in the first two rounds of the NFL draft since 1935.
Compared against the other two schools with the most (7) heisman winners, Notre Dame has had (4) QBs and Oklahoma has had (2).
Compared against the two other schools with the most NFL draft picks, USC has produced (9) QBs in the first two rounds, Notre Dame has produced (12), and that's not including Joe Montana (3rd Round).
i don't know if the down vote was to say that we are in fact a "QB school", or if it was just a reaction to someone thought to be being negative or knocking the home team... but let me just say this, if it is the latter.. I was not trying to be negative. I actually think we are on a major upswing in the QB department. I think between Ryan Day, and Hartline's WR recruiting, piggy-backing on Dwayne Haskin's success, we could even become a major QB destination in short order.
The one thing I will say about my comment, that I think I may have over-looked, is that recruiting services historically tend to enjoy assigning higher rankings to QB's, as opposed to other positions such as WR, where I would argue Ohio State has historically been stronger, and that could contribute to what I percieved as being a surprising statistic.
Either way, it's all love here in Buckeye land, and thanks for hearing me out on this Sunday morning whoever you are Mr. random down-voter.
Amazing that a school like Ohio State, who is not exactly known for being a QB school, and the top 2 recruits of all time are both quarterbacks.
Can we just get rid of javelin throwing already?
I mean, what are we doing?
We will almost certainly lose Young, Okudah, and Dobbins to the NFL first round this year.
I would say that Urban's 2017 class is one of the best in OSU history with 2013.
Yes, this defensive forecast really doesn't have the wow factor that we are use to. Not a huge surprise considering our defense was hot trash last year, and we just lost one of the greatest recruiting head-coaches in college fb history.
However, the offensive side of the 2020 class seems like it could be an outstanding group.
Of course, a surprise Sherman commit or something of that nature would really change things a good deal.
So many challenges for a first year HC with a lot of new faces at the position coaches. A playoff run in 2019 will go a long way in Ryan Day being able to land some of these marquee national recruits in the years to come.
Bottom line, relationships and on field success bring the talent, and Day has not had the opportunity yet in his first year to establish either of the two.