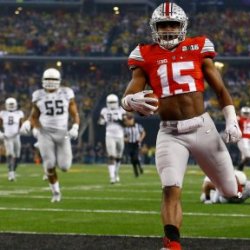 MoeBuckeye
---
Cbus (via Dublin, OH)
Member since 01 August 2014 | Blog
THE Ohio State University class of 2015. Traveled across the country watching the Buckeyes become the pinnacle of the College Football world.
Favorites
SPORTS MOMENT: Rushing the field, Ohio State vs Iowa 2009, for the roses. Invading Champaign, East Lansing, Ann Arbor, and State College. JK, it was all that and being in New Orleans and Dallas to watch Ohio State on their quest to #8. So #blessed to be a student at the right time.
COLLEGE FOOTBALL PLAYER: Zeeeeeeeeeeeeke
COLLEGE BASKETBALL PLAYER: Zeeeeeeeeeeeeeke
NFL TEAM: Zeeeeeeeeeeeeeeeke
NHL TEAM: Zeeeeeeeeeeeeeeke
NBA TEAM: Zeeeeeeeeeeeeeeeke
MLB TEAM: Baseball is terrible.
SOCCER TEAM: Zeeeeeeeeeeeeeeke FC
Recent Activity
662
366
266
213
517
Someone's gotta have nasty farts in the locker room or something.
488
If anything, this gives the team something to work for, and Urban will get them fired up about it. Nothing like an OSU team with a chip on their shoulders.
Man, but you know it was the best atmosphere in college football for like 10 minutes.
"What do you have against New Jersey?"
"Unfortunately, a Southern border."
I've been to a lot of road games (Illinois, Indiana, MSU, Meatchicken, PSU, VTech, Indianapolis, New Orleans, Dallas) but I'm staying away from the burning pile of garbage that is New Jersey
I was really hoping that song would be used in the trailer, since it fits so perfectly. But it was still a masterpiece without it!
So are we blacking out the shoe, blacking out in the shoe, or both? Love the jerseys, been waiting for this since my freshman year in 2k11!
Looks like we'll have a playoff game in the shoe if everyone in the top 4 wins up until Nov. 21. I already have my ticket! :D
Can confirm, Hokies were very very nice. But the student group of buckeyes that I was sitting with started singing "nananana, hey hey hey, goooodbye" as their fans left early, so we did our part of the heckling I guess.
Just had this r/showerthought as I'm driving to Blacksburg... They took off the Buckeye leaves on the jerseys and replaced it with BUCKEYES, which is 8 letters, for our 8 championships... Am I slow on getting that, or am I the next Alan Turing?
Well I would sign up too if this is was what I had to deal with.
The song is "On Top" by Flume, one of the rising stars in EDM and one of my (and Joey Bosa's) favorite artists!
I need to call my doctor, because I already know this erection is going to last more than 4 hours...