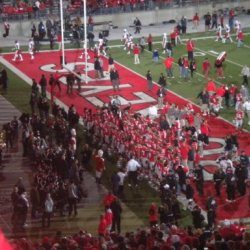 MNBuck
---
MEMBER SINCE July 24, 2014
Recent Activity
Big 10 football!!!! Heeeeeeeeerrrreeeee comes the Buckeyes!!!!!!!!!!
Where there is smoke - there is fire.
Selfishly I am terrified of slipping into mediocrity similar to the spans of time Florida, TTUN, USC, Oregon, Texas, among other empires have fallen into after prominent coaches left town...
Who has Oklahoma beaten?? WVU?? And if we were to beat Michigan... you can't compare. OSU has the stronger resume
It'll all come down to how well OSU controls the line and I think last Saturday they took a step in the better direction.
The Gophers are doing "it" with Seth Green and are up on Purdue 27-3... Imagine if we'd done "it" with Tate at Ross Aide
I have a feeling this is either going to be Iowa 2017 or Michigan State 2015... will be a tough one either way
In Urban We Trust! ... and just, if I may... keep freaking defenses out with that RPO, baby!
Could we just get one more natty title.... pretty please................................... .........???????????????????
As my name suggests, I currently reside in the land of 10,000. Minnesota people, and there are not that many, are growing weary of the Gophers ineptitude. This Gophers team is really young. If the Buckeyes don't beat them by 40, or hell, if the Gophers stay in the game, it'll solely be because the Buckeyes are lazy/bored. This is essentially a middle of the road FCS team... it's almost a no win for the Buckeyes because even if they win by sixty points they may not be able to garner much to draw from.
Love it! Can't wait for Saturday!
I almost feel bad for J.T. this whole week all of the wide-outs are saying how miraculous they feel and J.T. must be hearing this right after he got cut too
Brian Hartline, as a former Buckeye, only yearns for Ohio State to be as successful as possible. Pride without any question. He wants to win and will instill that even further with these wide-outs.
Pitch fork nation and the media jackals are loving this. The sanctimonious types are calling for heads.
These two together sound like a law firm...
It was the most befuddling performance I have seen in quite sometime... I remember in 02' the Red Wings and Avalanche played in Game 7 and were incredibly evenly matched for a decade. After the first period I believe the Red Wings were up 6-0... Colorado never recovered...
As a Minnesotan, and a huge Buckeye fan, I can say that this loss brought me back to this 06' National Championship! Thanks Eleven Warriors for reliving this... in all honesty it aids in the grieving process. I don't believe Minnesota will ever win a Super Bowl. We are not cool enough. Happy to be a Buckeye!!
As a Minnesotan and lifelong Vikings fan, as well as a Buckeye fan, :) I feel I can speak on behalf of all Viking fans by saying how incredibly impressed everyone was with Pat's toughness and skill level. I was super excited when I saw the Vikings take him at last year's draft. Here is to a speedy recovery!!
I do agree that OSU's WRs are no slower than Georgia's. Also I'd take our RB's as well. But there was a speed element to their plays that one can't deny. Our play development seemed like a slowed down version of the RPO compared to Georgia and Oklahoma's offenses. We certainly have the athletes but it's the alignment that seemed to be missing.
Watching how unbelievably fast Georgia and Oklahoma were in the Rose Bowl was mind boggling. After watching every Ohio State game I knew we didn't have that element. Hopefully these two will be able to give us the proper eye-test the fans and committee are looking for.
It gives me pause when mentioned that Grinch does not rely on systems as much as he does his athletes... The problem with this is athletes tire over the course of games. A great system, (i.e. New England Patriots) never tires.
100%. Agreed. Our offense was not good enough. Not aggressive or creative enough. Simple. The eye test is very very apparent.
What Ari Wasserman tweeted was what we have all been screaming for awhile. The eye test was brightly lit yesterday watching OU and even Georgia run their offenses. Something has to change if we are to be real contenders. Our games against Michigan and Wisconsin are what did us in and that is because we did not pass the eye test. If we would've blown those games up it would've been us instead of Alabama playing for another National Title.
Regardless of the excuses the 24 point lead creates. It was still abysmal to watch and very un-creative. I saw a post earlier mention screen plays... Those would be good when you know the D rush is coming. Urban's offense needs a philosophical shift.