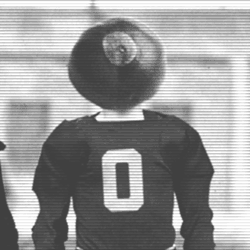 MJTampa
---
MEMBER SINCE July 22, 2016
Recent Activity
Coan might get Wally Pipped.
Doesn't explain the pulling of the financial aid.
I assume we're supposed to be laughing at both the message and the misspelling.
It looks like this is in response to my post, but it has nothing to do with the topic. I was responding to the poster above me wondering how we'd seed the 6 playoff teams, if 6 got in. I said we'd seed them exactly the way we do now with 4 teams, via committee. But you're right...undefeated P5 teams get in for sure.
Well, who determines the top 4 that get in now? What's the difference? I'm sure #5 and #6 would much rather get in and let #1 and #2 have byes, as opposed to not getting in at all.
This explanation hurt my brain
Orange, I would agree that "fear" isn't the right word, but I guarantee Bama and Clemson respect Ohio St after the last 2 rather dominating games vs them...beating Bama far worse than the final score showed (outgaining them about 450-150 at one point and outscoring them 36-8 at one point) and losing to Clemson in a game that required about 7 huge iffy calls/blown replay reviews/fluke dropped passes/ejections/injuries to ALL go Clemson's way in a late-game loss (and outgaining them by 100).
Hey Bd, in case you're reading-impaired, we don't like Michigan on this site. If somebody slights them, we like that...especially on a national level. Doesn't matter who it is. And for someone who says we should keep politics out of it, you're not at all subtle in your posts about which side you support.
When I saw South Dakota, I figured Corn Palace...seating capacity is the same.
Agree, KMP...I understand the frustration the players may have, but why bail right now when the pressure is being turned up? Just wait a couple weeks and bail if/when it's clear we can't participate in the CFP.
OSU, I agree...but I must say that I am confused why he couldn't wait a couple more weeks. Why not wait until it is certain that your team can't make the CFP?
Bama likely only won the 2012 title because the Buckeyes weren't allowed in it...otherwise they may not have played in it. Bama beat Texas in a close game thanks to Colt McCoy getting injured early after leading Texas up and down the field while he was in. Bama was gifted a rematch against an LSU team they lost to at home. Bama needed a 3rd-and-17 conversion to not lose to Georgia. There may be more, but that's 4 pretty lucky titles right there...they're a great program who has also sought some breaks.
Keep it up, Dublin...I love catching up on the tweets!
Cincy, I hear what you're saying, and I know this is an important topic to you, but I just don't buy it. I would imagine ESPN won't have to pay off TV contracts this year to the Big Ten if the Big Ten isn't providing football games to televise. And ESPN can simply replace those game slots on TV with more SEC, ACC, or Big 12 games. It's the only game in town, so people will still certainly watch. Meanwhile, the Big Ten Network, a direct competitor of ESPN and their ACC and SEC Networks, is completely screwed (and screws FOX, an ABC competitor). Sounds pretty beneficial to ESPN all the way around.
Well, if our season ended on 1/16, I would hope the CFP could wait 3 weeks to include us.
Did you guys not see the last line and realize the first paragraph was intentionally hyperbolic to make the last line funny? Good grief.
So Miami...you put everyone down by calling them irrational and then cry about being downvoted for putting everyone down, while doubling down on the insult and calling them children? lol that would be hilarious if it wasn't for the fact that a large segment of our population currently consistently communicates in the same way.
If 5 teams vote "yes", then 9 would be voting "no".
I know many argue this isn't political, and many argue it is. This article was written in JUNE...
https://sports.yahoo.com/can-the-big-ten-swing-a-presidential-election-kevin-warren-wants-to-find-out-180131201.html
I swear, the reason my thread died is that nobody can read properly. I also got a lot of comments in that thread that made no sense. Maybe you didn't bother to go read it, which I understand. All I can say is, the other 3 participants do NOT have to wait 3 months to play...they play in the fall, CFP occurs in January, we play in the winter/spring...just like everyone wants. Go read it if you're interested...it's good.
but beyond that its a toss up. Injuries/illness, sometimes the ball bounces funny, sometimes players make boneheaded plays, .... Lots of things can happen
---Sometimes a fumble returned for a TD is called that on the field and then overturned when the replay showed the receiver taking 4 steps with possession of the ball (Clemson's role in that play...fumble, get lucky)
---Sometimes a running back runs for 146 yards in the 1st quarter alone and then gets injured (Clemson's role...make tackle, get lucky)
---Sometimes the same running back is left wide-open twice by the defense and drops two short easy TDs and a team has to settle for two short field goals instead (Clemson's role...get burned twice, get lucky twice)
---Sometimes a QB gets sacked and the team is going to punt yet again, already down 16-0 late in the first half, but gets bailed out by a penalty, gets a first down, and ends up with a TD...and a great defensive player gets ejected (Clemson's role...get sacked, get lucky in two ways)
---Sometimes a team is punting again, and gets bailed out again by a penalty that could easily have been called "running into" instead of "roughing", which leads to a first down and a TD (Clemson's role...be forced to punt again, get lucky)
I mean, if JK catches two easy balls, Wade doesn't touch helmets with Lawrence, "running into" is called instead of "roughing", and the fumble return TD stands, that is 29 POINTS in Ohio State's favor in a game that the Buckeyes were still winning, even with all that bad luck, with 3 minutes left. That game was infuriating, and Ohio State was the better team last year.
Uh oh good, or uh oh bad?
I have a good, logical, easy plan to play a spring season and still be part of the CFP...the one and only thing needed is for the CFP to reserve one of the 4 spots for a Big 10/Pac 12 participant...that's it. You'd think they would want to do that since it gives them the chance to have all 5 conferences represented in their tournament. You'd also think they wouldn't want to be seen as "punishing" the Big 10 and Pac 12 for being so concerned with player safety. See my post in "Ohio State Football" titled "IDEA TO INCLUDE BIG 10/PAC 12 IN THE CFP". It got very little traction, but if Ryan Day or Gene Smith brought this up, we'd all be losing our minds over it. So maybe somebody here can send this to somebody of some importance at Ohio State.