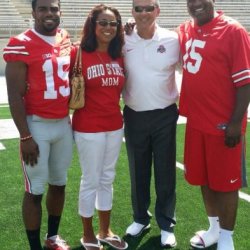 mizdee
from don't laugh... Mount Ayr, Iowa
Member since 15 September 2012 | Blog
Favorites
NFL TEAM: Rams
NBA TEAM: Celtics
MLB TEAM: Cardinals
Recent Activity
Zero pair, because I have all of his gold pants.
moms in the purple is Ezekiel's mom. have you ever seen Ezekiel's dad, her husband? LOL
Ezekiel Elliott has NEVER flunked a drug test! So just stop it, please!
... and great read Kevin!
I don't like it as a uniform either. I just wanted the shirt. I believe my husband found a medium for me at a store in Columbus.
my plates read: GO BUX 15
I cannot figure out how to post a pic of my plates, or else I would show you. :-)
I cannot speak for other schools, but I know OSU athletes have to complete mounds of paperwork for compliance AND OSU compliance makes many calls. I feel like it would be difficult to not do it the correct way. I can only speak on our personal experience at OSU.
He won't be able to register for fall semester until it's paid (trust me... this isn't our first rodeo). I will get a text, "Momma, please go online and pay my parking tickets so I can register for classes."
Ezekiel's wrist didn't fully heal after the first surgery. Apparently that is a tricky bone. He had a bone graft on the second surgery, and he's good to go now!
Hey guys... I've known him for 19 1/2 years, and I think he was just joking about wearing the STL Cards hat to the game. He does have some sense! LOL #GoBucks
yeah, those comments are pretty ignorant. i can guarantee you he would never do anything that wasn't legit. i didn't raise an idiot, but apparently others have and those idiots are the ones posting "nice tatt... you didn't trade anything for it did you?"
This is pretty much what I said to him, except I said when he's 60, and told him that he better keep his arms that size.
But what do I know? I've only been 19 before, and he's never been 43.
Do we have 24/7 security at Buckeye Grove?
it is Eddie George-esque, and to the angry old man (which you aren't really an angry old man)... the jersey tuck gives defenders less to grab. ;)
#GoBucks
Ezekiel was one of the top hurdlers in the nation in high school... guess he needs to incorporate it into hurdling football players. LOL
http://youtu.be/O9SscEY00w8
You must be watching something different than me. I believe they have ran the option three times with Ezekiel, one time he scored a TD and another time resulted in a 1st down. I believe once in each of the three games.
two of ezekiel's teammates will be playing college football; one is going to yale, and the other to upenn.