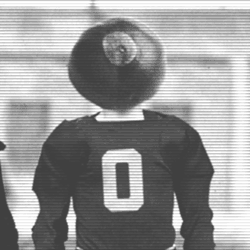 Mix
---
Member since 22 December 2011 | Blog
Favorites
NFL TEAM: Cleveland Browns
NBA TEAM: Cleveland Cavaliers
MLB TEAM: Cleveland Indians
Recent Activity
The only way you can say with authority that Alabama has a better resume than OSU is due to the Buckeyes having a loss. Otherwise, in terms of teams each team beat, the OSU would have UM, Wisconsin, Oklahoma and Nebraska while Bama would be looking at TA&M, Auburn, LSU and USC. None of which will even be in the top-10 after this week.
They probably already had this article written so that once he pledged they could immediately get it up.
I'm no fan of Forde either, but as he didn't expect OSU to win there wasn't going to be an 11th bowl game (NCG).
Does it really matter if they burn his redshirt? They still have Cradle, JT and (hopefully) Braxton next season. Not to mention the two they're bringing in with this recruiting class. He'll redshirt next year if he has to have it pulled this year.
I will be making the short trip!
I think 5-12 matchup is every bit as likely to be an upset as well!
Great read. Awesome job, thank you, Demetrius.
Is there a way to switch from mobile to desktop version?
Calling Charlie Villanueva a cancer patient was very memorable.
Some things can't be unseen. Nightmare Fuel...
I think Matta should have preemptively disbanded the team before we had the chance to have a "down year".
He's rockin' the farmer's tan as well.
Spence probably thought about signing a few autographs for a free meal. As OSU isn't protected by ESPiN, like the SEC, the Big 10 and by extension the NCAA decided they needed to take a stand about student athletes thinking about doing something.
The only thing I can think of is that the Big 10 stepped in to take action against something that happened in an attempt to satiate the NCAA and possibly prevent and even lengthier suspension.
Easily the best holiday GIF ever.
I ran track against Ted Ginn Jr in high school. Ouch.
So where is our '14 NSD update and predictions?
I did as well and was equally surprised by the dominance of that pick. But any pick with Louisville really shouldn't have been counted anyways, so that drops it to six choices.
Amazing poster, yet again.