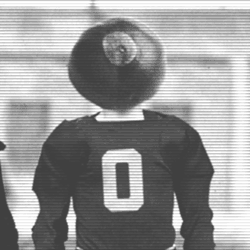 mittenst8buck
---
from Toledo, OH
MEMBER SINCE November 22, 2014
Favorites
COLLEGE FOOTBALL PLAYER: Eddie George
NFL TEAM: Minnesota Vikings
NBA TEAM: Detroit Pistons
MLB TEAM: Detroit Tigers
Recent Activity
Ugh...come on guys. Get your shit together
Finally a stop...thought someone got Bill Davis a ticket to the game
Correct, Georgia doesnt have much competition left but they still have to play in the SEC championship game should they make it. ND seriously has no competition left except possibly Michigan...and if they beat Georgia and lose a close one to Michigan they'll for sure be right in the thick of it. UGA will be in the thick of it regardless...I want Georgia
Northwestern on the spread and take the under...may be one of the easiest picks this week.
I took UGA as part of a parlay...but I did take ND on the money line as it is paying well and you never know...both teams are running on some hype.
Miami may be feeling the same way
I have already put money on Wisconsin a day after it came out. Wisconsin was at -3. Are you sure you didn't see the line at Michigan as a 6 pt underdog...or misinterpreted the spread? I don't think the line has really moved...only thing I could see is Wisconsin was favored at the opening of the lines by 6 and people rushed to put money on Michigan and then it dropped to 3.
Well if that does happen maybe you can chuckle when USC is left out of the playoffs from getting boot stomped by Cal /s
+1 for Sam Ponder (would give +69 if I could)
Correct...undefeated we should be in. I am sure they will sit and talk about how 2 SEC teams maybe should get in but it will just be to get viewers to watch and stir the pot. They will not put 2 SEC teams in (one having a loss) over an undefeated Big 10 team that has a presence like OSU. The only time I could see them screwing over an undefeated power 5 is if like Utah wins the pac or Oklahoma State wins the Big 12 or even like an Iowa winning the big 10...not saying that is fair but I would think more likely a way to put a 1 loss SEC runner up in over an undefeated power 5 champ.
I agree with this. If we go unbeaten we should be in...but if ND, Clemson, Alabama, Oklahoma and OSU is undefeated (somewhat tall order) they will love the fact that ND beat possibly the SEC east champ...and they will have presumably beat Michigan which so would OSU. They are not leaving an undefeated Bama, Clemson or Oklahoma out so it would come down to Ohio State and Notre Dame...with ND having a win over Georgia and Michigan...fuck that. However if ND loses and then Georgia goes on to lose to Alabama but Clemson, OSU and Oklahoma are undefeated...we are in no question.
I agree...but I don't know if Michigan can beat Wisconsin and if they don't I'll be pulling for UGA because at the end of the day ND probably only has a decent chance of losing to Michigan after Georgia. Whether its 2 SEC teams in or ND in...either way other conferences get boned. I don't think Michigan will beat ND (at this time) so Georgia may be the only hope to get them out. And even if ND beats Georgia and Georgia goes on to beat an undefeated LSU or Alabama...they still may clamor for 2 SEC teams in it...so it probably doesn't really matter.
Focused -In years past teams like Indiana have given us a run for our money. It seems like this year they are really focusing on the team at hand. They know how to pick them apart and put together a good game. I think over looking teams in past years has gotten the better of them at times. If we can keep going with a week to week mantra and worrying only about the coming opponents we will be unstoppable. Yes we could lose some games but if we lose a close game because of coaching or matchups or whatever I can handle that. It's the games that totally make no sense and we have lost in blowouts that just makes me infuriated.
People gush over Lincoln Riley now...which I will say he puts together some impressive QB's...Hurts looks totally different...but yes they play garbage.
Yes...Oklahoma won't play many tough games. Same with ND...if they beat UGA then look out, they'll probably get in...and we will have to root for TTUN to beat them
Hopefully he doesn't come at us too hard
Penix...get one
Well if I was a student at Michigan i would sell my tickets too. Why bother standing in a super crowded stadium to watch your team suck when you can get drunk at home and turn on another game when shit gets ugly.
I wish they'd trade mark the "up north" in the state up north...then I wouldn't have to hear all the ass hats here in Michigan say "up north" every time they go north of Lansing.
Oh no doubt about that...we have a lot of tough games for sure.
Unless Michigan has already lost to Wisconsin, Iowa, Penn State and ND by that point.
Chase Young
I was saying that towards the end of the game. I'll give their defense some slack on trying to defend a once in a season offense...but the Army defense is nothing different than what they'll see weekly. I think the Badgers are about to rip them apart...but who knows...
Nooner during a nooner...who doesn't like a double nooner...
Heard he's a real prick