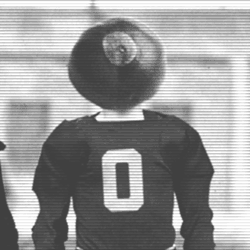 mittenst8buck
---
from Toledo, OH
MEMBER SINCE November 22, 2014
Favorites
COLLEGE FOOTBALL PLAYER: Eddie George
NFL TEAM: Minnesota Vikings
NBA TEAM: Detroit Pistons
MLB TEAM: Detroit Tigers
Recent Activity
Awesome news!
Just wait till McMurphy blames one of our coaches for the outbreak
I don't think Bill Davis saw much of anything aside from the asses of our opponents running backs and receivers as they schooled our LBs
Maybe we were good enough to beat Bama...maybe not. Va Tech was good enough that one night to beat us in 2014...and heading into 2015 I would have not thought MSU would have been good enough to beat us at home.
Total disrespect to all 4th graders out there.
This is true but it is a transition. All these guys leave home to some extent because they live on campus...but living close to home is helpful, people are maturing like crazy in those years. Also you control to an extent where you go to college and play so why not make it close to home if that's what you desire...I get it goes out the window in the NFL but at that point it is no different than moving for a job...that happens to pay very well and you'll have the money to possibly fly friends and family out to see you play.
HS Football is down in general across the country and Ohio is a state that has been hit hard. However a lot of the recruits in the south get to play spring ball and get evaluated more year round...that doesn't happen in Ohio. Also with recruiting being looked at all the time and players from around the country being talked about it bloats up some rankings...and I don't know if the star rankings were around back before 20 years ago...back then football seemed more regional so perhaps the perception was Ohio was better because there was a lot of emphasis on in state guys. I still have a hard time believing that a state like Louisiana which is less than 1/3 the population of Ohio produces that many more talented guys (in pure numbers not per capita)...I think they have more time for evaluation.
Again? They haven't stopped.
He may have already watched the film...I imagine Coach Coombs watches film in fast forward due to the slow pace he feels it has watching it in real time.
I immediately thought of this play...and also the "contraversal" 1st down since that was the last little bit of hope Michigan ever had.
Haha...exactly, hopefully Mississippi State, Tennessee or some other mid to low tier SEC team can win the SEC next year with 3 losses.
They must be making money hand over fist somehow because they could get a cheaper coach to deliver the same results. Thankfully their fanbase is dumb enough to keep paying to watch trash football.
Oklahoma has been smoke and mirrors for years. They dominate a middle of the road conference and then get their teeth kicked in when they hit the playoffs and play actual good teams.
Just out of curiosity...what happened to Cade Stover? I heard he moved to DE...and I was super high on him because of what was being said. Just seems like I haven't heard any buzz.
So Day is like the index fund of college football. A balance of growth and value coaches lol
Fuck...that was like watching 2 hand tap. Makes me ill just thinking about it.
I am not worried about Oregon at all. In fact I think it is a great game to gain a respectable win without a lot of risk (like the SEC stood to benefit this year). They are going to be worse than this year...yet will probably be a highly ranked PAC team. Therefore i believe OSU beating them will give us an edge over the PAC at the end of the year to get a slot in the playoffs should there be some controversy. I think next years team at the end of the regular season is right where we were this year...hopefully post season goes a little smoother.
I think it did years ago
No...Corey Feldman.
He will take his NIL to ihop
Maybe he wanted to see if heads or tails was up...then he could have flipped it onto the back of the opposite hand to make sure Clemson won the toss if needed lol
I get your point but I don't think that Michigan winning against an Alabama team does much for OSU. Alabama could give two shits about that game...hell...Saban should sit it out. At the end of the day regardless of the outcome of the Bama/Michigan game...OSU hung tough against Clemson and pretty much got screwed out of the game. Nobody will give more or less credit to OSU based on what Michigan does. All that matters is what happened in AZ...and OSU came up slightly short of beating the defending national champs. We are good either way...so I say roll tide...but that is just me.
Spring is a ways off. Right now there may be an over reaction to Teague struggling a bit against a very stout defense. I am willing to let it just play out (and I have no choice). My gut says we'll be just fine at the rb spot. We have reloaded at the RB position quite well for many years now. Stuff seems to just fall in place there, not to mention Fields will be a run threat...the defensive backs is where I am a little more concerned.
I don't know why you would hold a ceremony to just say you are coming back.
Georgia is a dominant FARCE...not force. They have literally been as underwhelming as it gets. They lose every big game. They can go ahead and get the recruits they get for years to come and still under perform. I happen to like that Georgia steals a little talent from Clemson, Bama etc. Nothing ever materializes from that program so as long as they can keep taking a few guys here and there from the big dogs of the south and not do shit with them...I am all for it.