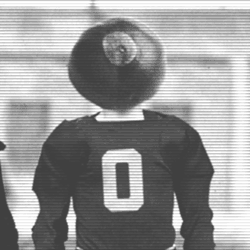 mittenst8buck
---
from Toledo, OH
MEMBER SINCE November 22, 2014
Favorites
COLLEGE FOOTBALL PLAYER: Eddie George
NFL TEAM: Minnesota Vikings
NBA TEAM: Detroit Pistons
MLB TEAM: Detroit Tigers
Recent Activity
Someone must be slipping this guy some chicken
Maybe if you bet on Kent State.
Well there you go... you just proved he is the 3rd brightest star in the sky LOL
Well obviously I was saying this as a joke, but since you had to get hurt over it, as a former D1 college football player...I can tell you it does happen. And if it happened at the non power 5 school I played for it happens at the majors...and I know this because believe it or not...when you play college sports you tend to know others that play for bigger schools. Though this was all of 11 years ago so maybe things changed. Anyway...if you want proof just dig in a little bit...it may not always come in the form of straight money...but perhaps one is paid quite well to mow lawns, clean a house, wash some cars, or caddy at a local club that offers generous tips...for carrying clubs a couple rounds a year. Perhaps it isn't hundreds of thousands like a college scholarship but of you really want to get into a pissing match I can. Anyway thanks for no input.
Beat me to it...I was gonna say The Citadel since it works for Alabama and the rest SEC one week a year.
Bagman scholarships. Just pay them enough and they can pay their own way thru Alabama.
Lol, yeah...play on words. I live up here...actually not too far from Ann Arbor. The talk has already started as to how they have our number this year. I plainly told one co worker...until Michigan has significant success against us, I could care less about what your fans think.
I was thinking they go to Michigan Adventures...maybe that's where Disaster Transport transferred to.
Not firm enough...
Clemson is shit? 2 national championships in 3 years...and they beat our ass whenever we play them. You are delusional...I don't see how Clemson is falling off...they have an easy road in the ACC and they are recruiting like crazy. I could see Bama falling back a little before Clemson just because Clemson has the easier road on a yearly basis.
Yep, douche bag U
I've been drunk since noon...I could read it.
Haha...so they hire Grinch in order to try and become middle of the road on defense.
Man I had to check the time...thought I stayed at work too late
Yeah, probably more like 8% at least getting a shot when you include those undrafted yet get a shot still.
Cal has a fan? Wonder what their name is...
Well at least if Sherman goes to UGA we can pick him up in the portal in a year or two
No kidding...will someone tweet something about Saban or Swinney
Luckily we are stocked with talent left over from Urban. Day needs to do something special this year, just my opinion, in order to keep the recruiting train rolling. If he struggles and drops 3 games we will be on a level playing field with the upper tiers but not with the elite teams. Our classes could look more like TTUN, Penn State instead of Alabama, UGA and Clemson.
That's why Mattison was hired...that way LJ isn't the oldest coach anymore.
So for some of our defensive players this will be business as usual
Their there they're...it's gonna be ok fella.
No, we'll laugh at Michigan because they suck.
Drinking the highlife in Norwalk
As long as Chug is healthy for our playoff run we should be in a good spot