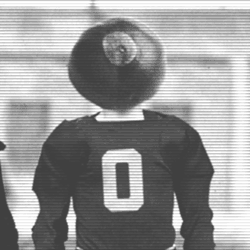 Miss Walker
---
MEMBER SINCE August 25, 2018
Recent Activity
Not watching this, but can't get enough of Midnight Sky.
She's good.
We made it to the World Series in MLB. NFL is off and running. College ball is playing.
We're gonna play football, dammit. Enjoy it. Bucks are gonna take names and kick ass. Let's go.
Once he gets a little gray hair and a bit deeper voice, I wouldn't be surprised if he got that Patriots job.
Couldn't wish the man anything but the best of luck if he does that well in this profession. Win big here and then go to New England and be the next Belichick. OSU will be all right either way.
Reminds me of one good thing about this season. No dumb waste of time MAC games.
Wendy's Big Bacon Classic
I can't eat it anymore, but I still dream of chewing one up and spitting it back into the bag. I'll do it if they ever get kiosks. I can't deal with waiting in line anymore. Definitely can't deal with sitting in my car in the drive-thru for 15 minutes. No way.
Maybe someday though with the kiosks. That's my dream.
I'll take it and like it. Go Bucks
Looks good enough to blow out 59-0 in Indy.
Clemson and Bama this year may have two of the best ever, too. Remember though, the defenses are all about the worst ever these days.
But Clemson's offense is out of this world. I think their offense is probably better, but hope maybe OSU's defense is better if they have to play again. I don't see how you beat Lawrence, Etienne and all those receivers they have though. Bama has the same thing except Mac Jones isn't as good, but he's still pretty damn good. I'm impressed with how much he's already improved just in a few games this year. He's good enough and has about 4 or 5 pros to lob it up to.
This does not exist.
Eventually, all the characters look and sound old and awful. You have to cancel them all eventually.
If I was Ferentz, I'd do the George Costanza World Series trophy in the parking lot donuts until they fired me. Old clean cut guy with millions in the bank just trying to help these damn kids, and this is what you get out of it?
Screw this. I still wouldn't quit, but I'd do what it took to just get fired. Of course Iowa doesn't have any trophies even worth dragging around in the parking lot. Hell, this is gonna be hard to pull off. He might be stuck there until he dies.
Winning the damn thing is the only scenario.
Anything else is failure. It's time to win it.
Nebraska 17-0
I'm not allowed to believe in anything good anymore. Mentally ill, cursed, whatever. Huskers are going back to the '90s and clamping down everything in front of this funeral sized sad crowd.
Will they even have cardboard people? Maybe OSU can pull it off if they have some cardboard people and fake cheering noise, which probably isn't even allowed.
OSU is the only good bet on the list really. They're gonna kick ass. Anything else just won't cut it. If they really don't come out ready to go, they might as well declare Covid and say to hell with the whole year.
Need 9 ass kickings or nothing.
As far as the other games, I still struggle to think that Michigan is so bad that they'll lose to Minnesota. Minnesota is physically absolutely pathetic. Physically built to win the MAC West. Michigan should be able to show up, run the ball every down even with second tier players and still win. If they can't do that then it's really all over for them. Minnesota has no physicality at all. Didn't last year and won't this year either.
Yeah. that's who it was. Shame he didn't work out here, but glad to see he still made it.
Wilson
And Saban's still coaching the UGA game. They're saying he's not, but he is. They lie. He'll be on the phone with whoever they have pretending to be the coach.
Just like Urban was with Day for the TCU game and hell, maybe still is.
97% chance
People want to see OSU. We're tired of watching so much shitty football every week. OSU could be the best this year. America wants to see them. They're tired of watching Clemson play garbage teams and Alabama's garbage defense.
Bring on the Buckeyes
Their defense sucks too much to declare anything this year. I'm shocked at how much their defense still sucks. Horrendous. Players taking stupid angles on everything. Not knowing what the hell to do out there.
The defense is confused all to hell. I don't know who their DC is, but Saban better take that operation over himself or it's time to say the game's passed him by. You have to play some defense.
I hope OSU is ready to play some. I think they will be. If they suck as much as Bama's D, I might turn the damn TV off. I had to turn that Ole Miss game off. Just too awful. Wanted to watch greatness and it was just garbage.
I just think he relocated Stanford to Michigan. Still just plays that antiquated stuff. Stanford is good for what they were before he showed up, but they're not good enough to beat Ohio State and probably even PSU and Wisconsin. Stanford's about a 3rd or 4th place outfit in the Big Ten, and that's what he's brought to Michigan.
Guess that's better than losing to Toledo.
If you missed the Cooper era though, there's no way you can appreciate the Michigan ass kickings as much as I do.
If it wasn't for the '90s, I wouldn't care about the Michigan game at all. It would just be another game like Minnesota, but with way overpriced tickets.
John Cooper though biting his nails and choking away those championships. Listening around here year after year to damn Michigan fans bragging about that. Those years sucked ass all because of that.
But it makes these times soooooo much damn better. Just no way to appreciate it though without that prior suffering.
One of those early recruits Urban poached from PSU. I can't remember who it was. Think it was some D-lineman. Ended up transferring to some dinky school somewhere. Think it was pot that screwed him up or he just couldn't make the grades or be bothered to come to class or something stupid.
It was just a disappointment, but still the physicality of this program took a giant step forward with Urban and hasn't looked back since. Physically, they're up there with everybody else now. Before Urban, they were way too soft.
Yep, here we go again. Everything closed. Forget this season.
I rewatched '06 OSU/NIU this morning. Not much of a game. Tress wanted to take a knee when it was 14-0, but even Bollman and Co. wanted to keep pretending to run an offense so they won 35-12.
If he does coach Texas, it's just a retirement gig that he's not going to care a whole lot about.
He tried not to care as much as he did at Florida when he was at OSU, but that didn't work out for him. He cared a hell of a lot about OSU. Too much. And he couldn't handle it.
He could probably work up the apathy though to take the Texas job and see what just his name value can do without stressing too much about it. If he takes that job, there will be a pink contract, a blue contract and a rainbow colored one probably complete with a clause that says not responsible for any damn assistants who ever sneezed in some old woman's Jello or anything related whatsoever thenceforth whitherfield.
Tom Brady is who they need.
Damn, wish I hadn't thought of this. Hold onto Harbaugh until Brady's ready to take the job. I hate Michigan, but if this happens I'll take them seriously again.
Glad to see there's some hope for an actual man left.
Too many of these coaches now are just yes men or weird idiots.