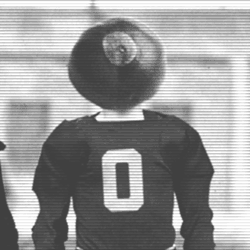 minnbuck
---
Minneapolis (via Columbus)
MEMBER SINCE January 31, 2015
Recent Activity
Let's not be those fans.
By "so we can put these finally to bed," I assume you mean "so we can start talking about them in the transfer portal?"
Derrick Green and Kareem Walker, come on down.
Hafley, unsurprisingly, thinks Ryan Day should be Big Ten Coach of the Year. "I don't think there's a better coach in the country."
Iowa just had one of the greatest mediocre seasons of all time. It's Ferentz's award to lose, Jeff.
"I'm not mad. I'm disappointed you got caught."
Derrick Green. I'm still sour we had to settle for Zeke.
I assume that's also the over/under?
Counterpoint: Kirk Ferentz.
Michigan seems like a very good team this season. Though they lost to the two apparently toughest teams they've played thus far. And a person could argue that ND is overrated every year, and this year is no exception. And I don't trust Jim Harbaugh to motivate a football team. On second thought, they don't seem like a very good team this season.
Take every starter off the team. Where does the new Buckeye team rank in the B1G? Where does the team rank if you get to keep only Justin Fields?
Really? I mean, I'm pretty sure OSU's o-line opened up bigger holes for Dobbins than Wisconsin's did for Taylor. Dobbins is awesome, and I think OSU proved that it has a better running game than Wisconsin, which is a major feat, but to say there is "no good faith argument" for Taylor individually is a little much.
Rank the following head coaches in order of joy they bestowed: Tressel, Rich Rod, Hoke, Urban, Harbaugh, Day.
...
Most underappreciated player on this year's team, and most underappreciated player on your national championship team.
If by "suit up" you mean put on an old t-shirt and spend a few hours on the couch on a Saturday afternoon, then yes.
Rank these players in order of the number of meaningful, non-ST snaps during the season (that is, snaps before a game is out of hand and there subs across the board): Mitchell, Browning, Proctor, Pryor, Harrison, Friday, Vincent, Togiai, Wilson, Saunders, Gill, McCall, Ruckert.
If he ends up at Texas Friday I personally will feel scorned.
Really, you're going to take this personally? I mean, I'll be bummed and all, but given that Bijan has no idea who I am, I'm not going to take a long look in the mirror over it.
I have no idea how it's going to play out for Browning, but I do think fans need to get their heads around the possibility that he's not the best option. His 5-star status in high school is not relevant, and it sure seems like it's Harrison and either Borland or Mitchell as the two every-down LBs, with Werner rotating with the Bullet position. I'm sure Browning is at least a backup somewhere, but if it doesn't happen (and the opportunities have been there), there's a reason.
I agree - I like Meyer's team overall, but I'd give the nod to Tressel's linebackers. It's at least a push.
I was very surprised by this comparison until I figured out that by Tony Gonzalez, you meant Anthony Gonzalez, not, you know, Tony Gonzalez.
Is Melton a take if Simon is in? I'd gotten the impression somewhere along the line that once the staff realized that Simon wasn't a given to ND, he bumped Melton and there was only room for Simon and Kourt, assuming they both join.
Interested to know whether the insiders didn't know anything about this possible flip, or if they were somehow made to keep it silent. I follow recruiting here, Lettermen Row and Bucknuts, and I've never seen this guy come up as a possibility. I can't remember a commit like this that was totally off the radar except maybe a guy or two who committed without a commitable offer, and we were quickly told it wasn't likely to stick.
Colin - thanks for selecting and answering my question, and I hate to be a punk, but you missed Proctor in your order of defensive snaps. Very curious where you'd put him in your list.
Rank these players in order of defensive snaps played next season: Wade, Proctor, Browning, Mitchell, T.Smith, Harrison, Vincent, Togiai
I get it. Lincoln Riley has created an all-world offense and demonstrated that he's a scheme and QB guru, but he hasn't shown the ability to field a competent defense. Consider whether Oklahoma would be better off with a different head coach who completely handed the keys of the offense to Riley. The offense should be the same, and the defense could only be better.
Ryan Day is currently in the same vein. He's an offensive genius. He made Haskins a Heisman finalist and a top 10 pick in one season. I have no doubt that Fields (or even Baldwin) will put up huge numbers this year.
But in his pressers, he rattles off offensive players and talks at a high level about the defense. He is going to call plays on game day, which means he can't talk to the defense when they're on the sideline. He has joked that he has to remind himself to go over and watch the defense during practice. He's nailing down spectacular offensive recruits, but the defensive recruits are lagging (I realize the defensive staff turnover is playing a role in that, so that's not entirely on him). He sought out an innovator to replace him on offense (Yurcich), and a caretaker to be a DC (Mattison). Bottom line, he still seems like someone who is primarily concerned with the offense.
That sounds a lot like Riley to me. And I'm hopeful that Day's ceiling is higher than Riley because the defense shouldn't be so pathetic. So a comparison to Riley is a backhanded compliment - he's an offensive genius, but the defense is forgotten.