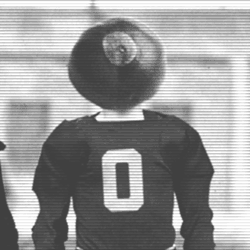 minnbuck
---
Minneapolis (via Columbus)
MEMBER SINCE January 31, 2015
Recent Activity
What changes, if any, do you expect in the secondary in the next game?
Strange Design is a classic.
Bucks get the ball up 7 with 10:26 to go. An 11-play, 68-yard drive ensues, eating up 5:47 on the clock with mostly runs. Jim Tressel smiles and continues knitting. On 4th and 1 from the 7 with 4:39 to go, we don't take the FG and go up two possessions. We also don't run QB sneak, which has worked throughout the season, even from 3 yards out. Jim Tressel drops the crochet hook and faints. Before the ball was snapped, when you saw Justin Fields in shotgun, what was your take?
Gratuitous hot take: Michigan is terrible. That aside, is this the week Ryan Day greenlights Justin Fields in the running game? If not, will we see it unleashed before the playoff? Please include a comprehensive discussion of Justin Fields' veganism in your answer.
Emptying the playbook in the second half of a blowout. There must be bad blood from Schiano toward OSU, right?
Also, FYI, Sam Hubbard played lacrosse in high school.
As Pete Werner fans, would you like to see him back at SAM? Sure, it was only week 1, but it's a short season and it's still a huge game against PSU.
I watched Barnes' interview and saw the Q&A regarding Kourt Williams. We're speculating, of course, but I interpreted Barnes' non-answer to signal that maybe they have something special in mind for Kourt and didn't want to give it away. I did not get a "Brendon White" vibe.
We, as fans, particularly those of us who follow recruiting, tend to carry bias from recruiting rankings forward. We give the benefit of the doubt to the higher ranked player. Despite all the talk of rankings being meaningless when recruits turn into freshmen, do coaches display the same biases in deciding who gets reps and ultimately plays?
Agreed. I don't know who will be on the top line, but I almost guarantee Sermon/Teague will be an OR.
To be clear, I wasn't mocking the author of the article. I was mocking the media who keep asking questions about his diet. There has to be a better use of your two alloted questions.
The fascination with Justin's veganism is a bit much. We get it, he's vegan, that means he doesn't eat meat and stuff, back to football questions.
I'm curious, which recruits have said this? I don't remember reading about this.
You're thinking of Mount Airy, NC, further up the road. Wake Forest grad here, so I spent four years in the area. Hiked at Pilot Mountain state park frequently, right by Gosnell's hometown.
It is an inexact science, but OSU is making it look like 2+2=4.
Math is also making it look like 2+2 = 4.
If we're going to work in a gratuitous Kareem Walker reference, let's be sure to include Derrick Green, too.
1. Latham - need a high level OT, and there doesn't seem to be a realistic plan B. I'm sure they could pull someone from elsewhere, but we're probably talking about a dropoff.
2. JT - game-changer on DL always highly valued
3. Malone - ditto, and we didn't take any true DTs last class and only one (Hall) so far this year
4. Davis Jr - elite talent is always a priority regardless of position, and positional versatility means he's not a total luxury
5. Egbuka - elite talent, but total luxury
6. Wolfe - high-level blocking TE is important to Wilson/Day's offense, even if it doesn't show up in stats
7. Burton - OG is not a position of need after taking a bunch last class
I would put Waycraken over Biddle.
If you think Jack Miller is in the ballpark with the other two QBs, then it's Dan's team by a mile. If you think he's a distant third among the QBs, then I can see a case for either of the other two.
Day says he's gotten into using his crock pot. "I kind of like working the crock pot."
Baller move, Coach.
Honesty, I think the make-or-break years have come and gone for these guys, except Gill and maybe the other WRs. When i think of make-or-breaks for this season, I think of Tyreke Johnson, Petit-Frere, and Gill. These are guys that have had excuses for not emerging, but if it doesn't happen this year, they're destined to be career backups or transfer. Most of the guys on this list have already missed that window.
Let's not be those fans.
By "so we can put these finally to bed," I assume you mean "so we can start talking about them in the transfer portal?"
Derrick Green and Kareem Walker, come on down.