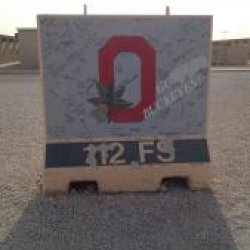 MilitaryBuckeye
---
Member since 05 April 2013 | Blog
Favorites
SPORTS MOMENT: 2002 BCS Championship... the whole game!
COLLEGE FOOTBALL PLAYER: Troy Smith
COLLEGE BASKETBALL PLAYER: Evan Turner
NFL TEAM: Cleveland Browns
NBA TEAM: Cleveland Cavs
MLB TEAM: Cleveland Indians
Recent Activity
Was Decker really a RS freshman last year or a true Sophomore? The 11W Football Roster lists him as a current Junior. Either way, looking forward to having that left tackle spot secured for two-three years!
Finally got the Pantoni "BOOOOOM"
its official as far as I'm concerned!
Yes please! Get em Urbz!!!!
P.S: didn't DV you there... But here's an UV to counter it.
Respect your opinion but disagree with your comparison. Matta is definitely a coach that can win championships at Ohio State. Matta has turned this program around and made it elite. Multiple B1G champions and B1G Tourney championships. Only thing he's missing is a NCAA championship and those take time, luck, and multiple recruiting classes.. Look at Coach K, Self, Roy Williams and Jim Boehim. All needed a while to get their first and build their programs... It's much harder to win during March Madness! And he's consistently taken our buckeyes to at least the sweet 16.
I think so, even with the experience, we lost our "go-to" leading scorer from last year, Scott and Q are playing a new role as a starter, so is Thompson coming off the bench. I think the weaker schedule we played hasn't really challenged us enough to figure out who are go-to guys/plays are in crunch situations. More games against quality opponents should help the team improve (I stress on SHOULD). I believe that having an older team will help expedite the process... But the competition and adversity is what will make or break this team.
Fire Luke Fickell!
But seriously... If past years are any indication, this team will get better and be ready to compete come March. Only worry I've got is the lack of big man depth if/when Amir gets in foul trouble. Also, Amir's hands...
Hate the fact that he's airing the team's dirty laundry on social media... But I find myself agreeing with most of what he had to say.
Hope he takes that anger and turns it to a 1000+ yard receiving 20+ TD catching season!
On a side note, him being the nephew of Keyshawn Johnson, This should surprise no one! We should've expected that kinda vocality from the young man...
Dude played with a broken leg during the Mich State game... He gave this team and school everything he had! He owes the fans nothing... Those "fans" should be ashamed of themselves!
One thing's for sure... This is the first real adversity this team has faced under Urban Meyer. The team is either going to come together, backs to the wall, and fight back hard... Or they're going to fall apart.
I, for one, am excited to see how it plays out... My money is on Urban, the Master motivator, having an angry team hungry for the "W".
FWIW Jeremiah from MoTSG is reporting that its due to taking performance enhancing drugs injested accidentally from an over the counter supplement... Think that would make sense. Can't embed the tweet on my phone but here's the link below.
https://twitter.com/syrmotsag/status/418430039521124352
Guy's a troll...
But since he claims that southern football is "life"... Someone needs to remind him of the 7 national titles our buckeyes have... As compared to their one title. In essence... They must suck at "life".