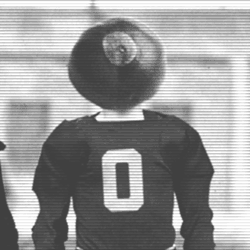 milhouse4588
---
from Columbus
MEMBER SINCE November 17, 2016
Favorites
SPORTS MOMENT: Two of them: the 2002 and 2014 National Championship games.
Recent Activity
Considering comments about his legs have been pretty regular even by the folks writing the articles...it's not creepy anymore. Dude has tree trunks.
Would this mean any piece of clothing with the word "The" on it becomes infringement if it did pass? Or just clothing where ONLY "the" is used and no other words?
Well it's all been said here but I'll say it again:
Coach Day will change that outlook for him, and hopefully quickly. This is the bulletin board material our program has avoided putting out there for the most part of the last 5-7 years. We need to keep it locked up.
Mr. Henry is in for a rude awakening when he gets here.
Tate didn't show up to practice today after not getting the starting role. Will wait to see the reason but if it's because he decided to quit after not being the starter all of the takes in this thread about him being a spoiled brat are correct. Grow up.
Well neither of these are "benefits" to either of the players so of course it wouldn't fall under that label. I'm not sure how that ties into either of this at all.
The NW thing is insane...but nothing that kid can do really. I'm sure NW will still accept him on the team as long as he continues working out and developing.
It certainly would go over Tate's.
That's fair. But the thread is about being underappreciated. In most conversations I see, Pryor isn't appreciated very well at all. Like I said, because he was an ass most of the time.
Honestly, Pryor is probably a good candidate here.
He got a lot of praise as a player but most people these days remember him for being an ass and being part of the group that ran the program into the ground for a sec.
However, he is probably the best pure athlete we've ever had on the field and he was a straight up winner. If his personality had been good he would have been remembered as an all time great.
Hartline probably has more "fans" now than when he was a player, which is nuts.
The thing you're forgetting is that Alabama will ALWAYS win the coin flip if it comes down to them and another team. Always.
Agreed, except the odds of that happening are slim if you look at recent history for these schools. A loss against an elite team would most likely make them improve over the rest of the season as it would serve as motivation.
When you're a school struggling to compete like Michigan you can't let players leave easily. We don't have that particular problem.
But can I trust you'll play him enough to draft him on my fantasy team this year Gruden?
For me I can chalk up something like someone having multiple injuries on the line where some 300 pound behemoth rolls up on their ankle or knee and they are out for awhile. That's not injury prone, that's just physics.
But when it's things like an abdominal muscle, bone bruise, ankle sprain (not sure how this one was caused) that happen during normal (albeit very intense, forceful) movement it leads me to believe it has to be plain physiology or their training regimen.
The Bosa's are known for their flexibility program that sounds great on paper. However, flexibility isn't what you need in football (beyond a certain amount), you need mobility. Mobility is moving with purpose, stability and strength at end ranges of your positions. If someone can bend over and tuck their head between their legs they are flexible, but can they bend over to the same end range and pick up weight without hurting themselves? If not, they don't have appropriate mobility.
Him quitting the team would still have a more positive impact on all of us than your contribution to this board.
Honest question here because we have not just one, but two players from the same family who train together and have the same type of mentality and "injury prevention" routine:
Is it possible that whatever the Bosas are doing is bad for them? I find it hard to believe that two players who train together so much, have grown up playing with each other, that both have extensive injury histories would both have this much trouble with the resources they have available to them. There has to be something they are doing that makes them more susceptible to injury.
It could be coincidence but at this point both of them have had serious injuries and consistently miss time for smaller things. Amazing players, but I'd actually have at least some doubts about them as a GM/coach at this point.
UGA and Bama playing each other in the regular season is great but that won't affect the playoff chances of either at all if both run the table after that. You have to assume both will be ranked Top 5 in the preseason. Having a loss against a Top 5 team early in the year absolutely will not hinder either of them making the playoffs, unless they play each other in the SEC champ game and the same team loses again.
From a purely coaching standpoint I respect both. They get the best out of their players, develop them well, and constantly win. They make tough decisions that most other coaches wouldn't make, and their success speaks for itself.
There's a lot of griping on here about Dabo being an oily bastard that puts on a goody-two-shoes show. I get it and get that vibe sometimes, but I don't know if anything shady is happening more at Clemson than, say, OSU or Bama. Maybe their bagmen just have more money than ours but the dude can basically do whatever he wants until he either loses or the shady stuff comes out.
Saban is a hard-ass but he wins so you can't really argue against him. I've heard playing for him sucks because of his attitude and mentality but his job isn't to make things rainbows and unicorns for his players. They choose to play for him.
Man, sure did take him for...Granted.
In defense of UGA, when your last game every year (since winning your division is so easy) is against one of the two titans of current NCAA football, can you really consider it a choke? They go up against the top program of the last decade every single year at some point. That's a big hurdle.
Winning the conference with a horrendous loss to an unranked team shouldn't guarantee you a spot on the playoff.
I agree that was a flaw of Urban's coaching philosophy. He couldn't make those tough calls when he probably should have.
However, Day has repeatedly said the best guys will see the field. Urban never really said that. He said the guys that were the most ready. That doesn't mean the same thing. You have to throw a kid into the fire to see how he improves. Imagine Urban sitting Justyn Ross on the bench for most of the season. That kid was the MVP of the Championship game, IMO.
Why would you be downvoted? What you said agrees with the person above. Urban was extremely loyal when it came to seniority and rarely played freshmen, even if he was talented enough to see the field.