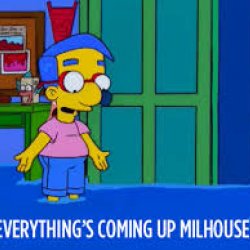 Milhouse of Pain
---
from Somewhere north of Dayton and south of Lima
Member since 28 August 2014 | Blog
Favorites
SPORTS MOMENT: Biting my lip after punching the ceiling when Ken Dorsey's pass fell incomplete while my newborn son was asleep next to me.
NFL TEAM: Bengals
NHL TEAM: CBJ
MLB TEAM: Reds
Recent Activity
His size and motor really remind me of Geno Atkins. Geno was considered undersized at 6'1" and 270 when he signed with Georgia as a 4 star recruit. Landers is very similar in that regard. The knock on Atkins at the NFL Draft was his size for playing DT, but he always made up for it in determination and his unstoppable motor. That's pretty much the description of Landers too.
He probably didn't want to take it into the bathroom with him when the explosive diarrhea started.
Yeah, I always point out the remnants of it to my kids while waiting in line for Vortex. They stole a little bit of the idea for Top Gun from The Bat. Never got to ride The Bat. It was always broken down every time I was there.
And Fantasy Farm was right across the road, right? Didn't they have one of those gondola rides across the park, and one fell or something? Can't remember if that was Americana, Fantasy Farm, or Kings Island.
A nice pass-the-time activity of waiting in line is examining all the different paint layers on the Beastie to see if you can figure out what the ride was called with that particular color. You can see The Fairly Odd Coaster paint under the Woodstock Express paint, and sometimes the Beastie paint is coming through the Odd Coaster paint, and whatever it was before that...Scooby something? That coaster holds a special place in my heart, because that was the first coaster I rode with my Dad, and the first coaster I took my kids on.
And very painful. That little bicycle seat thing you had to kind of straddle was not comfortable. I remember thinking about how short the ride was, but was thankful I didn't have to endure the crotch pain any longer.
She's a personal trainer ->>
qιммαн тнєяαρу Personal Trainer | LA CEO | QFLEX | STAY ACTIVE | RSP Athlete Boot Camps, Meal Plans, && Business Inquiries? Email la-shmexy@q-flexfitness.com
I'm sure that sideline reporters are wonderful human beings, but every network can eliminate those positions without affecting me one bit. They add practically ZERO insight to any telecast, football or basketball. Maybe prior to Twitter, they'd give you an injury snippet or coaching tip...but I get all my real-time insight from Twitter now.
I rarely watch their Sunday NFL pregame shows, but it seems like they have about 4 or 5 too many former players on the set. Get rid of them all and give me something like Trey Wingo, Tom Jackson and Jaws, and that's it.