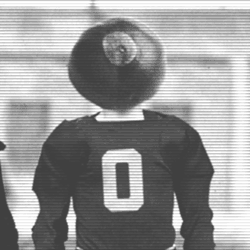 Mikeosu02
---
MEMBER SINCE November 08, 2014
Recent Activity
Is it that difficult to come out and say "yeah, we fucked that one up."
Not going to mention the blatant hold on the "Heisman moment" there?
What was that pass?

The only thing this game is showing is that Georgia is ass.
And wasn't Harvard the first school to offer Fields? The academic standards argument is so tired.
Just keep winning. That is all that matters. Let the rankings take care of themselves.
Let's take about five to 10% off'er over there, Earle. There are a lot of ways that second sentence could go. How about "Some carry banners?"
Agreed. This is going to be an unpopular opinion here, but I am with you, Poppy.
I would think this tweet would constitute using the likeness of whomever is #10 at the moment (Amir Riep?) which is an NCAA violation and was a central issue of the O'Bannon lawsuit.
No. Wearing a jersey does not constitute using the likeness of a player. Making a video game that includes a player that wears #10, looks like Amier Riep, and has the attributes of Amir Riep--different story.
Can we stop with "I watched film." You didn't watch film. You watched the TV broadcast. What you see on TV is not what the same as the 22 man film. I'm sure if our staff graded both Borland and Browning as champions, they saw something on the film that you didn't see on the broadcast.
Maybe take a deep breath and try to compose your thoughts before blasting them out on the internet. My brain is bleeding from trying to interpret your post.
What's he supposed to say? He's telling stories about things he experienced as a college football coach.
You are being purposefully obtuse. He pushes her twice, and then drags three people who are trying to hold him back to get to her. The only reason he doesn't hit home is because he hits his friend, knocking him and her on their asses.
Watch everything that happens before the kick.
The kick wasn't crazy, but everything leading up to it was. He leveled his own dude, and his boys had to restrain him from getting to her. It was violent.
Did you think he was going to come out and say "those guys are a bunch of no-talent ass-clowns?"
Just remember, it wasn't the kids asking for those trophies, it was the Boomers who couldn't handle little Billy having a sad who made that a thing.
Yes. This. So much fun. I think there was a statewide level 3 snow emergency, and classes were cancelled for a couple of days. The snowball fight was the best.
Mattison is a great recruiter, and was a very solid DC under Hoke. I don't know enough about Hafley, but the guy is known as a great recruiter in northeast.
Larry Johnson has been promoted to Associate Head Coach.
I like these moves a lot.
I get what you are saying, but a head coach who is worried about what the fan base thinks of his coaching moves is not going to be a head football coach for very long.
For the record, I was referring to the part about crocodile tears. I did not DV you, and would not DV someone over an opinion.
DV me into oblivion but I think a lot of this is crocodile tears.
Pot meet kettle.
Because he left to recover from surgery and get ready for his career? He had a season ending injury. I personally have no problem with him leaving under those circumstances, and I don't feel this impacts his legacy at all. If anything, I will always question what this season could have been if he had not been injured against TCU.
I see that we are being reasonable and rational about this.
I didn't see the part where ESPN decides who gets in the playoffs. I agree about Georgia. They should not have been ranked above us.