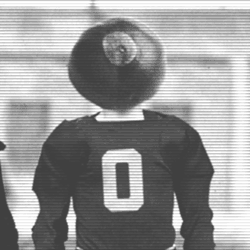 MikeLew
---
MEMBER SINCE August 30, 2010
Favorites
COLLEGE BASKETBALL PLAYER: I don't like basketball
NFL TEAM: Cleveland Browns(suspended)
NHL TEAM: Columbus Blue Jackets
NBA TEAM: I don't like basketball
MLB TEAM: Cleveland Indians
SOCCER TEAM: Liverpool
Recent Activity
Strongly agree that I prefer noon to night. 3:30 would be OK, too.
The CFP, at four teams, has had 7 of 10 semi-final games as 3+ score blowouts. So yes, adding four more teams to the pile will likely add a bunch of worthless blowouts.
I agree a ton with Kirk Ferentz from that article, actually:
I don't know what we've gained by expanding it other than the obvious, financial [reasons]. It's almost become an industry, this whole playoff deal. I don't know how the game of football is any better right now. I'm not sure we've gotten a truer champion. What I don't like about the playoff system is that there's kind of a pull that if you're not in that final four, what you're doing really doesn't matter that much. It takes away from a lot of really good experiences that are going on in college football. I think we're creating a mentality that, to me, takes away from what the game is all about.
Correct, he did say that. I read it as a specific implication that they were good (and/or necessary) for that reason.
I continued the conversation, to point out that recruits/players liking of black uniforms didn't have much to do with where they chose to go to school.
Probably the dumbest thing I saw from fans last year- I counted at least 27 different OSU fans at the Purdue game, where black is their color, during a Purdue "Black Out" game, wearing black jerseys.
"Players like 'em, recruits like 'em" - if these were really an issue, wouldn't Saban, master of the Process and digging for every little edge, have done this at Alabama?
If you like them, well, de gustibus non disputandem est.
Not the BCS computers, as they were terribly chosen, but yes, mathematically sound, pre-agreed-upon computers would be much better than the committee.
NCAA rules currently only allow a CCG in two situations:
1) A game between the champions of two divisions that have played round-robin in their division(B1G, SEC, ACC, etc.), and
2) A game between the top two teams of a single division, where every team played a full round-robin in that division(Big XII)
Now, that could be changed, but until then, this idea is a non-starter.
I think this is misguided. We were told that a 2-team model would remove the doubts when they put in the Bowl Alliance and then the BCS. It quite obviously didn't. Then, they said that a 4-team playoff would remove the doubts, and clearly people feel it didn't.
It feels to me like a bunch of people want an 8 team playoff not because they think it would actually crown the best team as champion, but because they want OSU to be in.
I, for one, do not want college football to turn into college basketball - the basketball tournament may be fun for people, but it regularly has teams who didn't win their conference regular season or tournament in a position to win the whole thing, and in doing so, makes the regular season significantly less meaningful.
ESPN's QBR is garbage. I don't say that because it put Alabama's QB above Ohio State's, but because it isn't transparent - you shouldn't trust it, for the same reason you shouldn't trust Bill C's S&P+ at SBNation, because they don't tell you how to calculate it.
Remember, Charlie Batch had the best QBR ever - LINK
I don't think Ohio State should name ANY coach head-coach-in-waiting. Head coaches in college football have more stringent recruiting restrictions on them than assistant coaches do, and they also passed a rule that any head-coach-in-waiting has to abide by the head coach restrictions, not the assistant coach restrictions.
If a team wants to have a "wink-wink" handshake deal with the next head coach while said guy is still the OC, that's fine, but absolutely no for formalizing it, for me.
I'm also 33, and the Rose Bowl is still amazing to me. I'd much much prefer a reversion to the previous system instead of the Bowl Alliance/Bowl Coalition/BCS/CoFoPlOff.
When it comes to bowl games, I'll watch the Rose Bowl every year, I won't watch many of the others.
I'm quite annoyed that TCU killed the home-and-home series. On campus sites are always better for these non-con games than neutral sites.
I think it'll be a good game, closer than I'd like, but I'm glad Haskins will have a couple games to get his feet wet before going up against that defense.
Rather than having a play-in game, your bracket could have byes for just the top 3. That makes it so teams could play Tues/Thurs/Sat, with the final on Sunday.
Rather than seeding it, what about doing it as a random draw?
The running back issue is more than just the last three losses:
In Meyer's tenure at Ohio State, OSU has had the QBs run the ball more than the RBs in the following games: 2012 UCF(W 31-16), 2012 Michigan State(W 17-16), 2012 Wisconsin(W 21-14, OT), 2013 Wisconsin(W 31-24), 2013 MSU(L 34-24), 2014 VT(L 35-21), 2014 Indiana(W 42-27), 2015 MSU(L 17-14), 2016 Indiana(W 38-17), 2016 MSU(W 17-16), 2016 Michigan(W 30-27, OT), 2016 Fiesta Bowl(L 31-0), and 2017 Oklahoma(L 31-16).
Their only losses when the RBs had more carries than the QBs were the 2013 Orange Bowl, 2016 PSU, and the 2017 Iowa game. In this Iowa game, OSU's RBs only had 1 more carry than the QBs, and that only happened because Williams got 4 consecutive carries to end the game.
So, Meyer's teams are 8-5 (should be 8-6 with this Iowa game) when the QBs have more carries than the RBs, and 60-3 (should be 60-2 with this Iowa game) when the RBs have more carries than the QBs.
I cannot believe he hasn't seen these numbers, but I don't understand why he hasn't adjusted to them.
I would pay a not-insignificant amount of money if all media outlets, including televisions, never showed those clowns in the facepaint or capes ever again. I'm speaking about the headlining photo here.
I mean, I think a committee is a stupid as all get out way to decide it, and that the playoff is a nonsensical farce that is really designed to make more money for the big schools(which is does fantastically), not actually name a national champion(which is does terribly).
So, OSU getting in would check both of those boxes. Moving CFB closer to NFL-style stuff makes me like it less, not more.
If PSU or Wisconsin were not deserving, then they should just not take a B1G team.
Could they? Yes. Would they? Probably.
Should they? Absolutely not.
If a team is in a conference and is not the champion of that conference, they(and the rest of their conference-mates) have determined a method of selecting the team that is most deserving to be in, and OSU will have failed to accomplish that. If a team is not the most deserving team of their small subset of college football, they are not the most deserving of a crown for all of CFB.
OSU getting in would be the same as Alabama getting a second shot at LSU a few years back, or Michigan getting a second shot at OSU in 2006. It should not happen.
Their secondary is actually pretty darn good, now that they're healthy. I expect to see Minnesota load the box against Zeke, bring pressure from a ton of different angles to try to confuse Jones, and play a lot of Cover 0 or Cover 1 with the corners on islands.
Mason feasted on cupcakes in a way that Kill and co haven't been able to do. Mason had also all but given up after Tressel got the OSU job over him for the 2001 season.
Great article, I think you did really well explaining what Minnesota wants to do. I particularly like how you hammer on eye discipline - it's something we really harp to our guys, too, but is difficult to get with the reps we can throw at them at a small high school.
One small thing - your "12 personnel" description has "2 back," when you need "1 back"
Teams were keeping two high safeties when Jones was in. With Barrett's running ability, they needed to add another player to the box to keep from getting gashed(which Rutgers didn't do initially, which was why Barrett was averaging like 9 yards a carry in the first half). That means they're more vulnerable to the deep ball.
No. "Faceguarding" is not against the rules. Similarly, there is no "five yard chuck" rule in college - as long as you're not holding a guy and the ball is not in the air, you can hit him as far down the field as you like.
I felt like they were difficult to see on TV, as were the red numbers.
But, then again, I am in general not a fan of the black jersey trend or OSU wearing them, so I'm likely a bit biased.
I...disagree pretty strongly with that. That play was practically textbook targeting.