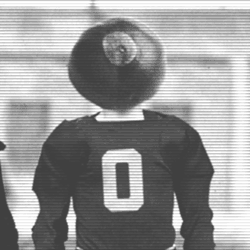 Mike
---
Member since 23 September 2010 | Blog
Recent Activity
The Bucks need more of this kind of lavender.
Thrilled for Buford! Back-to-back-to-back B1G Champs!
Thad Matta has won the Big Ten 4 times in 7 years including the last 2 B1G and B1G Tournament titles...yet some people want to get rid of him? Matta has owned the Big Ten the past 2 years. What coach would want to come to a school when winning consecutive conference championships gets you shown the door?
I agree that his in-game plans and substitutions are frustrating as hell...and he getts out-coached every once in a while...but give him a break. These types of losses suck, but in college bb you can afford them (UCONN lost 9 games last year and won the title).
On the bright side, they are still in 1st and as far as I know they still control their own destiny. The Big Ten is the toughest conference in America...it's not gonna to be easy. The season is far from over.
Well done, Ramzy...as always!
IMO, the reason for the excess in coverage regarding the Tat5 is that Ohio State is the perfect storm of College Football Powerhouse + Large, Vocal Fanbase + Extremely Polarizing + Ratings Juggernaut + Competing Network + "Flyover Country"
Badgers lose at home to the Hawkeyes...yikes! That's not good for the old resume.
Now let's beat those pesky Hoosiers!
Buford reminds me a lot of Jamar Butler...both with solid careers and record book type numbers. Yet at no point do I trust Buford (just like with Butler) to take the big shot in the big game...and it seems that his shot selection often causes more harm than good.
Luckily, WB's career has some valuable time left...here's to hoping I'm wrong!
Whoever gets the long term head coaching job, I am on the Anyone But Bollman train...It seems to me Fickell is content to let Bollman run the offense, which is why it's no surprise that Miller didn't see any time in the last game. Anyone else notice the similarities between Toledo '11 and Ohio U '08 (http://espn.go.com/blog/bigten/tag/_/name/jim-bollman/count/31)?
Edwardo's deep dish is strong to quite strong. Similar to Giordano's, just better all around. Dearborn and Division
Also, La Pasadita for late night taco's on Ashland and Division
The Big Chill is weak sauce...the only thing good about it is the soundtrack. All the characters are whiny and went to Michigan.
Recently, I've been enjoying all the old Alfred Hitchcock movies on the netflix. Those are top notch.