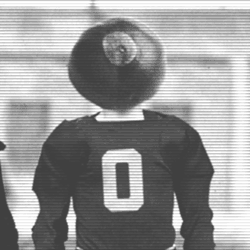 michiganstillsucks
---
MEMBER SINCE November 02, 2018
Recent Activity
Here's my Way-Too-Early BOOOOOM!!! Go Bucks!
Me too! If for no other reason, we will finally have pictures of Fields in Scarlet and Gray. I'm so tired of seeing Georgia unis. That first practice, let those cameras fly.
I'm looking forward to watching the NFL's Top 100 this year. I wonder how many Buckeyes make the list.
If you would have told me 20 years ago, after suffering through most of the 90's, that in the next 20 years Ohio State would have a winning record in bowls and against meatchicken, I probably would have taken it. However, to have been this successful in the best bowls (way more than just a winning record), completely dismantling the team up north (seriously, 17 out of 20), 4 NC appearances with 2 wins, another Heisman...Wow! We are a blessed fanbase. This is beyond my wildest dreams after living through the 80's and 90's. Thank you Tressel, Meyer, and all the players and coaches who have given it everything you have, thank you! I can't wait for it to continue another 20, Go Bucks!
So, if you're applying this matrix to our Buckeye coaches, was Fickell a tranny?
Not getting much work done today, but that's OK. BOOOOOOOM!!!!
The past few days reminds me of the Jimmy Johnson/ Jerry Jones takeover at Dallas in the early 90's. Wholesale changes and news by the hour. It's a lot of fun, and so far I am trusting Day and Meyer's view of Day. I really hope that Day doesn't venture away from the traditions of Ohio State, even a little bit. What I loved most about Tressel and Meyer, even more then the NC's, is their love and understanding for Ohio State, it's traditions, the Band, and most of all, the rivalry. What gives me a small fear is Day's lack of connection to Ohio State's past. I don't want to sell our soul for some Championships followed by 20 years of mediocrity like the Cowboys experienced. Now, I don't think Ohio State well ever be mediocre, but I also don't want a return to the 80's and 90's. Again, I think Day is the right hire and I am super excited for the future, just 1% worried.
ESPN will never let that happen. We'll be undefeated and seeded #5. I notice we didn't hear much about the conference bowl records. Maybe it's because it doesn't fit their narrative.
Power 5 Bowl Record
Big 12 4-3
B1G 5-4
ACC 6-5
SEC 6-6
Pac 12 3-4
Technically Conference USA wins at 4-2
Honestly, my hope is that Urban is the AD in waiting. I would love to see him in a Barry Alvarez type role here in the near future. Drake might be a hang up though.
It's all about $$$$! ESPN props up the SEC and ACC while setting the narrative that impacts national decisions. The moment the B1G created the BiG Ten Network, this type of biased coverage was heightened. We need to boycott every NON B1G bowl game not covered by FOX, and root for the B1G to dominate the bowl season again. Also, as hard as it is, for me this includes meatchicken over Florida. Money has jacked up national political journalism the moment news agencies were bought by corporations, and now conferences are being covered the same way and it affects decisions. I get it's always been a subjective vote, but I was hoping the CFP would be a little more balanced.
I am extremely frustrated at this whole process. I do not understand,
1) How we remain #6 in the polls. I can make an easy case why we should be #4, but I also understand how Oklahoma, even though I don't agree, got to #4. However, there is NO justification by any criteria how we remain #6. It is bias, not only against Ohio State, but against the B1G. Which leads me to ...
2) How does a #15, 4 loss, Texas team make a New Years 6 game over #12, 3 loss, Penn State? Zero idea.
3) How does Jim Delaney stand idle, while his conference is being bent over the table? I know basketball season has begun, but I would hope our commissioner would at least pay some attention to how the football side of this conference is being treated.
Now, I see a lot of people calling for a boycott of the Rose Bowl. That would be the worst thing you could do and it would only hurt our team. If anything, we should turn the stadium 80% Scarlett, be the highest rated telecast of the season, and help our team in every way we can, win this game by 40. This will show every recruit in So. Cal. and around the nation what Buckeye Nation is all about. Honesty, we should watch every B1G game and boycott everything else, every non B1G bowl not carried by FOX and all shows carried by ESPN, ABC, etc.
ESPN and their on air hacks will never cover the B1G fairly. I don't care if they do have a contract for some of the games, the SEC and ACC is their primary. The very second the B1G network was created, ESPN began their political gamesmanship. It's ALL about money. It's obvious, and the more they poke at OSU, the more views and clicks they get. I know the Rose Bowl is ABC, but boycotting does little to hurt the narrative and kills OSU in perception nationally, in recruiting, and of course the current team. Boycotting everything else will hurt ESPN. Just my opinion. GO BUCKS!
I am a little nervous, because in this rivalry, anything can happen. However, I am also giddy at the thought that this victory will be the most wonderful joy I've had in a while, as meatchicken's hopes and dreams fade on a cold November afternoon. Our margin of victory over Nebraska or our current playoff ranking pales in comparison to knocking them off the ledge into insanity. So keep climbing higher, scum. The greater the fall, the greater the joy. Go Bucks!