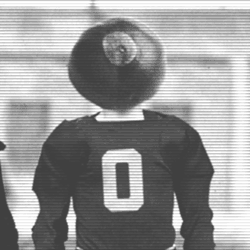 michicant
---
Ashtabula Ohio
MEMBER SINCE October 02, 2018
Favorites
COLLEGE FOOTBALL PLAYER: Andy Katzenmoyer
Recent Activity
Beattheaholesupnorthagain
Absolutely no comparison. I hope they keep Harbaugh for a loooooong stretch and his quarterback with him.
Let's hope that khaki jimmy stays and stays and oh did I say stays
You have made us all proud Sir Urban
Yes to me any season that includes a one point win over the a-holes up north is a successful season.
George Jones had nine lives
I could do without all the ehhhhh women... reporters. And THAT is my opinion. Oh and I'm right.
Sadly Urban won't live that long
I too have been reading their blogs. To you um fans who want your "coach" fired, please please please don't. To you who are contemplating jumping off a building, you're welcome to use my balcony
I proudly have a Michicant bumper sticker on both of my cars year round. Many thumbs up constantly. I have no reason to drive into their state so I never do also I can't take the smell.
You are wrong on this one. Seeing their fans stunned and tearing up and shocked and upset is a staple of their program. I absolutely love these shots for I hate Michigan, their fans, and the mothers that bore em. It goes along with every Buckeye win over them, Sparty win over them, Gamecock win over them, Toledo Rocket win over them, Appalachian State mountaineer win over them... you get it. So if they're crying I love to see it on camera I never get enough! Go Blow
Change the setting to a poker table. Urban would own his house. Strangely Harbaugh did not cry over calls not going his way as he always does. I believe early on in the second half that it was futile To the TV network who airs next years game could we have more shots of their gullible stupid stunned fans, they are priceless.
The idiots from north of Toledo have had zero to be proud of the last 15 years. Many of their football players in this recent 20 years have spent 4 years without once beating The Ohio State University. As Zeke Elliot said it isn't even a legitimate rivalary if only one team always wins. The memories of Countless TV shots of stunned fans as their team found various ways to blow games have been rewarding to me. Witness South Carolina last year, Michigan State and of course the Tressel and Urban eras.As I hate them and the mothers that bore em. So yes I enjoyed the wolverqueen moniker. Thank you Tke Buck
Zackly.well said. Much more likely than a DH rush is a successful hook and ladder play. And as you said Everyone in attendance knows it
Exactly not even first round if he leaves after this year. I love the kid but completely inexperienced for the first round of the NFL
Not to mention zero QB run threat the offense with Haskins has become very predictable and consequently easy to contain and control by good defense. Bring on Martell
I would like to give Martell the offense completely in the second half v maryland and if successful surprise harbaugh with him as starter
Yes this game was ugly but blaming urban for struggling through a long list of injuries including Bosa cooper and others the buckeyes aren't their usual deep selfs. They can't rotate without drop off in many positions. I think the more surprising thing is they're 7-0 and I believe that isn't luck it's coaching through these many injuries and concussion protocols.
This was different. Minnesota had their way running and passing except for the last 5 minutes of the 4th quarter. The only thing positive from the buckeyes was DH and the receivers and a few timely turnovers. Every other aspect was very ugly to watch.
Who knows the real truth. Saying that I have been together with my wife for 46 years. She is a lady. Many females today expect males to act a certain way, possibly without ever themselves spending one day conducting themselves deserving of ladylike treatment. In todays pc environment the male is never given equal consideration. 28 months seems like a strong sanction and maybe for good reason, but because this story is from the left coast who really knows or can say
The heavy XXXXL lineman may not be in on passing downs. He would definitely be exposed and obviously winded after very few running plays. Even if a 6' 9" person is 330 lbs, imagine making that guy carry around 80 extra pounds of dog food. Why would the Minnesota staff not have him on a program to trim some weight off. I can't wait to see him play, but I don't see how he could be a factor.
Great to see Victor sell out to make that catch, Takes courage on his string bean frame. Crucial catch to seal the win. A shot of the sideline showed Urban finally able to breath easy
Did anyone else look in on the Maryland game Saturday? There were oodles of empty seats and even a few empty sections at the out house. After years of being blind to their average teams and at many times below average coaches, while the Buckeyes have year in and year out have piled up wins and populated the NFL with countless players, maybe some of the fans of that team have figured it out.