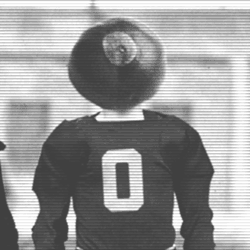 michbux
---
MEMBER SINCE December 27, 2014
Recent Activity
Heard they have sold 44,000+ tickets so far for the finals in Minn.
Would add that um QB commit J.J. McCarthy is constantly in Rocco's ear & is recruiting hard for the scummers.
I watched Spindler play this year. He & fellow lineman, Dellinger (top 15 OT that's even bigger), should have dominated both lines of scrimmage. They did not in the game I viewed. & that was against an 1-8 team. Spindler's team finished 3-6 (they won a State Championship a couple years ago). He has great pedigree as his dad was an All-American at Pitt & played for the Detroit Lions. I'm sure the OSU Coaching Staff has a sense on who they have a great chance of getting or not getting. I'm also sure they see something in Rocco. I didn't see it that game. but may have been hard to get motivated against a bad opponent on a rainy night. Definitely would be a better take than the lower level OLmen taken in 2020.
not sure if Toutant will get all the way back to competing for a starting role but it would be great if he did. He didn't garner any State rewards last season when he was healthy. His HS team had to forfeit most of the season this year & I believe the Coach was let go & several players suspended. Some serious player hazing going on. Hope that Grant wasn't part of that.
a great get would be OT J C Latham from IMG & then call it a Day for OL. michigan not happy that Mattison (who prev. recruited J C for michigan) is now selling OSU to J C. Sour grapes from upnorth as they are claiming Gamemanship by Mattison in the recruiting battle.
Hopefully, you stop with these comments especially when SEC or SOuthern refs are doing the game. Their reply was very strong.
I stand corrected. There is a Jalen Harrell CB & a Jaylen Harrell WDE. The CB did de-commit from FSU. The info on the other Harrell is as stated.
The FSU de-commit mentioned in the article, Jaylen Harrell, is a 4*WDE not a CB. Goes to the same HS as NP-F did. Hearing michigan is all over him. They have a former player as an Asst Coach there & he's got Don Brown heavily involved. Funny, michigan has 3 DEs already in this class.
Have heard on more than 1 occasion that scum's QB commit, J.J. McCarthy, is going all out to recruit the 2021 class to um. Already has top relationship with top 100 players OL Rocco Spindler & TE Theo Johnson. Working hard on whoever scum let's him know they are recruiting. There's a kid that bought into the kool-aid along with his parents (also doing interviews to build up son's brand). Looks like The OSU commits have a bit of a challenge on their hands.
This is a huge reach. Tells us many of the higher level Bigs are not sending OSU strong vibes/consideration. Have faith in Coaching staff to develop but like they say, you can't teach size.
Agree with patches. If he's a true Captain, he doesn't put his individual accomplishments ahead of the Team. I think he did that last year. Let's hope the pre-season hype is warranted this year.
Your kidding, right. This is lower ranked option that will lower the averages for sure.
Don't get too giddy over this. I follow his league & he didn't even make Honorable Mention All-State. Didn't even make Honorable Mention All-East Side Area (OL teammate did). Maybe his non-in-game performance for the Regional in Cin. caught a few eyes.
I'm thinking this is more a reflection on Stud more than anything else as many, many higher ranked OLmen are passing on his recruiting speak.
Those thinking OSU is locked down on the two LBs mentioned in the thread, better wonder why OSU offered 2016 5* LB, Caleb Kelly, out of Fresno Ca. last night
I'm more than fine if he chooses Minn. Bigger fish out there with only a few LB spots open.
None of the B1G Michigan Universities wanted him, why us? I think he had the effort (unlike the rest of the senior class) just not the talent. A big recruiting miss.
What a POS comment. You must have a crystal ball in your mother's basement. Lot of things can happen.
How is it that Michael Jordan was not All State & not even All Division this past year in Michigan? Something amiss. The Bucks can be very selective on the OL this year.