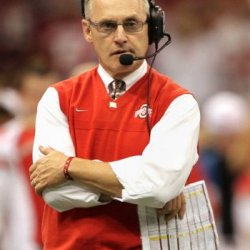 MichaelTimer54
---
MEMBER SINCE May 01, 2016
Favorites
SPORTS MOMENT: The last four games of the 2014 season
COLLEGE FOOTBALL PLAYER: Braxton Miller
COLLEGE BASKETBALL PLAYER: Aaron Craft
NFL TEAM: Dallas Cowboys
NHL TEAM: Dallas Stars
NBA TEAM: Too much scoring for my taste
MLB TEAM: Boston Red Sox
SOCCER TEAM: Are you kidding?
Recent Activity
Absolute best part of this is the ref falling down too. :)
Isn't the cover picture for the Skull Sessions usually related somehow to the content, or am I just imagining that? I'm trying to find the Haubeil/FG connection here. Don't see it, unless it's a very oblique reference to certain players stretching...
The kickoff is a great play! I dislike them continuing to legislate it out of the game.
Tate should consider the wise words of Michael Scott: "Fool me once, strike one. But fool me twice...strike three."
It's sad how much attention OBJ has drawn to himself over that night. The focus should have been on LSU and its championship winning players...not an NFL player who doesn't know how to behave.
I have much faith in Ryan Day and his staffing decisions.

On a completely unrelated and superficial note, that picture isn't a very flattering one for Corey, IMHO.
Chill out. Nothing wrong with contributing humor into a thread. From the upvotes, I can tell that 26 other people thought it was funny.

Just because someone doesn't have a definitive answer to your question (which, by the way, NO ONE has so far) doesn't make them a goon for being funny. :)
Michigan is always #1.

After that, I'm definitely most intrigued for the Oregon game. High profile OOC games are too rare these days. This one is exciting on a few levels, but I'm highly conscious of the fact that it will likely be analyzed towards the end of the season as measure of the Pac 12 and Big 10's relative strength.
I can hear the TV promo now: *dramatic voice *

"Some rivalries form across a state line....this one forms over the western half of a state line..."
I agree with what others have said. The transfer portal isn't the issue. The way to keep college football from turning into a free agency frenzy is to enforce the 1-year sit-out rule except in transparent, objective, and rare exceptions.
Just noticed that too. Awesome!
Returning will also allow him to perfect his hard count technique. His Fiesta Bowl attempt was hilariously enthusiastic, but ineffective. :)
Not anymore. Too many debacles and controversies over what the call was. So they make it extremely clear before the coin goes in the air.
Yes, I was satisfied. It was a good year. An excellent year. We smashed all our other opponents and lost a close, tough semi-final matchup.

That said, I was still very disappointed with the loss. Hopefully it provides a lot of motivation going into next year.
Let's absolutely talk about our missed opportunities. But screaming about the officiating and claiming that the refs cost us the game is what Michigan fans do, and we laugh at them for it, rightly.
Be better.
At first I thought you meant the CFP NCG end zones, which have sadly been all-black. And I was going to agree!

But I now realize you meant in the Shoe. I don't mind the scarlet end zones as they are. But I wonder if replacing the white letters with gray would do the trick?
As someone mentioned, this article is from 2016. Anyone know if all the facilities and arrangements are the same this year?
Herman Cain's 9-9-9 tax plan?
That makes a ton of sense actually.
That's an interesting point Joebobb. Very unflattering company in that list for Michigan to be associated with.
But the fear about a rematch in the Leaders and Legends era was absolutely justified. It didn't happen in those 3 years, but if we had stuck with that divisional alignment, Michigan would absolutely already have appeared in the Big Ten title game, probably many times.
97% based on the data you just linked to. (3,791 out of 3,910) And 0.97 points seems a lot better on the long haul than 0.86 points.
Going for it more on 4th downs...absolutely
More situational 2 pt attempts...likely. (though 43% conversion rate x 2 points if successful means expected points per attempt is 0.86...much less than consistently getting the 1 point...am I missing something?)
Frequent onside kicks....doubt it. The success ratio is so low, and the massive difference in starting field position makes this stupid in my book. What was the math behind the constant onside kicks?
Smart of him to get this signed before the Penn State game.
I love that you publish this report.

But seriously, what's the rationale for doing so on Monday? Just wait until Tuesday so you don't miss anything big that happens Monday night.