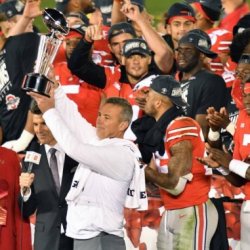 michaec5
---
MEMBER SINCE February 15, 2012
Recent Activity
https://youtu.be/fZCIFTBC5D8
Strong opening weekend IMO. I'm okay with the rules, think they add some much needed punch to the game. Commanders have some swagger, Apollo's have a strong offense and the Iron have a pretty solid defense for the level of play. QB play left something to be desired but also looked like they were playing loose and taking risk, a lot of the time it was paid off by great wide receiver play. I'm torn between the Apollo's and the Commanders, but I think the Fleet and Stallions uniforms look cool. I don't think this is a league that's going to drop off anytime soon, seems to be gaining real traction on social and I've already seen conversation, by the AAF, about expanding to 12 teams next year and adding 4 additional cities.
True, but you guys do have Cedar Point.
I would like to see Shazier strip the ball out of his hands again, or maybe he does the stupid scramble of Taylor Martinez and stops only to be introduced/demolished by Bradly Roby, so sad they didn't show that in the game highlights and I can't find footage of it anywhere...I think I jumped up and down screaming SILVER BULLET!!!!! at the top of my lungs, with a diminishing chant of don't get up, don't get up...pointed towards Taylor Martinez. (disclaimer i wish no bodily injury on anyone, but hey if your dumb enough to stop running while in bounds and you get injured, thats your fault, and it does dramatically increase our chances of winning)
Ross, great article, like many I'm extremly excited for next year and the spring game. Also to everyone else, we are truly blessed as buckeyes to have a site like 11warriors as this article was featured today on ESPN's B1G lunch time links.
Thanks to the staff and the fans for making this site great!!!
we're rebounding like babies
Coach Meyer is quite the salesman, not only is this a quality pick up on the field, but the kid retains information very well. I'm sure he was told about three quarters of the stuff he said in reply to the interview, which is great it shows me that he is totally bought in to what TOSU has to offer.