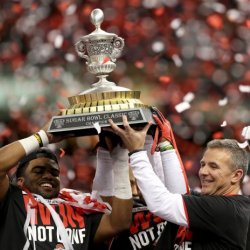 MiamisburgBuckeye
---
MEMBER SINCE August 18, 2015
Recent Activity
What did he say?
I think Powers will be committing in the next day or two!
Yea Hoak is not starting in that scenario
Not necessarily recruiting info, but BK just said expect OSU to open the season on Sept 5. Would have to guess that's good news for visits happening at some point.
That would be nuts man. Hancock was just interviewed by RJ Young a day or two ago and he said they decided to go their seperate ways and Barrett wouldn't be coming to OSU. Said the same thing to Birm I'm pretty sure.
I really can't think of who they're referring to. It's not Barrett Carter, doubtful JC would flip this quickly if he does. Hopefull they're not just messing with us lol
For those worried about Bama catching us..if you add the top 3 players in the country (Foreman, JTT, Sawyer) to their class they'll have a composite rating of 302. We have 305 right now. That would be 18 commits each if you don't count our punter. They COULD catch us if crazy things happen, but they're not as close as it seems. Plus, they only have 6 top 100 recruits to our 12 at the moment.
Not saying Bama CAN'T pass us...but they have 5/15 top 100 players, we have 12/19 and we have a punter
AE come on man do it..
I'll invite you as soon as the servers are back up! Which team do you want? Also, I'm going to send you a friend request on live. Make sure you accept so I can invite you to the group chat.
Done!
Sounds good! It always happens too lol
Invites sent and read details below!
Invites sent and read details below!
Invites sent and read details below!
Invites sent and read details below!
I sent out the invites. Make sure you download the Xbox App to your phone and turn on notifications. Also accept my friend request so I can invite you to the group chat. Thanks!
1. ii OHIOSTATE ii - Ohio State 2. Pappasmurf12 - Alabama 3. cmoo1721 - Clemson 4. D Money924 - Georgia 5. o Taco Master o - Texas 6. Age of Jackson - Florida 7. f s c 4 300 - Virginia Tech 8. Thrisch - Michigan 9. DuckiestPear - Oregon 10. killerdad86 - Oklahoma 11. dlv7709 - USC 12. Aussie born elk - ?
Okay we got our 12! In order to keep communication, please download the Xbox App on your phone and have notifications ON. I'll create a group chat and invite everyone to it. That will make it easier to keep updated with the dynasty and to schedule user games. I'm going to send out the invites now. Make sure you do not create a coach. Keep the current coach. I may be able to make it so you are forced to but I'm not sure. Hopefully everyone can get the preseason done today so we can advance to Week 1 later tonight. Should be fun!
You got t!
Nope they did for all other games before 14 tho
Cool ill let you know!
1. ii OHIOSTATE ii - Ohio State 2. Pappasmurf12 - Alabama 3. cmoo1721 - Clemson 4. D Money924 - Georgia 5. o Taco Master o - Texas 6. Age of Jackson - Florida 7. f s c 4 300 - Virginia Tech 8. Thrisch - Michigan 9. DuckiestPear - Oregon
1. ii OHIOSTATE ii - Ohio State
2. Pappasmurf12 - Alabama
3. cmoo1721 - Clemson
4. D Money924 - Georgia
5. o Taco Master o - Texas
6. Age of Jackson - Florida
Sounds good! Hopefully I can send out the invites today. You're #6. I think 8 would be a good number, even tho 12 is better haha