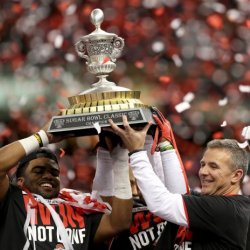 MiamisburgBuckeye
---
MEMBER SINCE August 18, 2015
Recent Activity
It's unofficially official tho
They already have lots of practice with things like that
Maybe Dobbins leaving convinced him already? I mean, if those shots are legit then his mom basically confirmed he's coming here. Although, we've seen how that has ended for us before lol
Why in the world would he give Clemson this info?
All aboard the NPF train!
AE, you hearing anything in the Brenton Cox department?
Multiple insiders have said that he told the coaches he was in. He changed his mind. Or his family did.
It's clear Bijan told everyone including our coaches he was coming. Hope Bill just got some bad info, and that didn't actually change...
He lives 6 hours away so that's not at all surprising haha
LSU mods on 247 are banning posters for even talking about Ricks. They really think this is just going to go away? lol
He made a thread titled "Greatest Decision Ever!" on The Front Row
Gee Scott Sr. on Bucknuts.. "Since Christmas of 2018, my son has gained a family (fan base) that's second to none. I've watched him change. He has always been a hard worker, but what I'm seeing today is crazy. Back from Dallas, and this morning he is on the field running routes. My point is, please understand that all of you are a huge part to his commitment to tOSU and his commitment to be better. As a father, I can't ask for anything better. Oh, and one last thing, please don't worry, he will be signing those papers in December. Happy 4th to you and your families, and #GoBucks"
LSU insiders posted a few days ago that he spoke to the parents and said they had moved to Louisana. Very weird to make something like that up! Wow!
This seems completely different to me
Love how we get a massive TE prospect who can finally stretch the field and he won't get a chance to start until his 4th year. Put Ruckert on the field. He has so much more upside than any of our other TE's. Love the other projections but Browning needs to be put on the outside
Ruckert will 100% be starting at TE next year. With the new passing attack Day will put out the guy who can make big plays over the better run blocker. Mitchell needs to start over Borland. He just can't play in space against spread teams with speed. Finally, I believe NPF will put on the weight he needs to and will start at RT this year. Too talented to keep off the field. Alabi has tried RT and doesn't feel comfortable. LT and RT are not interchangeable like some think. And Munford has been injured often enough that it seems safe to keep a great guy backing him up who has shown he can do it.
He definitely has sources. Says hes talked to a few guys and if he doesn't come to OSU at this point he'll be completely shocked
On 247, Justin Fields is ranked the 8th best recruit of ALL-TIME. If he wants in take him NOW. If Tate feels like he doesn't want to compete then that's on him.
You're wrong. He's better than Tate and if he wants to come we won't say no
Justin Fields is Deshaun Watson. If he wants in you take him now and worry about pissing anyone off later. He is an absolute game-changer. Someone just posted that the last 3 people he followed on twitter are Day, Haskins, and Jeremy Ruckert. Where there's smoke....
Can we start him next to Fuller and move Wade back to nickel corner?
I hope Teradja Mitchell is our starting MLB next year. Move Browning to the spot he should be at OLB. Browning-Mitchell-Harrison would look nice out there. It wont happen because Werner and Borland will be starters here for the next 3 year because this just how we roll at Ohio State now. Regardless of how bad they are when their on the field. But hey, one can dream that we'll actually put the best talent on the field someday, cant we?
Oh look. Knox getting blown by again
Wilson on OL: "Not that there's any job up for grabs," Wilson said, "but competition is healthy."
My head is going to explode.