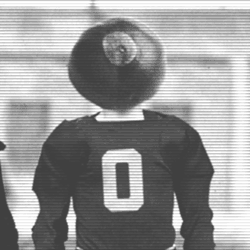 Miami of Brohio
---
Oxford, Ohio (via Waynesville, Ohio)
Member since 24 November 2011 | Blog
Life long Buckeye fan living around Oxford, Ohio. Can't say no to rooting for any Ohio team in any sports match up.
Favorites
SPORTS MOMENT: 2003 National Championship (Can any REAL Buckeye fan under the age of 30 say anything different?)
NFL TEAM: Cincinnati Bengals
MLB TEAM: Cincinnati Reds
SOCCER TEAM: No. Never.
Recent Activity
I think the most impressive is Corey Smith and his power to be two different people:)
Not quite the same thing as stating we are all going to be dating super models, but anyway sometimes the optimists do win out...like 2 weeks ago at the start of the 4th quarter against PSU.
Blow back doesn't need to occur for suggesting how to make it to the playoffs. It is possible still, if very unlikely. I am not sure what there is to get angry about enough to actively take time to shit on, but that is just me.
But to the poster above, there you have it with your comment about "trolls winning everywhere" because they take the time to peruse and abuse the forum and its posters. I just hold the W's and L's usually and move on to my evening plans. Or sleep it off and read the fantastic 11W breakdowns the next day so I don't have to think too hard about it.
Agree. I think I balance the line between the old and new school where I see a lot of the griping (especially from the OSU's and more traditional programs) but also the neatness of some of the design. I liked that OSU was doing alternates but with new takes on old versions of the jersey. I am not a fan of the straight up new concepts (All blacks and this year's iteration) - but I do think the aesthetic implementations on both were some of the most interesting. The chrome helmets will always be my favorite, but the black helmets with the scarlet leaves and the grey helmet with the scarlet leaves are a really, really sweet look to me.
He doesn't get it mixed up - it is a deliberate wording to avoid saying a player is good/great when they obviously aren't performing up to his standard and shitting on them publicly on air is inappropriate.
I don't think Meyer is married to any of the players on the receiving core and is playing them over other players that are obviously better.
Ah my favorite kind of politics - NCAA
That is pretty cool. Not superstitious but I like the idea of the giving the Buckeye necklace to new friends made while out on those trips and during losses. I don't get out much for the away games but I am making note of that.
I wonder where you got that score from....
Anybody else think "170 lbs sounds like a healthy weight" without realizing Meyer is 6'3"? No idea the dude was that tall.
With what season did this series start? I only just now started paying attention to them.
Eh she is not a professional comedian - just someone who likes to try and bring wit and personality to what she posts and does have a lot of a good moments. Are you any different?
Props to Apple for having to deal with being a woman in sports reporting. A lot of people either don't take your insights seriously - or probably think they are written by men and apparently now you aren't allowed to bring any personality to it other than smiling and nodding. Frank Caliendo can hijack entire Mike and Mike segments impersonating 30 different people, some of which have nothing to do with sports and no one bats an eye - but Annie Apple better leave her damn hit and miss jokes at the door!
Edit: For the record - it is just our opinions and am not that down vote - I wouldn't do you like that. I'll upvote to cancel it out
I was so glad DJ did the "get dumped" to the bye week. If not my comment was going to be "WHAT IF WE LOSE?!"
Can either of you guys post to youtube or torrent?! I want to watch now in hindsight soon...
I cant post a forum topic due to lack of stickers but I stuck to the normal broadcast due to what I am used to and I didnt want bells and whistles while watching the Bucks play the NCG. I know there are torrents and youtubes of the previous OSU games and likely will be of the normal broadcast but does someone have the NCG film room covered in torrent or youtube?! Now that it is all over I am definitely interested in hearing the insights stress free
This is going to be lame, but there was a highlight video on youtube out for the 2007 season that used Matchbox 20's "Let's See How Far We've Come" to it. When I think about this team and where they are at now from the VA Tech loss I can't help but think about this song.
Not much of an up voter or down voter so I gave one on your behalf
Me too if it gets uploaded early enough. Seeing the highlights, particularly the scores in the second half, my memory is a bit spotty on. I went into full on party mode midway through the 2nd quarter and never looked back.
I dont quite understand. Are they transferring to another program or are they just done with football in general?
Exactly. With the supporting cast this team doesn't need Barrett to make NFL caliber throws. If he can make the right decisions on read option and understand the intricacies of the passing and screen game, he doesn't need to be a world beater. Limit mistakes and turnovers on his end, let the speedsters make plays, and hopefully the defense is coming to play this year.
What made Tebow special wasn't that he could rip off 50 yard runs every game like Braxton or that he had a cannon for an arm. He could not really rip off big runs and we all know in hindsight his arm is pretty sub par. He just had a mastery of this offense.
Yeah I did not think much of the O-line, just more on the evolution the offense as a whole should take at the QB spot without Braxton. But, if the Oline can be at least serviceable to above average, I think that would be all that is needed if Barrett can piece this together like we hope he can.
There is nothing wrong with feedback regardless of whether or not something is free - I am not any more or less thankful for that than you are by offering a critique. Being an asshat unnecessarily when providing feedback is a problem.
I hear you, and again it isn't meant to be a slight to you by any means and I apologize if it comes across as such. I appreciate the job you do on Skull Sessions and enjoy your writing. Skull Sessions I just think of like food - having pizza every day for a while just makes you want to mix it up occasionally.
You do make me realize that it has been three and a half months since the last real Buckeye football game and I am likely being more negative than usual.
I kind of wish the Skull Sessions would go back to a different writer each day. I don't mean for this to sound like I am bashing on DJ, I enjoy his writing, but the Skull Sessions seem to be a good way to get to know the writers better as it provides more opportunities to get their opinions on what is going on in the sports world, and as a result the few weeks of DJ taking sole control of these I already know what his reaction to what he is going to cover before I have read it (i.e. the slow burn destruction of the NCAA - I get it, DJ loves it so so much and thinks athletes deserve to be paid.)
I am sure this change was mostly done by some sort of necessity, but getting the takes of a different writer each morning, for me at least, made these a bit more enjoyable as it felt more random. Not saying I am on the verge of stopping reading these, but just thought I would give a constructive critique with an attempt at putting a reason behind it.
I'll throw you a HS cause you owned it. Whatever was said, owning your garbage we should reward just as much as we punish the obstinate on here.
While I am not necessarily against the idea of student athletes receiving more, it always irks me when students act like it is an issue of going hungry. You're right Roby; you, osu linebackers, d-line, o-line, Braxton, etc have all looked pretty waifish the last couple football seasons...