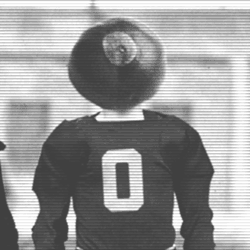 MI Buckeye
TSUN (via Riverside, Ohio (Dayton area))
Member since 09 February 2015 | Blog
OSU Alum - C/O 1993 - Now living in TSUN
Favorites
COLLEGE FOOTBALL PLAYER: Katzenmoyer
COLLEGE BASKETBALL PLAYER: Oden
NFL TEAM: Sadly - Detroit Lions....
Recent Activity
Are either of them signing today or waiting for February?
http://collegefootballnews.com/ Looks like Napier is a done deal.
Very credible. MLive is the website for the newspapers up here. Not tied to UM or any fansite.
Fox
I think Spielman has said that he would donate any proceeds he wins back to Ohio State. He is just trying to get a legal precedent for all of the athletes who do not have his profile and ability to do this for themselves.
I saw mostly obnoxious IU fans and was sitting around the original posters section also. The best / funniest part was at a concession stand during half time. Almost all IU fans / students around me in line. Roughly half were real bad chanting "F" Ohio State, and the other half all were predicting exactly what happened - that they would find a way to get killed late in the game. They almost starting fighting among themselves over it.
I guess I am just showing my age, but i remember McPizza being more like a hot-pocket than traditional pizza. That was the late 80's, so maybe it transitioned after that.
Or is it Eli Gardner- the receiver Urban visited today?
I used to have several business classes with Brian Stablein in my time (89-93). He started as a walk-on WR and later got his scholarship. I think I missed more classes that he did. Was a pretty regular guy in class, and he went on to play a few years in the league.
I live in Western MI, so I often hear rumors about MSU or UM recruiting. Tonight at a Christmas party in Lansing, several coworkers were talking about a potential flip for Amir Riep to MSU due to our recent and expected future success with other higher ranked DB's. It was the first time I had heard anything about this since he committed. Is there any more recent chatter about this? Andrew?
Thanks Birm- Any truth to the rumors of Kareem Walker visiting Ann Arbor this weekend?
Roy Rogers Roast beef - so much better than Arby's or Rax! They were not in Columbus when I arrived in 1989, but they had a couple in Dayton.