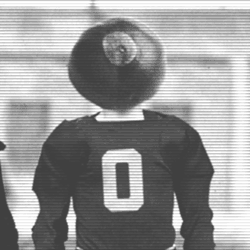 MI Buckeye
TSUN (via Riverside, Ohio (Dayton area))
MEMBER SINCE February 09, 2015
OSU Alum - C/O 1993 - Now living in TSUN
Favorites
COLLEGE FOOTBALL PLAYER: Katzenmoyer
COLLEGE BASKETBALL PLAYER: Oden
NFL TEAM: Sadly - Detroit Lions....
Recent Activity
+1. Just watched it also- very interesting!
I believe UM TE Sean McKeon either was a senior or is leaving early. I have seen him in draft projections
former NCAA investigator who handled, among other things, Tatgate https://t.co/499CVGZ4mP

Chase took a small loan from a close family friend last year to cover basic life expenses. Loan was repaid months ago and were working to restore his eligibility. Unfair and outdated @NCAA rules punish athletes for making ends meet while enriching everyone else. https://t.co/2Jsqj7f7TR

— Tim (@TimNevius) November 8, 2019

— Ramzy Nasrallah (@ramzy) November 8, 2019
I wondered the same thing. How much of his work current work is a result of his ability and how he or hasn't progressed, and how much is due to the lack of development that he could have received under Meyer / Day? I would venture to guess that if he had been here for the past 3 years, he is probably a whole different QB.
What a great memory for you. I played a couple of times against Herbstreit in high school. He was a year older than I am, but we were in the same league . His team was always very good and killed us both years that I played against him, but I still vaguely recall tackles that I made against him after all of these years. He even left the game for a few plays after one of them - probably the highlight of my very average HS career. :) I must have mentioned it a few (dozen) times because my wife still thinks it is funny to ask "Didn't you tackle him in high school?" when he is on TV. Enjoy your high school career - it goes fast and you will remember it forever.
MLive is the website for basically all of the major newspapers in Michigan.
I think you may be misled about his articles. I have not seen anything pro-OSU from him - maybe ever. There is a complete fake Twitter account that is a 100% copy of his profile and pictures, but it is run by someone else. That often has a lot fo Pro-OSU tweets and links on it. The pages look essentially the same, but you can tell if it is the real one by the actual @ name... TCT2323 is the fake one. Brett_McMurphy is the real one.
Only my personal guess, but I presume most people thought he would be solid just based on his brother alone. I actually started to get a little worried when he made a big deal out of his QB Bailey picking Tennessee over TTUN. I wondered then if that opened his interest to Tennessee even then...
Tommy Eichenberg just announced on Twitter that he has re-opened his recruitment.
Just saw that Micah Potter has transferred from Ohio State - any concern that younger brother Noah reconsiders pledge to Buckeyes?
Lejond Cavazos is tweeting about Oregon tonight. https://twitter.com/lejondaryy/status/1036775192985587712?s=19
Sorry - should be in class of 2020 post instead
Lejond Cavazos tweeting about Oregon. Taron Vincent then replied "Aren't U committed?" https://twitter.com/lejondaryy/status/1036775192985587712?s=19
Is this ZS drama fallout or just flipping somewhere?
Looks to me like McMurphy has decided his best bet to remain relevant is to make sure he gets sued...
Loved North campus- 12th floor Drackett Tower in fall of 89
Alumni here - BSBA 1993. I don't think I am necessarily any more of a fan of the teams than anyone who didn't attend the school. However, in my case, I suspect I am a bigger lover of Thee University than some who didn't attend just from having 4 years of daily experiences there. I have many great football related memories, but even more fond memories that relate to my time at OSU that are not necessarily specific to sports. If you share my passion in good times and pain in lower Buckeye times, then you are a Buckeye to me- with or without ever stepping foot in a class there. OH
I swear I hate when coaches be lying to kids. Punch your ticket! Ummm to what? 3 years of losing to both of ur rivals? yep that sounds great!!! . Pls tell me how r u gonna get a WR 13 touches per game & ur base offense is 22/21/ 12Personnel?

— Eron Hodges (@EronHodges) June 20, 2018
Not sure how to actually embed a tweet, but here is what he tweeted -
I swear I hate when coaches be lying to kids. "Punch your ticket!" Ummm to what? [] years of losing to both of ur rivals? [] [] yep that sounds great!!! [] . Pls tell me how r u gonna get a WR 13 touches per game & ur base offense is [] [] / [] [] / [] [] Personnel?
7:53 AM - 20 Jun 2018
247 shows that he committed to Kentucky today
Per Twitter, he has just decommited from Texas A&M
Are either of them signing today or waiting for February?