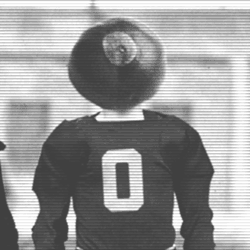 Mhennin2
---
MEMBER SINCE April 24, 2014
Recent Activity
They both had multiple years in the system, burrow was going on 4 and haskins was going on 3.
I'm sure it was a very close battle, but there was no indication that Burrow would win that battle. He came out and said that the coaches leveled with him that Haskins had the advantage because of how he performed. To suggest that Burrow would have won is just wishful thinking, especially when Haskins literally rewrote record books that year
except that Haskins had a leg up due to his performance vs UM and joe even said as such, so it seems you have a pretty creative interpretation of reality
yeah lebron really carried the lakers last year when he was injured. Hard to carry a team when you aren't playing
It's because he actively has hurt the OSU program in doing so. Cox is helping the OSU wrestling program while Snyder is helping Penn State. Also, because he left we lost the #1 HVY to penn state. He's a legend, but he's hurting OSU more than he's helping at this point. Cox is essentially a buckeye
honestly dont even know where to begin, such a huge fan and the entire reason i'm a lakers fan today. He was my favorite athlete of all time and was the embodiment of hard work and dedication. You can go with the free throws after tearing his achilles, the 81 point game, the 62 in the garden, the 60 point last game, the game winner vs the suns, winning 2 ships after shaq, the gold medal clutch game in 2008, the comeback vs toronto in 2013, the turnaround 3 pointer with his left, baptizing dwight howard, the list goes on and on and on. I think the best way to capture all of it was the jay williams interview when he was with the bulls. He decided to come to the gym early to get in some work and he saw kobe already out there sweating from head to toe. At the end of the game when the lakers won, jay asked him why he was there so early, and kobe said that he wanted to let him know that no matter how hard he was working, Kobe was always going to be working harder than him and he wanted him to see that.
https://www.youtube.com/watch?v=aj7fgZQCe0M
"honorable Louis Farahkhan" LOL ok
the point of the commercial isn't for her to lose weight. You know that people exercise for other reasons right? The commercial is perfectly fine
Got air tickets and hotel already booked. If we dont make it then it's just a golf trip. If we do then it's golf and hopefully a natty. Gonna look to buy tickets the day off and see what we can find
once a player commits to a school, you can't change your crystal ball to the school that they have already committed to. So i'm assuming most, if not all, of those CB's are prior to his commitment to LSU
If you really want to role your eyes, they have a new article "Neck Sharpies" and the intro states as follows so you dont have to give them clicks...
"Look, if we're going to talk about this game, we're going to either have to agree on a few things: Ohio State is operating on a higher talent level, under vastly different rules and vastly different expectations as dictated by their administration and fans. The X's and O's didn't decide this game; if anything they kept it closer than it should have been based on the Jimmies and Joes.
That's the other thing you're either going to have to trust me on, or give up now and walk away: it was Michigan, not Ohio State, that was doing most of the interesting stuff. You can spin this both ways: I highly recommend Kyle Jones's Film Study on Eleven Warriors this week that described how Ohio State leaned heavily on their skills (really, JK Dobbins') with their base offense. Or you could say Jim Harbaugh was more focused on this game, had more prepared specifically for this game, and outcoached Ryan Day in this game, and it wasn't remotely close."
Alright, third time asking is the charm lol
Have you noticed any difference between the staffs in preparation for the game vs ttun? as someone who's in laws are all fans of ttun and I've never been a loser in the relationship, i'd like to keep it that way as long as possible
Millennial born in 93, had floppy disks in elementary school, had a flip phone until freshman year of college, grew up where your internet was based on what version of the AOL disk you had installed
i mean Tebow scored 145 total touchdowns, over 12,000 yards and has 2 national championship rings. Hard to argue against his accomplishments. He wasn't a good NFL QB, but i can't think of any other QB with those credentials in the college game.
Have you noticed any difference between the staffs in preparation for the game vs ttun? as someone who's in laws are all fans of ttun and I've never been a loser in the relationship, i'd like to keep it that way as long as possible
3 of you guys aged better than the rest
John Cooper was a hell of a recruiter, I'm not sure you guys consistently out recruited OSU back then, but the coaching during The game was undoubtedly much better
As someone who's in-laws are entirely consisted of fans of ttun, I'm always worried about the last game of the year. It's been stated that there are ttun periods for every practice, can you touch on how extensive those are and hopefully that they are continuing still under day?
There is a 0% chance he runs anything faster than a 5.0. He was passed by dremont jones last year who ran a 5.11 40 time, and Tuf doesnt look any faster this year
And they can grow up to be perfectly fine pets
you clearly have never had the joy of holding a baby bobcat, wolf, or black bear. They're awesome
the next thread is going to be very pleasing, friendly, agreeable, winning, winsome, prepossessing, refined, cultured, amiable, delightful, charming, inviting, pleasant, cordial, courteous, ingratiating, considerate, kind, kindly, helpful, gracious, obliging, and genial
Luring
Consumers
Telecommunically?
I've made the mistake myself of financing my car, but I paid it off a few years early and now have a dedicated high interest savings account specifically for my next car (hopefully wont be any time soon because if it is i'll be driving a beater for a while)