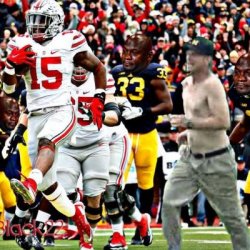 Mfryer2
---
43212 (via 43068)
MEMBER SINCE July 21, 2018
Marine Corps Vet
Ohio State Lifer
Favorites
NFL TEAM: Stupid Bengals
NHL TEAM: CBJ
MLB TEAM: Stupid Reds
SOCCER TEAM: Real sports only
Recent Activity
They must have taken out a lot of trash
OSU 4-0 all time vs Houston. Keep it going
I just hope the humidity down in Miami doesnt mess with his hair too much. He was always really worried about it and fixing it on the sidelines every game I went to
Smith's cant stay out of trouble
Agreed. Irrelevant
We would have missed those 6 rushing yards the 2nd half of the season
I'm sure we'll see them in the playoffs. Just kidding
I saw this kid play live. Had no idea who he was at the time but he was massive and was everywhere. He has alot of room to fill out too. Big get and excited to see how he comes along
I find myself wondering how bucks were ever ranked this season. TTUN just better in all phases and it showed. With that being said,they can still eat shit.
I said the same thing. Seems they're just sticking them behind the remaining unbeatens. Which seems reasonable for now. Bucks will certainly move back up. Semper Fi from fellow devil dog
The missing piece
This one hurts
His arrogance and attitude would have fit right in with the U of about 20 years ago. Now hes just a cocky guy on a dogshit team.
He usually catches up to the guy who beat him somewhat quickly. Here's to hoping he puts it all together this year.
Can't blame the guy. More money and less pressure. His defense,the worst in Ohio State history, would have been the best in the Big 12. OU defense cant get much worse, so he will look like a steal for a few years to them.
Secondary should be vastly improved next year. Looking forward to it
Apparently playing unranked teams in black uniforms during a "blackout" is the Buckeyes kryptonite. We've seen these little problems pestering all year long and they haven't been corrected. This beatdown was bound to happen. Hope they take advantage of this bye week and get ready for four more big games and finish strong.
JJ Watt was a good QB
Plus everyone knows Jimbo runs a tight ship clean program
I loathe everything Paul Finedumb. I'm really surprised he didnt turn his opinion of ohio state into talking about bama, as he does with everything.
I think we are all about burnt out with these he said she said articles and statements from lawyers. Hopefully after the decision on Urban there will be no more of these articles.
What's he supposed to do if he wants Adriaticos?
They might want to, but those coaches wives dont need to talk at all since they are not employed by OSU and they're not being investigated for anything criminal. If asked to talk I'm sure they would though.
Why do they still have Andy Dalton jerseys readily made? For laughs?
Biggest news to hit Columbus all week