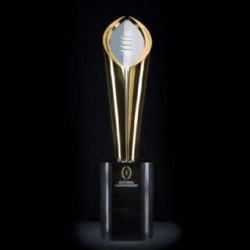 mfelten
---
Macomb, MI (via Cleveland)
MEMBER SINCE December 20, 2011
Living behind enemy lines. You should see the look on all of my TTUN and Sparty students' faces on the first day of school when they walk into my Scarlet and Gray classroom.
Favorites
SPORTS MOMENT: Hit game winning shot in overtime in third grade to win 7-5.
COLLEGE FOOTBALL PLAYER: Troy Smith
COLLEGE BASKETBALL PLAYER: Aaron Craft (and it's not close)
NFL TEAM: Browns
NHL TEAM: Red Wings (as little as I care)
NBA TEAM: Cavs
MLB TEAM: Tribe
SOCCER TEAM: Really?
Recent Activity
Oh, and Tathan, get your degree please!
Sad. I had such high hopes for him coming out of high school. He seemed like such and exciting player and a winner. I can't believe what a clown show his college career became. I hope he gets a chance to play at a smaller school and get some semblance of redemption but he's wasted his chances so far.
We should be selected for the playoffs. Start highly ranked, avoid losses without beating anyone noteworthy: worked for Clemson last year!
Wow. Our commissioner loves his conference more than his own kids. We're blessed guys!
Although it was made by some SEC slaps, this may be the best video you see today:
https://www.youtube.com/watch?v=HOdtG0ZRHpw
It obviously stinks to not have OSU playing. And it is likely that the other 3 major conferences will cave and cancel/postpone to spring. But in the HYPOTHETICAL that they play and we don't, I think all OSU fans should get behind Jeff Hafley and Boston College. It hurts now but it's not like I'm going to not watch football a month from now if it's on TV.
In Michigan the gate for home regular season games goes to the home school and students get in free. Playoff games the MHSAA gets the gate, has the announcers read ads at timeouts and students pay to get in. Is it the same way in Ohio? Interesting if they are reducing regular season games and expanding the playoffs.
College football is too dangerous.
Not because of Covid.
Because someday someone might actually get the injury Trevor Lawrence pretended he had while he rolled around on the ground long enough to have the replay official kick Shaun Wade out of the game for a play that didn't get a flag.
That would be a tragedy.
The system should be built around what motivates teams to schedule great match-ups in the non conference schedule. 8 teams. 5 Automatic bids. Next 3 best. I don't care if its group of 5, ND or Power 5. Just make sure the committee is told to seed based on who you beat. All the at large teams will either be group of 5 or have losses on the resume. If you lose your conference you better have a marquee win on your non-conference schedule. If you lose a non-conference game, so what? You still can win your conference. This will give us great games all year long and not SEC walkovers in November.
After the year we've had, don't we deserve Titus on Big X to trash talk "The Villain?
I believe Louisiana IS the Pelican state.
This might be the most brilliant idea I've ever read.
I said MIGHT.
It may just be a question or two but it may be the difference between a Pulitzer and sitting at home writing your own blog no one reads you hack.
It was SO much worse in person. Trebeks more aggressive digs were edited out. https://t.co/RUwGulq0Nc

— Aaron Goetsch (@aarongoe) February 29, 2020
He's been RTing all of his haters on twitter. According to him Alex's worst comments hit the cutting room floor.
If you are worried that Aaron hasn't taken enough crap about UM football in the past, I can put your fears at rest. As a student of mine when he was in 9th grade Aaron and all of his Michigan loving buddies heard plenty about each Michigan loss. He still gets it from me today on twitter.
I can also tell you he's a genuinely good guy, smart as a whip, and it's no shock he's succeeding on Jeopardy. Here's to a long run as Jeopardy champ and to Alex having many more chances to crack on the Team Up North!
I don't care about the compensation number. I care about the buyout number. How much is the buyout when (not if) someone wants to steal him in the NFL? Pay him what you need to so he stays here and keep that buyout number as high as possible.
That one dude flipped to Utah. Maybe it's the spot we had for him.
Oh.
Hmmmm.
Your bad then. See you next year I guess.
There are over 400,000 NCAA student athletes and apparently some of them are talented in something other than sports.
...against a crappy team.
I mean, sure those kids are leaning to maximize themselves. But do they know not to eat chicken? It's a nervous bird!
I'm not getting that ad. I think they tailor the ads to your search history. Try clearing your history.
My favorite team has three guys with a legitimate Heisman argument and another going top 5 in the NFL draft. And that's just the dudes with jersey numbers below 3. How's your favorite team doing?