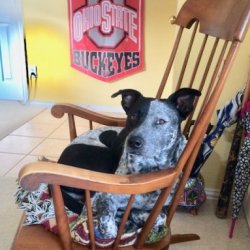 MercyTex
---
Mesquite, Tx (via Liberty Center, Ohio)
MEMBER SINCE August 30, 2015
Class of '86. Met Woody on campus and for 2 minutes he focused 100% on my academic experience in a sincere and friendly manner. When he dotted the "i" for Script Ohio I cried like a baby. Live in the Dallas area and my wife is amazed at all of the fans and alumni present wherever we go.
Favorites
SPORTS MOMENT: 2004 Alamo Bowl in San Antonio with my father. My dad coached high school football and was my position coach. We watched Ted Ginn destroy Oklahoma State. Dad said that the pep rally before the game was as much fun as the game itself.
COLLEGE FOOTBALL PLAYER: Archie Griffin
COLLEGE BASKETBALL PLAYER: Clark Kellog
NFL TEAM: Dallas Cowboys
NHL TEAM: Dallas Stars
MLB TEAM: Texas Rangers
Recent Activity
Awesome. The only thing missing is the perfect bourbon to pair with it. Thanks Ramzy.
MSU May finish below Rutgers this year. Something is wrong there and asking a young head coach to fix this with a weak athletic department will be long odds. Indiana, Maryland and Rutgers appear on paper at least to be better. Tough gig for a new coach.
Looks like EBay fully reconciled with Chris Spielman. If Chris forgave them then I probably should as well.
Some favorites from the book "Don't Squat With Your Spurs On" a book of cowboy wisdom.
If you think you are so important, try ordering someone else's dog around.
No tree is too tall for a dog to lift his leg on.
Always drink upstream from the herd.
Never kick a fresh turd on a hot day.
Thank you RunEddie. I was hoping for an update at 11W, Ohio State Twitter: https://twitter.com/wrestlingbucks
The next win is the most important. Repeat.
A quick "Can you hear me?" to test is not a bad idea either.
Coincidentally, my user name is the phrase that local people would reply if I said something stupid or broke wind in a bad way "Mercy, Tex".
A long time ago I was one of several project managers on huge bank reorganization. One of the departments was in West Virginia and the clerk was excited that she was invited to dinner with the governor of West Virginia for a charity honor. Before I could say congratulations I heard myself say "do you have to bring your own possum?". It was an uncalled for smart ass remark. It turned out her job six months later was one of those lost in the restructuring and I busted my butt to find her a job eventually in Columbus. That callous remark still bothers me today and taught me to consider my audience before speaking.
I hope he can take a year to learn and get his 17 year old body conditioned to play at the B1G level. Mick's dojo will be critical for his success even more than most of the incoming freshman.
I hope you are correct but the odds are long for all 3 to be significant contributors simply because of the competition in the room.
Doug's Gym was an institution. So is prison, with better hygiene. Still it had its day for over 50 years and helped a lot folks get their act together.
Total yards includes return yards. He was a significant factor in the win against Michigan State. Dontre actually made a difference in a game that was contested. Odd that I defend him since his high school is a rival of my local school.
Dontre had over 1,000 total yards in one season and fought SCUM after they tore off his helmet on a planned mugging. He never recovered after breaking his foot. I would substitute the spring game champion Taurean Washington. Regardless, once a Buckeye always a Buckeye.
I once thought I had a land line with AT&T but it is VOIP. I thought it was a good deal at $20 a month with unlimited hours of talking with my parents in their 80s (texting, social media have failed multiple times). I sometimes call them with a headset while watching OSU basketball or football. I need to switch. Thanks LBG.
Are there any assistant coaches make more than Locksley in the B1G? I would not have guessed that Fitz was the next to lowest salary in the B1G.
My contempt for all things PSU is well documented. The Dauphin of the B1G
If he has Dawand's perspective and attitude, Trey can become a key part of the OL in a couple of years.
This year's Buckeyes are fragile and not well suited for B1G play. Interior size and skill is lacking since injuries and illness hit this team. Perimeter shooting is not good enough to make teams pay for doubling down low. It is going to be a long year of decline unless this team starts to believe in themselves. I hope DJ gets the treatment he needs and this team gets some confidence to play with joy and without fear.
French Club trip to Montreal during my freshman year in high school. In Canada shortly after the ice age you only had to be 14 to watch an R rated movie without a guardian. Sounds cool until the movie title: Saturday Night Fever.