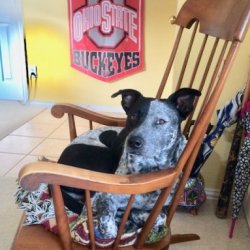 MercyTex
---
Mesquite, Tx (via Liberty Center, Ohio)
MEMBER SINCE August 30, 2015
Class of '86. Met Woody on campus and for 2 minutes he focused 100% on my academic experience in a sincere and friendly manner. When he dotted the "i" for Script Ohio I cried like a baby. Live in the Dallas area and my wife is amazed at all of the fans and alumni present wherever we go.
Favorites
SPORTS MOMENT: 2004 Alamo Bowl in San Antonio with my father. My dad coached high school football and was my position coach. We watched Ted Ginn destroy Oklahoma State. Dad said that the pep rally before the game was as much fun as the game itself.
COLLEGE FOOTBALL PLAYER: Archie Griffin
COLLEGE BASKETBALL PLAYER: Clark Kellog
NFL TEAM: Dallas Cowboys
NHL TEAM: Dallas Stars
MLB TEAM: Texas Rangers
Recent Activity
DJ is an amateur. Mike Leach is a professional. He intentionally dropped a fake OU play sheet on the field before the Texas vs OU game in 1999. Almost upset heavily Texas.
Boom! Needed some good news for the wrestle Bucks.
What would Chesty Puller say? First this is a game and not the future of the free world, but I think his perspective would not be a complaint but to go take it to our adversary.
The exploration of the new world was a trying time /s
A 93/7 fan advantage at Indy for the Buckeyes? the Buckeye Geld was not paid. We land on the western shore.
https://www.youtube.com/watch?v=y8OtzJtp-EM
Looks like OSU is starting to get it together. Played UConn close in a loss. This is a win to build on.
Nicely done ladies. I guess those losses to Ohio, SDak and UConn did not reflect the strength of this OSU team.
Who would have thought that he would be this team's "Mike Doss" coming back for one more year? His contributions have been crucial for run and pass defense. His grit is off the charts. He may be a yapper but no one wants to attempt to catch a pass near him.
Liddell is coming on strong. Very impressive game for him.
Very true. This team can score from so many players, angles and attacks. Not at all what we saw versus Cincy. Kind of like the football Buckeyes as well.
The Pain Train is rolling the league next year
Blessings, safe travels, and best wishes to the 11W family. Beat TTUN like a 7 year old with a new drum set.
Agree on both points. This is the best OSU team in 50 years. What Lovie did to get Illinois out of the basement and to a bowl game is more impressive than the Gophers wins; especially the string of wins against teams that coincidentally lost their starting QB.
Duke or Dookie? It is good to be a Buckeye.
Considering his mild disposition Don't Fear the Reaper might be appropriate.
No quarter. It is The Game.
The nest lineman protects the backfield and repels the DL and blitzing linebackers. May appear soft in street clothes but nasty on playing pitch.
A win by 1 is enough. A win by more is gravy. Beat our rival. Beat TTUN.
Bullseye +1. Special year, special coaches and players. Enjoy it while it lasts. Save the 20/20 hot takes for the offseason. Beat TTUN.
Werner had a huge game keeping the TE in check. 6 catches for 40 yards we can live with.
I was thinking the same thing. Heck even 2014 with the VT loss and close games with PSU and Minnesota were more stressful.