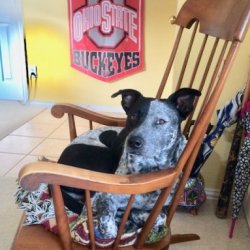 MercyTex
---
Mesquite, Tx (via Liberty Center, Ohio)
MEMBER SINCE August 30, 2015
Class of '86. Met Woody on campus and for 2 minutes he focused 100% on my academic experience in a sincere and friendly manner. When he dotted the "i" for Script Ohio I cried like a baby. Live in the Dallas area and my wife is amazed at all of the fans and alumni present wherever we go.
Favorites
SPORTS MOMENT: 2004 Alamo Bowl in San Antonio with my father. My dad coached high school football and was my position coach. We watched Ted Ginn destroy Oklahoma State. Dad said that the pep rally before the game was as much fun as the game itself.
COLLEGE FOOTBALL PLAYER: Archie Griffin
COLLEGE BASKETBALL PLAYER: Clark Kellog
NFL TEAM: Dallas Cowboys
NHL TEAM: Dallas Stars
MLB TEAM: Texas Rangers
Recent Activity
I guess I should not be surprised given the international success of Buckeye wrestlers. This is a great addition to the Wrestlebucks.
Why not?
The next game better be the toughest game. Stop looking down the road and deal with the present will be the mantra each week.
A&M should get in line. Right behind Sparty
The only position for next year that is a concern (to me anyway) is left tackle. We have 3 tackles in the 2 deep that will not be back next year and in the 3 deep there has been very limited PT - and that will not increase through the rest of the year.
That is both funny and intimidating.
Nicely done MB. Always a treat.
Why not? I roast and freeze a 25 pound case every August when the Mejia Valley Trucks roll into Dallas. Freezing them makes it easier to remove the blistered skin. The more seeds reserved the hotter your chile but they won't go over 10k su.
Be careful out there. Kick butt and come home hungry. Best wishes. Go Bucks.
Well that helps the cause
Agree with your analysis and prediction. Lot's of passing yards and few TDs for Sparty this year. Run game is not good. Tall receivers will help move the chains and eat up clock but likely only one TD late.
Newt gonna go there. On a serious note, the ability to play left or right tackle greatly improves his chances to stick in the NFL.
The raw data is here. https://ohiostatebuckeyes.com/sports/m-footbl/
Wilson never got back to speed after the foot injury against MSU.
Nicely done sir. Thank you for applying your time and talent for our enjoyment
DuckDuckGo search: Ohio state football career leading rushers
yields the following
https://en.wikipedia.org/wiki/Ohio_State_Buckeyes_football_statistical_leaders
NC came to play. Clemson needs to take this game seriously.
Have a snickers. Go Bucks
If Nebbie tries a field goal it will be blocked or missed. Their kicking is abysmal.
if anything, an understatement for the first half.
Cogent, but not considered by the AP writers.
I respect the players but I hate, hate, hate, pstate.