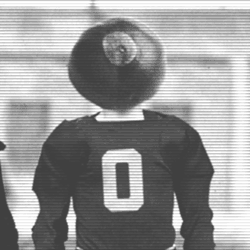 melbournebuckeye30
---
melbourne fl (via Shadyside oh)
Member since 12 August 2014 | Blog
Favorites
COLLEGE FOOTBALL PLAYER: Joey Galloway
Recent Activity
Anybody know where you can find the box score? Thanks
Blu.Fan-thanks for sharing. It's a pleasure to read well written thoughts, as you always do, from our rivals. Not all of the ttun fans down here in Fl. are that rational. :)
Thanks Andrew. One of the few updated scores 247 got right. Seems as though all the rest of our recruits who seemingly balled out at the Opening mysteriously all regressed according to their rankings. Go figure. Great write- up btw.
I agree. How can he be number 50 nationally, per 247, & number 11 in Tenn.? There's no way Tenn.makes up 20% of the top 50 in the nation.
He'll probably end up on the DL.
Micheal Thomas could very well enter that conversation if he continues the NFL success he displayed last year.
Me Too. How'd that work out for him?
Good question, I had the exact same thought.
He's not a "co" he's an assistant. Big difference I believe.
Great story, congrats to Mr. Conley for being so selfless & putting others before himself. A fantastic role model for so many self centered athletes in todays world. The fact that he considers Columbus "home" after basically spending just one year of his life there speaks volumes about the" brotherhood" &" family " that so many of our ex- athletes in both football & hoops exhibit by coming home in the off season & working out with our current athletes and sharing with them the Buckeye way. Just one more reason to be proud to be a Buckeye. Way to pay it forward Mr. Conley
I would certainly hope that Sam Hubbard should be one to consider as well. Expecting him to have a monster season this year.
Anybody think these stats could possible help us in recruiting? wow, what a time to be a Buckeye!
BOOM! Welcome MTIII! Sounds like quite the grounded young man. Love your values & your work ethic. You picked the perfect place to grow in each aspect. Welcome aboard & I can't wait to see you in the S&G. Who's got it better than us? NOBODY Go Bucks!
Awesome news. Love the work he is putting forth both on the field, and as an ace recruiter.Very cool for him & his folks to open up their home to out of town visiting recruits. Fully expect him to pick up his 5th. star before all is said & done.
Before you jump on the Gene Smith bandwagon, don't forget his first choice was Mcdormott. The same Geno that thought we should play in a bowl game after our 6 -6 record & cost Urban a chance to play for a Natty after a 12-0 year.
I must admit I'm shocked to see Tavion Thomas not have us in his top 7. Must be something else going on between the scenes. Do you think we can get back into the picture Andrew or do you think that ship has sailed? if so, any idea why?
Looks like Paris Campbells Mom has taken the torch passed by Annie Apple & Zekes Dad. Awesome to see parents involved in getting the young Bucks prepared for the grind, Who's got it better than us? NOBODY Go Bucks!
Great write up Andrew. SFBuckeye got me thinking. I agree with Andrew on Hawaii, USC, & Oregon. My other 2 would be Miami & LSU. Probably more so for the city's than the schools, but if you want to give me 5 free vacations, why not. I would then of course, sign with the Buckeyes.
Although it was before Urbans arrival, Le'Veon Bell would have looked good playing in a Bucks uniform.
PLEASE PLEASE PLEASE Let Urban Freaken Meyer give the good guys a little pep talk before the game. It seems to work pretty well. Go Bucks
Way to represent Silver Bullets. Where's the offense?
If 247 had him as the number 1 APB in the country, he's probably better then the top 3 in Ohio.
WOW. James Robinson sure came out of nowhere to me. Love his size & credentials. Love to see him join zone6 & get coached up to reach his potential as well as the other members of zone6. We know you can recruit Zach Smith. Now is the time for you & everybody in your unit to approach this coming season like your hairs on fire. Grow everyday. Winter workouts, spring ball, summer workouts, fall camp. Come out next year & show the world what ZONE6 can really do.
I try & look at it as more of a coaching snafu against MSU that kept them from the playoffs & a chance to repeat. You have Zeke & Bosa back & add Mike Thomas, & it 's hard to believe we lost that game. I hope & believe that Kevin Wilson & Ryan Day will fix our offensive shortcomings of the past 2 years & we'll never see that sort ineptitude again, as well as a much different final result had they been in charge of our offense vs. 2015 MSU.
Great job ex- Bucks. I think that might just help our recruiting a bit. Is that even possible? Looks like that Urban guy just might be able to , No. 1, identify talent, No. 2 , recruit the top p[layers in the country, & No. 3, develop them into Rookies of the year! Who's got it better than us?