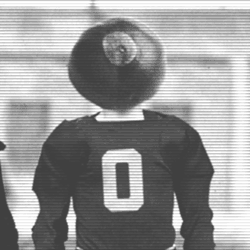 melbournebuckeye30
---
melbourne fl (via Shadyside oh)
MEMBER SINCE August 12, 2014
Favorites
COLLEGE FOOTBALL PLAYER: Joey Galloway
Recent Activity
I hope Coach Day is booking his flight to Virginia Beach right now.
Good idea, that way 4 out of the top 6 all played for Ohio State. Anybody else ever do that?
Just one. Hopefully J.K. will at least get one.
What's your favorite place? I'll have to try them next time I'm up there, thanks.
Joey Galloway ain't bad either
I thought the exact same thing. I'll never figure that decision out. I'm hoping in retrospect that he wishes he had a do over on that one. Could have played for a championship in Urbans first year.
As long as it leads to a far better defense then we trotted out there last year, I don't care how many formations we have, I just want the Silver Bullets back.
Because he's probably going to red shirt this year. All Conference talk is still a few years away. His time will come.
Yea, and McCall is running with the 5's. Coach Day is making everybody earn their spots and nothing is just handed out. I like it, I think it's great to keep everybody hungry and fighting & scrapping for a spot. May the best man win.
Must not be too much love lost between Chris Orr and Jonathan Taylor.
I sure hope Mitchell gets an honest look, I think he's just the thumper we need in the middle of the defense to wreck havoc on any running back coming his way,
Sounds good to me. As long as we play assignment football & take the correct angles to the ball carrier, I'll be happy.
Glad he came back for 1 more year. Definetely big shoes to fill in the leadership role in the WR room. Make 2019 your best year yet & mentor all the young studs on the Buckeye way. Go get em KJ!
No love for Jeffrey Okudah? Pretty sure he'll be highly sought after come some draft day soon.
Good my friend. Never knew about Nick McKay, thanks for sharing. How are enjoying the other part of the world? Take care buddy.
He was indeed. Grew up in Bridgeport & played ball with the Niekro brothers & lived not far from Lou "The Toe" Groza. Must be something about that Ohio Valley water. He will be missed. RIP Hondo.
His defensive staff will be a huge decision. Don't envy anybody having to let go their co-workers, but the defense has to get better as well as the offensive line. Good Luck making the right hires Coach Day.
Way to go Wilson & Johnson Jr. There's a difference between being recruited by coaches and being recruited by your peers who you could one day suit up with. Keep up the good recruiting future Bucks.
Well said. If it was a family member of mine, I find it hard to believe I wouldn't say the same thing. Who am I to judge.
Got some chills from the warm welcome the fans gave him. Welcome back Coach! Now go play angry for the rest of the year.
Loved what I saw from Shaun Wade. Just like the O-Line finds it's 5 best players, then slots them into positions, i hope we do the same with our DB's. Shaun Wade sure seems to have earned some more burn. DBU baby.
Surely someone will pick up John Simon & XBrax, at least I hope so.
I graduated in 1989 from OSU and have donated to the alumni fund ever since. I'm not donating 1 more cent until that spineless jellyfish mikey drake is gone. Hail Urban & Go Bucks
Looks much better then it did in the mid 80's when I was there. Looks pretty impressive.
I agree. It seems strange we wouldn't heavily pursue an in state kid ranked as the 5th. best DT in the country, and are going after guys ranked as low as 33rd. I'm thinking there's obviously more to the story than we know. In Urban & L.J. I trust.