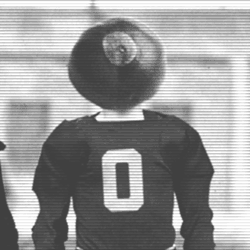 MechBuckeye
---
Member since 15 November 2013 | Blog
Favorites
SPORTS MOMENT: Rushing the field after the 2011 Ohio State--Wisconsin Game
COLLEGE FOOTBALL PLAYER: Carlos Hyde
Recent Activity
I was speed reading and thought you said minor drugs, that's a stretch.
It's #70 isn't it. He's the only one not in a thong.
I agree, I thought it is a little in dismissive to base "How Buckeye are you" of sports knowledge.
Maybe 97.1 actually got mad at him for bashing Fan Sports Sunday radio show that Matty Ice hosts. He was joking about it though so I wouldn't really have expected that. Love his charisma on the show!
Would you just look at that Class.
You just "need" an ID to get through the gates. However if you go to another gate besides the student entrance they never really looked at ID's before I graduated last year. So if you want them bad its worth the risk imo.
I thought that as well, but then I realized he was referencing this current recruiting class and Bama had 3 last year.
No no no, /s means end of salty rant I believe.
/s
It would be fun to start a club for people like that.
Try "Just Touchdowns Barrett"
Before Machine Guns there were......CANNONS!!!
Was not expecting this when I logged on this morning!! Thank You!
Do I do it like this
I know I am a lurker, I've commented maybe 10 times but been reading 11W for about 3 years now. I cringe at the line "I wish I could upvote but I don't have enough helmet stickers" so I have resigned myself from posting because I enjoy reading the GIF battles from the big dogs on the site.
Please don't tell me Eleven Warriors is going to become like Reddit with neckbeards and fedoras
I was about 13 and was thinking man this Janet Jackson performance sucks, So I changed the channel. My inner 13 year old self still is disappointed.
I'm proud of Thad for taking the chance to bench a Senior in Amir. Might just help both the team's and Amir's performance in the long run.
If Ohio State repeats I might move to Tuscaloosa to become one of those eccentric preacher types found on Ohio State' oval, except I'll be wearing nothing but an Ohio's moon shirt and socks while talking mad shit about the Buckeyes and waving around a bronzed 2015 Sugar Bowl DVD.
For four quarters Cardale fought Saban, (Satan), in the bayou. After being tested he arose victorious. He knew there was one final mission asked of him by the Commander. After feasting on Ducks he disappeared to his home in Cleveland, and on the Third Day he rose out of the ashes of Cleveland to declare for the Higher Level.
Italics for the satire, No religious mocking intended
His other actions on the field may have also been an indication of the kind of coaching from Hoke
I always liked it back in ~2007 when they used a 2-3 zone often. I suppose Coach Matta knew how effective Craft could be in man-to-man and switched their style up.
The Too Many Cooks reference for some people who may not understand... It was at the top of Reddit this week.
I for one was unfortunate enough to watch it at 4 A.M. at Buckeye Doughnuts while pulling a all nighter.
Enjoy
This is worth a watch given the time
That's a great story, shows it really goes above the game.
Reminds me of the story of Michigan's OL Elliot Mealer 's brother Brock who were both involved in a car crash which killed their father and severely paralyzed Brock. I went to high school near where they lived and a few times Brock had came back and gave some motivational speeches.
Link-http://www.huffingtonpost.com/2012/10/02/brock-mealer-_n_1934050.html