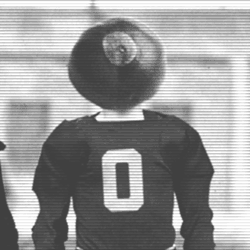 MeatBichigan
---
MEMBER SINCE September 28, 2017
Recent Activity
Well, it pretty resoundingly was not.
Too perfect.
It's shorthand. It's nice for the fans to have a sense of how these kids stack up and it makes for good fodder for blogs but the coaching staff will have done their due diligence in watching the tape or seeing these guys in person when possible. They have a sense of whether or not each guy is a good fit for this program, and for the three star kids they have a belief that they will grow into something greater than the player they are now. I don't think the coaching staff from any school cares one bit about the star rankings for their commits.
Amazing play, complete bullshit call. Should've been a monster hit, fumble recovery, and a touchdown. Instead he got kicked from the game, IIRC. I was so mad.
You got bbq back there and you didn't invite me?!?!
I also think that these guys are realizing from watching the draft recently that if you put up gaudy stats in a weaker conference the NFL will still come knocking. It's possible those types of guys even get drafted higher than they should be due to a lack of tape against top level competition.
Really interesting to think about the development of coaches and the demands of different level programs. For example, it's possible that coaches have success at mid-major programs by having a good system (and being a good teacher of that system) that maximizes the talent of lower ranked college players... possibly with less ego management and fewer NBA dreams to deal with. Top level programs though have higher recruiting expectations, prospects have NBA aspirations and one player can have an outsize effect on the team. So now it's less about your system and more about creating something that puts your star(s) in the best position for them to be successful, all while managing the egos of some of the top athletes in the country. Some people can adapt to the new expectations and grow into the role and other people can't. It's like they say the founders of successful startups don't often make good CEOs of successful startups. Different skillset entirely. I also think this is why Brad Stevens is struggling this year. Great system coach, not great superstar coach (at least right now).
Yuuuuuuup. Couldn't agree more, He hasn't "earned" the starting job just by being here the longest. That's not how any team at the top level of any sport should operate. He'll have a chance to earn the job in practice before the season if he sticks around.
It's just a coping mechanism. You probably get pretty good at those being a Michigan fan.
Man, he REALLY bailed the QB out on that second one.
Best I could do, unfortunately. And it was tough to find a picture of Tate in high quality with the right facial expression.
I'm upvoting you just because I don't think people should be downvoted for politely expressing a different opinion that happens to be unpopular.
I don't think Urban thinks about anything except winning the football game that's unfolding in front of him. I don't care to search for quotes to back this up, but he's always seemed like a guy with a singular focus. Individual achievements aren't even a blip on the radar once the game starts.
This is exactly my feeling as well.
On a scale of one to Urban Meyer, how much of a headache do I give you? Too soon??
It's never good when you're campaigning in the media to keep your job. I really hope Day doesn't have new HC jitters and just takes the step of jettisoning some of these underperforming coaches.
No one comes to Ohio State expecting to be given a starting role. You know you're going to have to compete against some of the best players in the country to win that job. You could be a senior who started every game as a junior. If you get outplayed in practice your senior year, you better believe your snaps will decrease on game day. If guys didn't have the belief that they can win that starting job, they wouldn't come here, and if they eventually realize it's not going to happen here they can try to transfer like Joe Burrow.
That Zach Smith line is incredible. "You get no severance because you hadn't signed your contact. If you had signed your contact... you'd still get no severance. Thanks for your time, GTFO."
That would be great to see.
You had the same amount of losses as OSU, with a worse schedule and not as impressive wins.
Yeah, that about sums it up.
What's that Mike Tyson quote? Everyone has a plan until they get punched in the face, or something along those lines. This D line is that first punch. Each snap the offense has a plan, but this D line forces them to rethink it on the fly. When you can be that disruptive at the line of scrimmage it gives us a great chance each week, no matter the opponent.
Absolutely. Ginn's top speed was off the charts, but it was his acceleration that weaponized that speed.
It's like when you can't finish a great sandwich at a restaurant and bring the leftovers home. A day later and that sandwich in the fridge looks mostly the same, and you remember how good it was, but you know it's gonna be terrible if you try to eat it now.
Speaking of which, I haven't seen my invitation either...
Yeah, this is my hope.
Teaching a thing is different from doing a thing. Sometimes the smartest players don't make for good coaches because they lack the teaching and communication skills necessary to pass on their knowledge. Hopefully Hartline is either a natural at it, or he's putting in the time to learn how to coach and teach the position. At the very least he definitely knows the position and the hard work and consistency required to play at the next level. That's a good start.