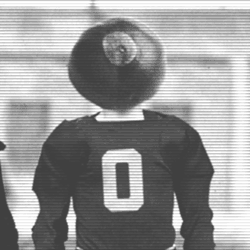 MDBuckeyes
---
DC Metro (via Rockville MD)
MEMBER SINCE October 02, 2014
OSU grad, 3rd generation. I grew up in MD, went to OSU, still live in MD now. My dad grew up in C-bus, he moved to the DC area after he graduated from OSU. That's how I ended up a 3rd generation OSU fanatic in MD. I am planting Buckeye trees in MD, everywhere I can.
Favorites
SPORTS MOMENT: FINALLY beating Meecheegan in 1994; running onto the field, getting maced. Maybe it was the mace, maybe it was the pure thrill of winning that game, but I know I had tears in my eyes.
COLLEGE FOOTBALL PLAYER: Eddie George
NFL TEAM: Washington deadskins
NHL TEAM: Caps!
NBA TEAM: can't watch it
MLB TEAM: Nats
SOCCER TEAM: what?
Recent Activity
Happy happy joy joy!
I'll go with Troy Smith. With dual threat/ mobile QBs making waves in the NFL now, I think he would dip quite well with the right coach.
Crazy that 11W picked up on the that collapsed building story. It was front/center on the news outlets here in DC as well.
That fire crew was just returning from another call to the fire station right down the street. DC isn't known for great public service, but this will certainly set a new standard!
You are in DMV? I'm in Rockville, been trying very hard to get an alumni game watch in Mont Cty this year.
It is so cool watching Haskins and Mclaurin playing with Spielman doing the color commentary. Not to mention, Urban on the sideline cheering on his former players.
It sounds like Finals Week Santa is now a proper campus legend right alongside the Oval Bag Pipe Guy and Help Is On The Way.
Don't forget about Afro-Duck!
I don't take anything away from any of the guys lining up on defense, but IMO, Jordan Fuller is the most important defender the Bucks have. Chase, Okudah, Arnette, etc and others are all playing at the top of their games. I could even make an argument that the linebackers are top notch. If one of those guys goes down, there is someone else to step in without a huge dropoff. If Fuller goes out, the talent and experience hole he leaves is irreplaceable.
This is terrible news. Doesn't he have a young son? I hope he is back home soon.
Well said, I totally agree.
Undisciplined series by the backups.
klatt and gus are just gonna talk about PSU vs Minny the rest of the game.
This is wierd. Timeouts?
Targeting. Bye bye
Impressive, even against a bad team.
Dobbins ok? Just giving MT3 some time?
Bucks playing with a killer instinct so far today
This means we can't have the "all Buckeye" NFL team now. Buckeyes at every position, but missing a kicker!
Probably the weather
Yea, I lol'ed
I just asked about the font... ts cool!
Well, he did sorta turtle
Any graphic designers tuning in tonight? What's the font on those NW jersey fronts? Looks pretty cool.... Would be good for a Halloween game.
Whoops, forgot to block
I may have to go check out this XFL team here in DC.... the DC Buckeyes Think Ohio State's lawyers would get upset if the team changed its name /s