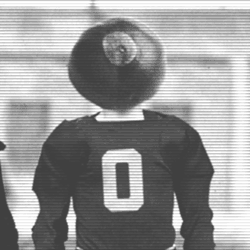 MDBuckeyes
---
DC Metro (via Rockville MD)
MEMBER SINCE October 02, 2014
OSU grad, 3rd generation. I grew up in MD, went to OSU, still live in MD now. My dad grew up in C-bus, he moved to the DC area after he graduated from OSU. That's how I ended up a 3rd generation OSU fanatic in MD. I am planting Buckeye trees in MD, everywhere I can.
Favorites
SPORTS MOMENT: FINALLY beating Meecheegan in 1994; running onto the field, getting maced. Maybe it was the mace, maybe it was the pure thrill of winning that game, but I know I had tears in my eyes.
COLLEGE FOOTBALL PLAYER: Eddie George
NFL TEAM: Washington deadskins
NHL TEAM: Caps!
NBA TEAM: can't watch it
MLB TEAM: Nats
SOCCER TEAM: what?
Recent Activity
Perfect throw
OSU alumni club of DC hosts a couple in the city, a couple in northern VA. Working on a sponsored location in MD. But unofficially in MD its Pourhouse.
Tennessee hosts Chattanooga.... /s
Chase for Heisman!
Not a fan of that 4th down call. Bring the tight ends in, move the whole pile and get a foot!
Run DMC!
Definitely a few items to clean up after this game, coach up some guys.
Was that 2 tight ends on the field?
Kiffin wants to go home.
Don't jump the shark just yet... we need the Situational!
Yes, the 2007 Tressel coached team that went up against Meyer's Gators were grossly over confident and unprepared. But I think in the past 15 years, everyone has forgotten what it was like when the 2002 version of the Buckeyes went up against the defending nat'l champs that the prognosticators said had NFL talent at every position. The Hurricanes have been irrelevant ever since that upset. Other than PSU the past two years, Meyer's teams don't come back and tend to fold when facing too much adversity (see Clemson, Iowa, Purdue).
My takeaway - Tressel's teams had grit and would slug it out with anyone. I'd go with the Tressel-all-time team over Meyer-all-time team in a close one.
Would love to see Dwayne haskins in a Dwayne haskins head, wearing Joe Theisman's Jersey.
I'm more concerned about everyone else I listed than I am Michigan, because if my life has taught me anything it's that the Wolverines will absolutely self destruct come late November.
I have seen the opposite happen - it was the 90s. Actually, it was the whole 13 seasons before Tressel. Don't forget the past, lest we repeat.
Was rooting for bama, but not upset they are taking a beating
I wish I could forget it so easily. Almost his worst quote.
I thought it was little sisters of the poor?
Wtf? Run the ball!
Why are we snapping the ball with 20 seconds left
D playing well, but cant be on the field this long. Offense has to run this clock out.
Or just sack the qb
Gotta keep stuffing the run!
That play was brilliant!
No need for a room full of 13 people to secretly determine who they think are the best 4 teams. Metrics exist to rank all 5 power conferences against one another. Cross over games, common opponents, strength of out-of-conference games... it would be very easy to come up with a statistical ranking system for each conference, and then rank the conferences based on quantitative data, not a bunch of subjective beauty-pageant crap. Top 4 conference champions square-off in the playoffs. And sorry ND, decide if you are in the ACC or if you want to be a semi-pro football program.
Petersen is a really good coach. He pulled one of the biggest upsets back in '07 when Boise upset OU. Boise called fea-flickers, a hook-and-ladder, and matched up well enough with their D against a superior offense. OU didn't know what to do or what to expect and was upset.
IMO, I expect the OSU offense to be prepared and ready to play, but this game won't come down to Haskins and the offense; it will come down to OSU defense playing the best game of the season. A month to prepare; let's see what the defensive coordinator(s) have come up with.
"Assuming they hang on and lose today" That's funny!