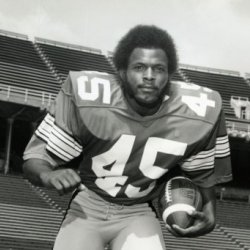 MDBuckeye2002
---
Member since 30 August 2011 | Blog
Recent Activity
Stupid lucky hail mary the entire country saw...
Absolutely stolen from Keith Byers!
Fantastic idea! I'm in for a shirt or two for sure.
It just wasn't fair. The dude is as large or larger than most NFL lineman. I would try to run around him every play, WIDE!
I agree with JarheadBuck, run behind him every play!
It's going to be interesting to see how season 3 goes at a different school. I've enjoyed the 2 seasons of the show so far. At the beginning of season 2 I thought Buddy was trying to change things but he really showed he didn't change at all by seasons end.
The show had it's share of knuckleheads but there also seemed to be some good guys who made poor choices and got a 2nd chance.
I know I'm late to the party but Sterling Manley, his teammate at Pickerington, will also be on that UNC team. I don't disagree with you though concerning Holtmann and company bringing the Basketbucks back to relevancy.
Enjoy the game. Up high for that game wouldn't bother me one bit. Go early and walk around and experience everything! If you don't have anyone to go with you I'm game.
Wonder if they'll market a Urban hat one day... the Woody had is pretty nice.
Absolutely can cut ties but regarding Babb and how good of player he is when healthy I doubt it happens. I do however wonder if we push harder for any other WRs on the big board now.
Did you just say Mickey Mouse?
M I C - see you real soon
K E Y - Why? Because we like you.
M O U S E
*Let's hope Mickey Marotti isn't going anywhere, anytime soon.
He might be able to run the read option like no one on the roster, despite his size. That would be the only way I could see him not taking a RS.
It would be nice to see TTUN slide back to a medial 4th place B1G finish this season. It might derail some of those good 2019 recruits they recently had commit.
Where can I get a shirt like Brendon White?
I thought Orange is the New Black got better each season.
Would love if they got Ahrens in this class. He had a great AAU season. His team just got 4th out in a pretty stacked Vegas tournament this past weekend.
The kid is a hell of an athlete.
I know it's probably been touched on before but is Cook an early enrollee?
I can't recall a OSU defensive line EVER being this deep. Very possible that there has ever been less than a handful of DL's this deep in the entire country.
That said, I do not believe we really 'need' to rotate 10-12 but we have the quality manpower to do it so why not? Maybe the season starts with 10-12 rotating but shrinks some unless we play teams that gas the guys. Going to be fun to see!
GO BUCKS! BEAT IU! BEAT TTUN!
Believe it or not this team is not as young or inexperienced as last year. We lost a lot of star power with Curtis Samuel and the 3 DBs leaving but otherwise most of the core is back.
I can't see this team losing 2 and at worst the 2nd being in a bowl game or in the CFP. The DL has the chance to be one of the best in the schools history. The LBs will be great. The OL should be better than last season. If someone can make the big plays a la Curtis Samuel, which history shows us Urban Meyer coached teams normally have at least one big time playmaker, then this team will thrive and eat opponents up.
GO BUCKS! BEAT INDIANA! BEAT TTUN!
I hadn't scrolled down to these few comments about the show but I agree 100%. It seemed like the first few episodes in season 2 Buddy was decent and then it all started going down hill. The players really don't like him much. I was surprised at this season's guys. I'd heard of the QB from FSU during recruiting, he was a stud but made a bonehead move and will pay for it for quite some time.
Season 2 was pretty good. Binged it in a few evenings. I doubt they are back at EMCC if it comes back for a 3rd season. Buddy seemed quite annoyed by having everything filmed this year.
I watched coach Meyer's press conference but can't watch any of these.
That's the first thing that came to mind after reading this article as well. Are Cook and Campbell trending toward Texas now?
Ahrens is having a great AAU season. His C2K Elite team just won their pool in Atlanta 17U finals going 3-0. On another note at the same event, Eric Ayala and his team went 1-2 in their pool play. Here's hoping Holtmann can get both.
I don't feel like it will be on Barrett and Weber to necessarily wear the opponents out as much as the offensive game plan keeping the opposing defenses on their toes. A defense that can play 8 in the box at all times and not worry about being beat over the top is hard to beat. Urban and the fellas using the entire field width and length of the field will give the guys room to run.