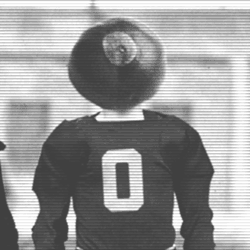 MD-PAbuck
---
MEMBER SINCE September 01, 2016
Recent Activity
Good name for early season Mich and ND games, all hype and hyperbole
Thats more along the diet i thought NPF would be eating. But i guess any calorie is a good calorie in his case.
Tsunami? Nah theyre more like when someones talking to you and sprays your face with saliva
They could always just trade him next year after they draft another QB in the top 5
After every interception he throws hell wear it because sWaG
Very excited for Hafley! Feels like he has almost the same energy level as coach Coombs but in a more laid back way. Heres to hoping he has similar success with our DBs
I really love the way hes added quality transfers at G in Woods and Walker to give the younger guys time to develop. We are set up to be competitive each year while still focusing on a major championship push a year or two away.
DJ Carton we cant wait til next year
Jallows shot looks fine, need CJ of the floor as much as possible
He juat ran it in from the 3 point line
Over 20 minutes ago possibly with overtime.
Really thought Kaleb was gonna nail that 3. Gonna consider the foul on Andre a makeup call for the "kick"
+1, got ya, just seemed an odd coincidence. I miss the days of the Viper position in those early 00' defenses. Same concept just different eras of offenses
Didnt know he was Ceded the BIG title. How cowardly of the Penn State squad, but i guess theyre doing something right overall.
Am I missing a joke or did you typo both names?
Love the optimism and agree we have the potential for sure. In October we will see how much of that potential is showing up on the field. I hope all we imagined now and more! Go Bucks!
Ive also seen footage of HS studs that never quite put it together at this level. Were also losing a lot of expirience on the Oline, most of the WR production and half our starting RBs
I want to agree with you but i need to see it on the field first. I think the D will improve but will the offense keep up?
Couple years ago when they got a bunch of big name free agents and they were trendy SB picks. Now they are blowing that team up this year and tanking for next year. Dwayne isnt a good QB for a bad team.
Theres a solid chance we regress this year. New QB, new HC, mostly new defensive staff, etc. I believe the spectrum of possible outcomes is broader than it has been recently. That being said, do i think we lose 3 games or more? Hell no, but it wouldnt be the craziest thing ever
Doss was drafted Schlagels first year at Ohio State
Ill take a team with Lighty, Craft, and Diebs over any buckeye team i can rememeber. Let Zion get his in the paint, but lock down the perimiter and trade 3s for 2s when we can.
Titan Up! Liking the moves so far this offseason. Now if we draft some Buckeyes at WR and/or Dremont Jones Ill be happy
I agree, just thought id share another viewpoint. Personally, combining all the bracketologists and models, id put our odds around 80% or more but its not a sure thing
College Basketball big in the both of those markets though. Decent consolation prize but Maryland/Rutgers arent quite Georgetown/Syracuse either though.