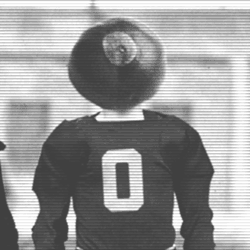 MD-PAbuck
---
MEMBER SINCE September 01, 2016
Recent Activity
Thanks for the correction and even more amazing
I mean the fact that Zeke came in near pro ready but then still gained 20 lbs, 12 more bench reps at 185, AND got faster is all that much more impressive
But why? Then the other teams that haven't played shouldn't be on their polls either
Always worried about tackles like that one on PC. Not cheap but dangerous plays and somewhat a result off the targeting rules. Let's hope they both are minor injuries
I was this gif as soon as I read the headline
If we were defending the national title I think there would be an argument. As it stands now, no way in hell.
Can we loot over this?
He hasn't shown the potential to be GREAT in the NFL very often. Hes still working on being good which is fine right now but the media loves stars and the next big thing. Also playing with a loaded cast at OSU, who isn't known for its QB play in the NFL, is a instant negative in some eyes. The shitshow in DC isn't doing him any favors either
Random post but as a Titans fan, I laughed and laughed and laughed...
*Flashbacks to Fields running for 3rd&17 easily*
Same, just showing a "do not enter" like symbol. Thought it was my connection last night but same todat
Lef them enough time to get 3 more points. Dont give them bastards anything!
Beat a bunch of teams were supposed to beat and were down 15-3 in the last game they played. Lets see how they do against Maryland before too much credit is given. Expectations got a little out of hand after they were ranked top 5 goimg into B1G play but i do think they have that potential
One of those horrid smelling flowers in the jungle
Good riddance. For the victims own sake, I hope she embellished the story but the facts out already are enough to say goodbye to these two idiots. May justice be found and delivered swiftly.
In Jacksons case i just watched the highlights and he looks to have loads of potential. Dominates his opponents with minimal technique and could add some bulk. Doesnt have great bend though and might not have the motor LJ looks for in DEs.
Guess you think we should still be going hard after Evans in the 2020 class. Sometimes the coaches do know something about a recruit that would be in bad taste to go public. Sometimes the coaches know its a waste of time/resources to try to persuade a guy that doesnt have legit interest. Sometimes a recruits overrated and i think LJ has earned my faith in making that call.
I use to be into both sports(played both in HS) but interest has faded the past 5-10 years. Partly because the Orioles are terrible with little hope for better. Mostly because ive really gotten into NHL hockey. Id prefer watching playoff hockey over most football games by far and if your teams decent regular season games are fun too.
Wow that is a terrible string of calls. The fact that the Hoosiers were that close to winning 10+ games says a lot about him though. Might be able to learn from the mistakes or get a support staff to make the big calls for him.
Seems like a guy that should be a DC only
Just saw a blonde mirage crawling up of his back after the play. Must be tough for him in the league too.
To some extent sure but i hope he still puts the team first. Edit: All players are looking out for themselves. The great ones know that the teams success will lead to more individual success.
Coombs liked field and boundary if i remember correctly.(I should know as a Titans fan but i cant recall much talk on the corner scheme since hes been there.)
Dont think Tyreke's a slot guy. If hes the 3rd best i think they slide Wade back to the slot when we go 3 CBs
Got a French to English auto-translator or is that a nickname i missed?