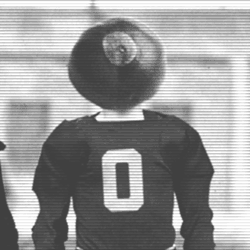 mclovin
---
Member since 23 November 2011 | Blog
Recent Activity
Only thing lazy, bro, is your reasoning.
Common courtesy -- great point that I think, like you said, is lost on many because they're too absorbed in experiencing something in only the way they prefer and then try to justify their way as superior because it is better (has some positive impact on the game -- which is dubious at best) and that the alternative (sitting and standing only at certain moments) is for lazy people who don't care. It's a very bad argument to make at an Ohio State football game and equally bad pretty much anywhere else. You are entitled to stand because you paid the price of admission but other people are entitled to call you out for being a selfish prick. That's something you'll need to learn to live with and realize that when you come to complain about it on forums like this that there will be people who will call you out on it and other selfish people who will agree with you. I already know whose opinion you will listen to.
That's literally the only thing that can be thought about someone who is the only person standing in the highest-up section of the stadium who refused to sit despite being asked to do so by others in attendance? Surely you could come up with some other thoughts if you tried a little harder.
I can only imagine what the people in your section thought about you. I guarantee it was way worse than you thinking they're all lazy for not wanting to stand for three hours all the way up in section C. Sitting down low near the field -- lets just say A deck -- probably could warrant standing for the entire game -- especially for a big game. Doing that in section C is absolutely ridiculous. Stand for key moments during the game? Absolutely. Stand the entire game in section C and be belligerent/uncomprising with your fellow fans and then write a long ass post about how you're such a superior fan? Disgusting.
Heading into the Wisconsin game last year, we were supposedly very vulnerable against an elite power run game. Ask Wisconsin how that turned out. It's easy to look soft in the middle against a spread offense that you are trying to attack on the perimeter.
Agreed on Loving. He has been terrible since the suspension, but aside from a good 3-pt pct and a couple of good games, he's been a real letdown on the whole. Has not really looked like a mr basketball at any point this season.
Yeah Godzilla left his man to get the block. Our 5s should have been making him pay by getting open for a pass to the basket.
Great point and totally agree. Williams had had his chances.
I think you are mistaking ohio state for Wisconsin.
Cardale Jones played in three huge games, won them all, and played very impressively. I'd like to know how you think he can't beat out Barrett (Jones is a better passer and runs well) and Miller (coming off a severe injury, injury-prone, not a good passer to begin with). I honestly have no idea who would win that QB battle.
Agree with the positive thoughts on Cardale. His skillset is very impressive and his supporting cast will make this much easier. He truly does have a cannon for an arm, which I think is very exciting in this offense and probably very worrisome for the badgers dcs. I hope Herman doesn't keep him on a short leash for long. I would anticipate a v tech like scheme early on to force Herman to truly give Cardale the keys to the offense.
I agree. That was bad football. Anyone who is calling that an impressive win didn't watch the game. Texas is terrible and tcu was only slightly better.
The takeaway tonight is the big 12 is shit. They have no place in the playoff. Worst football I've seen in a while.
They should. Ugly wins should be a factor as well. That's all Fsu has been getting lately.
Joe burrow threw a touchdown pass to himself tonight in his team' trouncing of desales in the regional final, 52-20. Threw a pass and then caught it for a 12 yard touchdown. Pretty sweet
It is a big game but not for that reason. One could argue that the reason we jumped ahead of Baylor is not simply a perception shift among the panel, but rather, when you get right down to it, it is because Baylor has the worse loss. Baylor lost to WVU, who has not beaten a single team in the top 25 besides Baylor. Virginia Tech, on the other hand, beat both Ohio State and Duke. West Virginia beating a decently ranked Kansas State team will mitigate some of Baylor's loss, which could turn around and bite Ohio State. We have to root for Kansas State to win against WVU and then to also beat Baylor.
Wanted to make sure no one missed his old-school/edgy/ridiculous line of thinking.
Almost as pointless as it was to comment on those commas.
You make some good points, but explain how Guiton was able to distribute the ball to multiple receivers, vertically and horizontally, even though he was working with a group of underachieving wide receivers.
He is a good fit for what we are doing this year but Braxton would be too. It's amazing how anti-Braxton some people are.
A good fit for what we are doing this year? This is how the spread offense is designed to work. Equal threat of run and pass, challenging the defense both horizontally and vertically. This is not just a phase we are going through because Braxton Miller is hurt. This is how the offense is meant to operate. If Braxton could have made the right reads on the defense and executed on the short and mid-range passes, this is what we would have seen last year and the year before that. The offense was modified to meet Braxton's skill set. The people you call anti-Braxton have nothing against Braxton Miller; it's the type of offense that his skill set forced onto the coaches, which was heavy on the run and playaction deep pass. It was an offense that was very successful but ultimately vulnerable to 1) good run defenses and 2) injuring key players (Braxton Miller). I think we are in a much better position to win those elite games with a well-balanced offense that we have seen over the past couple of weeks.
Spielman and Laurenaitis started as freshman at LB (althouigh I think Laurenaitis' only start was the bowl game because Carpenter was hurt). What he should have written was that Katzenmoyer was the first true freshman to open up the season as a starting LB.
Grow up, dude. Nice to see you are following around all my posts and down voting them.
He had a good look right as he caught the ball but hesitated. Hopefully he learned his lesson. When you're in that spot, don't get greedy--take what you got.
Agree to disagree. We scored 21 points in the first half and were down 17 with 7 to go. It was an exceptional comeback and solid showing in OT, so they end up coming out with a B grade. But before the comeback definitely a D or lower.