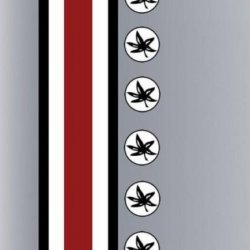 McK1975
---
from Canton, Ohio
MEMBER SINCE December 04, 2016
Favorites
COLLEGE FOOTBALL PLAYER: Archie Griffin
COLLEGE BASKETBALL PLAYER: Lew Alcindor
NFL TEAM: Browns
MLB TEAM: Indians
Recent Activity
Happy Birthday Mr. Doss, and many more. You have done your city and state very proud.
Upset but moved on. The reality is it's just a game.
BINGO! Thank you WoodyBruce!
Field goals and not touchdowns is the real reason the season ended. Yes the call did make a difference, however the touchdowns would have over ruled any bad call.
The top 4 teams at the year ending poll.
Clemson is one heck of a team. Taking into consideration the targeting call & TD called back, scoring touchdowns not field goals was the real difference in the game. I said it before & I'll say it again, Clemson vs Ohio State was the national championship game and you'll see that January 13th, IMHO.
My personal feeling is the national championship was played between Clemson & Ohio State. THIS Ohio State fan is pulling for Clemson. The SEC, massillon & Xichigan live in the same bucket of s---t.
UNBEILIEVABLE!
The Buckeyes are playing it off for a shot at the NATIONAL CHAMPIONSHIP, however let us cower in the corner because we didn't get the #1 seed and as we shake in our boots thinking of facing Clemson.
Three different threads this past week wanting to play Oklahoma because of "unfinished business". Well in my opinion the "unfinished business" is with Clemson. Screw the media and quit crying.
BEAT CLEMSON!
This was flat out impressive.
CLEMSON....... BRING ON CLEMSON and Get them out of the picture,
There's your unfinished business!
REALITY SPEAKS! I'm with ya.
Clemson .... get them out of the way.
How do you get a meatchicken cheerleader in the elevator?
Grease her hips and throw in a Twinkie!
Roman Brutus...... I believe you answered your own question.
Very well put. I also believe this is going to be a good game, for most cases it has historically been. I also believe the Bucks will win, by 35, probably not, HOWEVER, I'll take it! GO BUCKS
That should read
GO HARD or GO HOME
Sorry
NO! You get up & stay up by having to play your best ball week after week and it makes you better. Like the painting on the wall at the old high school........
GO or GO HOME
Coach Day will have the team ready for who ever is next.
https://www.youtube.com/watch?v=CecdQehjJUg
https://www.youtube.com/watch?v=hXc6E-03fkE
If Haskins stuck around for one more year he would have been a hands down day one starter. He'll still be a starter but after a few games. Murray will be the flash in the pan and couldn't make a pimple on Haskins rear end.
Sounds like someone here is really hooked on the ESPN Expert dust. Urban is 10 years older & smarter, he's been offered an attractive job, and bottom line is if he chooses to go out West God Bless him.
I agree 100%. Just don't feel like he's gonna go. Another year and he will be a Heisman Trophy winner and a walk on starter anywhere in the NFL.