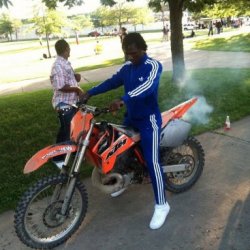 mcbuckeye2
Canal Winchester (via Canal Winchester)
MEMBER SINCE September 15, 2016
Favorites
COLLEGE FOOTBALL PLAYER: Ezekiel Elliot
NFL TEAM: Cleveland Browns
NHL TEAM: Columbus Blue Jackets
NBA TEAM: Cleveland Cavaliers
MLB TEAM: New York Yankees
Recent Activity
Kiner will be a Buckeye when this recruiting class ends.
The movie is better than the series and nobody can convince me otherwise.
One of my favorite Buckeyes. Best of luck chasing your dreams Tracy!
With JBB and/or Oats and Walker possibly joining the class, how many more commits is Georgia likely to get?
I didn't realize Christmas was in January.. Let's go!
Now THIS, this is big news.
As far as I'm concerned, getting Friday is two wins. One for getting him, one for steering him from Michign.
Do agree. St. Brown annoyed me but the kid's a ball player. Think he was one of, if not the best player out there today.
DL dominated on both sides. Togiai looked ridiculously good. and I love Tyreke Johnson's intensity, but I feel like he went slightly overboard at times. Just my opinion though
My biggest concern is the offensive and defensive lines (ends specifically). Really wondering who's going to come in and play center for us next year, as well as right tackle (seeing as Prince may be moved to left tackle). Munford seemed to do pretty well when getting reps, and we still have Pridgeon, though I'm not sure how well he's doing exactly. Brady Taylor seems to be the only person who would be the center this upcoming season, but I'm wondering if Burrell would be up for sliding in the middle and trying to snap some. With the ends, after this year, we'll just have Young, Bosa, and Cooper with Alex Williams and possibly Tyreke Smith and Jayson Oweh coming in. Makes me wonder if we'll have any backers get moved to end (just a thought as far as depth is concerned.) Just a lot of opportunities for young bucks to get some playing time.
Best of luck to you, Sam. Thanks for your 4 years!
I was pumped about Grimes' potential when we got him. Wish him nothing but the absolute best at Florida. Kid will be special there.
I'm all for wishing kids who go elsewhere good luck, but the kid literally just got a scholarship because he told a fan that Florida State hadnt even offered him. How can you forge good relationships in a 1-2 week span?
Welp. This one stings a bit.
KJ was definitely a pleasant surprise. By the way he's talking, it comes off to me that he'll be coming back next year.
Knew it was Casey something, lol. But yeah, would be the icing on the cake. Would be stoked if it ended up as Brown, Carman, Smith, and Oweh. Rogers looks solid too. Can't go wrong either way
Realistically, the Buckeyes plan on taking about 24-25 (I believe). Who rounds out the class with Cam Brown, Carman, Culver, Oweh, Smith, 3 star DE from Connecficut (I think? Can't remember name). Along with a possibility of a late flip or player popping up a bit down the road. Figure we would take Carman, Smith/Oweh for sure. After that, seems like it gets foggy IMO
HOLY SMOKES WHAT A DAY!!!!! BOOOOOOM BABY WELCOME TOMMY!!!
That's interesting, I don't remember saying it was the people in this thread that were whining? Check their Facebook post about this and the Eleven Warriors story about this and you'll see people complaining about it buddy.
Sometimes I hate our fans. People are pissed because he's "only a 3 star". Last time I checked, Teague was a 3 star when he committed. Kid only started one year and flew under the radar. His film speaks for itself.
Definitely one of, if not the best game he's had all year. For the sections of the game I was able to watch, he stepped up when we needed him to.
The possibility of losing Cox, Jones, AND Woodbey is terrifying. Hope these kids stay committed to the good guys.
I thoroughly enjoy watching this basketball team.