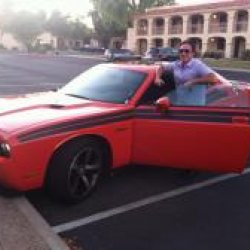 mc22
---
Member since 31 October 2013 | Blog
Recent Activity
We keep hearing that Xbrax needs the ball more in space.
See film of Clemson vs. OSU - focus in on Sammy Watkins.
I can't imagine they do not see what I see - give him 5 screens a game at a minimum.
I have traveled to and spent time in about probably 40 states for work. The Midwest has salt of the earth genuine people (80/20 rule applies). Family oriented - proud work ethic - great values. Think South Beach has that...or LA....or NY City? We are not flash over substance.
The ones that trash O-H-I-O - either never spent a lot of time here or just compare weather. But our schools/traffic/affordability/and cities offer a lot to many. My house in San Diego would be 5x's more expensive - but no doubt their weather is great.
Read that Herman isn't thrilled that they are undefeated and the stadium isn't selling out...quote came from him.
Still a bit peeved that he accepted the invite to bama to review film and go over what he saw in their scheme to attack their D in the playoff game...wish he would have said no thanks too busy with my new program...but i guess networking is the name of the game in the coaching circle.
as an unwritten rule - some larger schools (verified through former players I know) put the athletes allotment for tix in their locker and if those tix are left there and unused they are replaced with cash. Been going on for decades.
The better the player the bigger the wad.
I think pay for play is coming - i don't like it - but with the billions being made off tv contracts - something has to give.
I too think Barrett wins it and has the opportunity to atone in Blacksburg...but the beauty of this season is both will play as we are favored in every game.
No matter what happens - Cardale was a vital piece of that trophy and we are damn lucky to have both.
would still line him up in the wildcat or shotgun to start vs. Va tech. Would b a tribute to his loyalty and efforts...and freak out good ol bud foster.
I just want one play vs. Hawaii where all three are on the field somehow - would be awesome PR - if the play worked that is.
Cardale in the shot gun - pitches to Miller on the jet sweep - who pitches to JT coming around on a reverse - who throws it back to Cardale in the back of the endzone....Touchdown! Cardale then dunks it over the goal post for the final exclamation point. (would be worth the 15 yds)
i'd pay a ton to hear Paul Keel call that one on the radio.
Might be on ESPIN top plays for a month!
I am from the area and know his team and players on it well. Great kid..great size (more like 6"9")..all good - more like a 4 yr. kid that will need to work hard but will get better each yr. unlike __________. fill in the blank.
This is not a Sully type recruit to come in and bang a double double each game as a frosh..but with he and funderburk in this class - their combined size - it will help the inside out game cuz he likes to shoot it too.
A great dive restaurant with great food is the Thurman Cafe - eat a Thermanator in front of your daughters and they will be impressed.
also needs to be on the field goal block team ...straight up the gut!
5 and dimer
nickel and dimer
pocket rocket
all = a sit and spinner aka 5 foot 100 lb petite chickadee
Capitol one cup standings:
All you need to know is we are in first place.
just a guess here - but Spencer is the type of kid who Meyer may tell Belichick about and they take him in the 6th rd.
a system match for him in New England
I know it's a rivalry - but really not sure i even care about what any of them think. And why even post that crap here. We won it all and they aren't close. Harbaugh will get them better - but by the time he does that the NFL will offer him even bigger $ to come back.
As far as recruits and players - The best RB to come out of michigan in years was a qb there. So they don't develop kids - they don't win consistently anymore - all they do is b%&ch and moan that we steal their best - pay kids - have horrible academics..and whatever excuse make them feel better for a quick post or tweet.
As we all took the upside down W out of ichigan - let's do the same with their news and biased views keep the hairy rat info for their lame Go Blow board.
And 2016 and 2017 will be loaded as well. He will gun for the #1 recruiting title in '16. Urb has the trophy to prove what hard work and leadership does for a program.
I liked his interview yesterday on ESPNU - said he won't use the word "perfection" this year - but will ask for more leadership to rally the troops as he knows everyone will be gunning to knock us off the lofty perch.
He just gets "it" - whatever that "it" is.
Seems like a good fit for both guys. I have met Tress a few times - and we talked a good bit in an airport layover in Boston.
Good guy - class act - a true fit at YSU. It also give the buckeyes a place to send some kids who don't work out for whatever reason...and they will be taken care of.
Visit all you want...this is the best program in the country.
but the $ec does pay to play...when is the ncaa ever going to come down on someone in that conference.
spend a few weeks going undercover in the state of bama..like undercover boss...and see how the pastors and the moms get paid.
Not even close...Meyer>tress.
First off head to head we saw what happened ..no need to relive that nightmare.
Second to tress field position ( punt was most important ) was everything to Meyer keeping drives alive and scoring is most important...hence 4th down aggressiveness.
tress loved the field goal...Meyer the touchdown.
Tress hated style points..and played not to lose many times...Meyer plays to win and win big. Modern era likes style points..tress never gets us into the playoffs.
who could recover better when staffs get poached? I don't think tress ever recovered from losing dantonio.
Who develops qbs better? who would you rather listen to? be motivated by? Enjoy watching a game coached by?
Sorry guys they r both good ohio men...but Meyer > Tress. By far.
A smart nfl team will pick him or invite him to camp...Christ if Edelman can b a kent st qb and make it...spencer can make it.
I predict New England
Zeke is just simply a beast.
A rare combo of speed power vision and cuts in the hole with a forward lean.
sorry mizzou...u lose.
One would think Braxton will be somewhere on the field...if not qb...where?
could he be the deep threat? Jalin and dontre plus Dixon provide lots of depth in the Percy Hardin role..but if millers shoulder isn't a go...his legs will be used somewhere.
IMO..his shot in the nfl is not at qb...not with those injuries...and his progression reads are not even up to JTs.
Love JT Cardale and Brax - maybe only two seats at the table though.
I'm surprised IF Braxton leaves that there is no chatter about heading to Houston with Herman. Instant starter, huge stats, and around a familiar face.
I still think Urban will talk to him after Monday night - but maybe they know something about his shoulder or he has distanced himself from the program and it has rubbed people on the team the wrong way. Obviously i'm speculating - but he does not look engaged and maybe his selfishness or self loathing (not blaming but noticing) is shining through during this tough time.
Following Winston @ FSU or heading to the SEC would seem strange - but I'm sure they are making him feel wanted.
But that's why you recruit studs every single year at QB - because as we have seen this year - Next man up!
there is a lot of smoke around this and lsu and other schools - so prolly there is a fire.
Don't like that Braxton looks - uhhmm - well not fired up let's say. I understand he is a young man going through a difficult time - but man you invested so much in this program - smile and get fired up a bit - you are part of a great team and university.
And I have to think urban might re recruit him after the game - win or lose.
I can just hear Mark May talk about our non conf schedule next yr. already...(makes me twitch) but our out of conferecne isn't so great so hell ya - cancel out someone and bring in the purple toads!