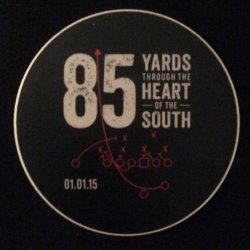 mborger
---
from Findlay, Ohio
MEMBER SINCE December 30, 2012
Favorites
SPORTS MOMENT: Owning Michigan
COLLEGE FOOTBALL PLAYER: Zeeeeeek
NFL TEAM: Bronco's
Recent Activity
XXXXXXXXXXXXXXXXXXX, Wolverine tears.
Go Bucks. Beat Blue.
Mr. Clifford meet Mr. Young.
Violently and repeatedly I hope.
Go Bucks
Well Duhhhhhhhhhhhhhhhhhhhhhhhhhhhhhhhhhhhhhhhhhhhhhhhhhhhhhhhhhhhhhhhhh...
Go Bucks
I'm with ya Findlay419Buckeye love those little square pieces. Nothing like a Jac & Do's. Only food in Findlay I like better is Oler's.
And then printing them. Is it August yet?
I love this kid. He gets it. In the interview he calls them that team up north.
It's 10:20 in Columbus....
My concern with the inclusion of ND is the fact that they get an extra week of rest. Plus the fact that I hate them.
Sooooo proud of this team. Go Bucks.
ICWYDT and I like it. Wade makes waves. heheheheheh
I have to agree with what I heard from Joel Klatt. The 4 most deserving of the 5 power 5 champions. There should also be a stipulation that all 5 conferences play 9 conference games.
I'm thinking that JTB goes off in his last time wearing the scarlet and gray, and playing in front of a home crowd.
42-28 Bucks
Here's hoping that what is left of the excellent class of 13 can bring home a victory.
I would love to see JTBIV go out with a bang.
Go Bucks beat USC.
I would pay good money to see that.
The force is strong in this one.
This is not the Buckeye that you want to single.
Love the maturity that he is showing. Seems like a natural leader to me.
Well said sir. Since I can Finally vote you get my first upvote.
It's a bird, no a plane, no it's Super JK.
I think JK will run wild on the Trojans, if given the chance.
Looking forward to his Heisman campaign next year.
Go Bucks. Beat the Trojans.
Thanks for everything 16.
Can't imagine walking after a knee scope let alone winning an NCAA football game.
Number 16 in your programs but number one in your hearts.
Go JT and Go Bucks.
I'm with Hove on number one.
Haven't jumped that high since the 2002 natty.
Of course 6-0 against the skunk weasels and 3-0 against Jimmy was pretty sweet.
Go Bucks. Thump the Trojans.
My hope is to see the Buckeyes in their traditional home uniforms and for the Scarlet and Gray to kick the snot out of what ever colors that other team wears. That is all.
Clown show or thrilling win it's still a fine time to be a Buckeye.
I yell at the TV with everyone else but, I try my level best, in this forum, to not criticize the talented young men giving their best for our entertainment.
JT is at times hard to watch but always easy to admire. I've never seen a more humble yet extremely talented leader IMO.
Thanks for the Great read Ramzy
Go Bucks. Toss the Trojans
I don't know how good the stat is but, I'm amazed at JK Dobbins only losing 9 yards from scrimmage. The slobs have done a great job this season and JK is a beast. Looking forward to seeing JK in New York next year. Go Bucks. Use the Trojans.
Cheers Gentlemen. Nicely done. Would love to see both of you make consensus.
Can't wait to see what you two earn next year.
Seriously, can't wait. Can we start the season after we destroy the Trojans in the Cotton Bowl please.
It's 7:01 and Xichigan still sucks.
My most favorite moment of B1G championship was the reaction of J.K. Dobbins to winning the MVP award. Priceless. So proud of that young man and that entire team. It's a great time to be a Buckeye.
Slip it to the Trojans. Go Bucks