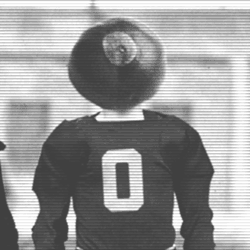 mbabuck
---
MEMBER SINCE July 25, 2015
Recent Activity
NFL .. in the next 5 years
Its a blue and white checked shirt (zoom in). The blue is a UNC blue not a TTUN blue.
With Hafley leaving, I feel like Wade will leave He already has late 1st/ 2nd round ratings.
Number 1 and 3 seeds have never won the championship. May that streak continue !!!
Focus has to be on Taylor. Coan and Cephus have skills but they are playing a NFL secondary and a DL that ranks #2 nationally in Sacks. On the other side of the ball, I don't think they can stop us offensively for 4 quarters unless we shoot ourselves in the foot. Home field advantage will play a role too (we actually lucked out this year with Wisky and Penn State at home).
"Our motto is to be 1-0 each week and attack each day with our best efforts." - Shea Patterson
looks like they were successful ... 1-0 points!
No such thing as a golden umbrella. I think you are looking for "golden parachute" which doesn't apply in professional sports (unless ownership of the franchise changes).
I agree. He was successful in the NFL so I'm sure he has a few mills sitting in his brokerage account.
TBH I could see getting to the fall camp without a clear starter. we could start the season with a dual QB situation to see who separates in live game action - especially Cinci in Week 2.
Chuga Chuga choo choo ... maybe we borrow the Purdue train whistle every time Chugs scores.
4.35 is the 5th fastest time ? WTF?
Wasn't Meyer only the 2nd OSU coach ever to leave on his own terms. Hopefully Day will be #3.
If we are getting technical, it really should be 100. The title of the column says winning %. A 1 would mean 1%.
Help me understand this... you lose Jordan to the draft and you offer a kid from Hawaii? When was the last time we got someone from Hawaii - especially this late in the game?
Over- under on when Day leaves for the NFL. I say 4 years
So wait - are people saying Coach Stud produced 3 All American centers? My goodness!
He deserves a tree regardless of list
Whoever interviewed Harrison did a shitty job. You ask yes/no questions, you'll get yes/no answers.
Pasadena-bound. It's amazing how so much is on the line on Saturday and also almost nothing (except pride) for the bucks. Win or lose I believe they will be in the Rose bowl unless NW wins the B1G. Much more at stake for ttun.
Ohio State must play well in all three phases – which it hasn't in many games this season –to have a chance to win.
Have we had a complete game at all?
Most capitals suck. It's not limited to Maryland.