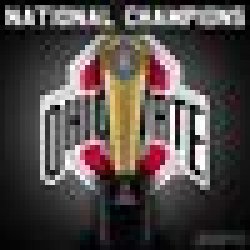 mb5599
---
Fayetteville, North Carolina (via Utica, Ohio)
Member since 19 July 2012 | Blog
Favorites
SPORTS MOMENT: 2002 National Championship Game
COLLEGE FOOTBALL PLAYER: Chris Speilman
COLLEGE BASKETBALL PLAYER: Larry Bird
NFL TEAM: Pittsburgh Steelers
NHL TEAM: Hockey sucks
NBA TEAM: Los Angeles Lakers
MLB TEAM: Cincinnati Reds
SOCCER TEAM: Soccer sucks
Recent Activity
knew that was coming just like the taxpayer comment.
dont cherry pick numbers from a playoff that is only 4 years old. how many championships does Saban have? at the end of the day that's what it is all about. no one really gives a shit about statistical records, conference championships, overall playoff records, etc.. if you are hoisting that national championship trophy at the end of the year, that is what matters. the rest of that stuff is fluff.
when the o-line coach is talking about a potential "rotation" at a spot due to the fact that no one has separated, i get a little worried. we are close to gameday and no one has taken the position. it only takes one weak link in the line to throw the offense off. not sure we will know for sure until the penn state game since the schedule (besides OU) does not contain stout defensive line play. if we struggle in the early games, we are in a world of hurt.
it's all about championships and beating scum.
gotta remember that he is all in on the SEC and so he is comparing Urban to Saban. Bama is the gold standard and we are not there yet. we can get there, but we are not there yet. 61-6 is a phenomenal record, but at the end of the day its all about championships and Saban has a dynasty going.
agree that the horizontal passing game is an important piece of the puzzle, my point is that nothing else matters if we are not a threat to go deep at any point in the game. that is why it is the most important aspect of this offense this year. without it, they will struggle against decent defenses and get embarrassed against elite ones.
maybe the horizontal passing game helped us win the sugar bowl, but the Alabama defense respected Cardales ability to throw it deep and so did not crowd the line like they did last year. teams have seen the horizontal passing game from us, but have not seen any form of a deep threat. unless they see one early on this year and consistently, they will continue to crowd the line and take their chances. if you were a d coordinator, would you respect the deep threat from this team? I would make them prove it. Indiana should put all of the d within 15 yards of the line of scrimmage and make jt beat them over the top. if he cannot take advantage of an Indiana defense we will have no chance against sparty, scum, penn state, etc. let alone bama, Clemson, FSu etc. no more excuses. we have to be able to hit some deep shots early this year, then it will open up the horizontal passing game and the running game. our passing attack was horrific last year. it has to be fixed or they are in serious trouble.
what I mean when I say "limited to that" is that if we cannot stretch the field and make the defense respect the over the top shot, they will continue to load the box and stuff the run and shut down the "horizontal passing game". I have no problem utilizing a horizontal passing game, once we show that we can push the ball downfield on a regular basis with accuracy. they can throw the ball horizontal all day long, but it will not go anywhere if the box is stacked due to the fact that no one respects our downfield passing attack. hell, no one respects our mid range passing attack. if you are Indiana's d coordinator are you going to play any deep coverage at all until we prove we can go over the top? I sure as hell wouldn't. I would stack the box and make them beat me over the top more than once. if we cannot do that (go over the top) with consistency by week 3, it will not happen and teams will stack the box on us to shut down the run and close off the horizontal passing game. if we cannot go down field with the ball early this season we are dead in the water. we are not playing close to the vest and holding it back for bigger games. I don't care if we rack up yards and points that shatter records while we are playing big 10 schools if we are getting them through qb runs and horizontal passing. I think we know what an elite defense (or even a decent one) can do to that scheme.
agree 100%. if we are limited to that in week 3 we are screwed. if it is a receiver issue, the position coach needs fired. if it is qb, they need to put in the other qbs to see if that fixes the problem. loyalty to the team comes before loyalty to one player.
after last years debacle of an offense, please forgive me if I cringe when hear anything about the horizontal passing game. I do not care if this team smashes every record in the book, but if this type of offense does not work against the elite defenses they will see in the CFP, what does it matter? if you were the Clemson D coordinator, wouldn't you crowd the line of scrimmage every single play? they have to throw the ball vertically or we will see the same result as last year.
how the hell do you fire your all time winningest coach without a homerun hire in place?? i could see it if there were ethical/legal issues, but that does not appear to be the case here. i think smith screwed the pooch on this one.
glad he got drafted but, he had one good game.
As a Steelers fan, I love what both of those dumb ass franchises are doing. keep it up boys!! only competition in the AFC North is (and by the looks of it will continue to be) the Ravens. 50/50 shot at winning the division every year. I like it!
who didn't hang 42 on Oklahoma? BIG 12 defense is non existent. MSU was a dumpster fire and we struggled. with the talent differential, the only teams we should not score 50 or more on is possibly scum and the playoff teams.
you are not the only one with doubts. just have to look at that offensive shit show against Clemson and scum. defense got them to the playoffs, but eventually you have to score. too many question marks right now. doesn't mean they cant take that next step, but its too early to start talking about 50-60 points a game. the wr's and o line were dreadful last year.
who cares if they average 50 points per game against Rutgers, Indiana, Maryland, etc.. when you put up a goose egg against Clemson in the playoffs and barely squeak by scum, you are not exactly an offensive juggernaut. we hear this every preseason and when they don't look good against inferior talent, its because they are bored or are not taking the other team seriously. then they get donkey punched by a good team. they need to prove it against a good defense.
exactly. swagger comes after you do something. not before. just keep your nose to the grind stone.
what's next? orange slices and participation trophies????
what did you expect his former teammates to say? "That JT sucks balls man. He can't throw it more than 15 yards and could'nt hit the broad side of a barn." ? His former teammates are not going to say anything bad about him. Like I said, I like JT and believe he is a very good QB (game manager), but he does not strike fear into the heart of any elite defense with his ability to stretch the field. When Cardale was going into the BIG championship, nobody thought he could do what he did, but almost everyone was talking about his cannon of an arm and his ability to throw it deep down the field even if his decision making was suspect. Once he hit a couple of deep shots, that opened everything else up. Zeke did not explode until the last 3 games (Wisconsin, Alabama, Oregon) when he got 220, 230, and 246 rushing yards. The previous 12 games he did not even average 100 yards rushing per game (98.5). When Cardale came in the game it made the defense take the downfield passing game seriously which allowed Zeke to get more yards once he got to the second level. Look at JTs stats last year. He only threw for 2 or more TDs against Bowling Green, Oklahoma, Rutgers, Nebraska, and Maryland (not exactly murderers row when it comes to defense). The year before that he only threw for 2 or more TDs against Penn State and Rutgers. However, his first year he threw for 2 or more TDs against Kent State, Navy, Cinncinnati, Maryland, Rutgers, Illinois, Michigan State, Minnesota, and Indiana. It seems he has regressed from his first year as he became more of a running QB over the past 2 seasons. Last year he rushed the ball 205 times compared to 115 times in 2015 (split time with Cardale) and 171 in 2014. If you are not a threat to throw it over the top of a defense, you are going to have a hard time running the football. Like I said, I like JT he is an excellent game manager and a steady QB, but more often than not he is not going to be able to beat the "elite" defenses that he will have to face in the CFP.
I'm #TeamBarrett, because he's right—if somebody were better than him, he'd be playing.
Not so sure about that. Just my opinion but, I don't think that they win the championship in 2014 with JT at QB. JT is a great decision maker who takes care of the ball, but does he not have the skills (arm strength, accuracy, anticipation, etc.) that you need to play at an elite level. He is a great game manager, and while sometimes that is enough, when you go up against elite defenses more often than not you get shut down. Dual threat QBs are a must have, but they must also be able to stretch the field against elite defenses. Otherwise, the defense loads the box and plays man to man which shuts down the run game. JT should get the first shot at starter, but if the offense struggles, I hope Urban tries something (someone) else. Nobody thought Cardale was going to go off in those 3 games like he did, so sometimes there are better players sitting on the bench who just need a chance. That being said, JT is undefeated against Scum and that is all I care about.
nothing wrong with being an asshole. you miserable sheep fucker.
On Tyler Gerald: "He just quit. I had nothing to do with that."
Wow. How the hell can you just quit? especially after surviving coach mick's offseason workouts.
#2? Someone needs fucking fired.
"I would have a consistent running game to up the passing game," he said
sounds good as long as the defense has no fear of a pass and can stack the box with 8-9 guys. that was the issue last year. no fear, by any decent team, of a pass going down field. until they can at least have defenses respect the threat of a pass, the run game will suffer as well.
agree, but even with a better scheme, I have serious reservations on whether or not JT can stretch the field. his wind up is "tebowesque" and his accuracy/touch is questionable. a senior qb should be able to throw the receiver open at this stage of his career. granted, his wr corps leaves a lot to be desired, but his experience should allow him to compensate for that to an extent. on the replays that show the play from behind the offense, you can see wr/te/hb getting open, but he hesitates instead of throwing the ball which allows the defenders to close. the o-line was suspect as well, but when the defense does not respect your ability to stretch the field, that allows them to stack the box and blitz from everywhere. also, I'm not sure his mechanics can be corrected in one off season to allow him to take a big step forward.