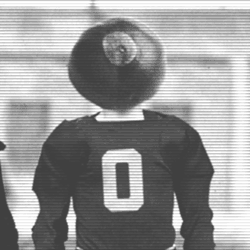 May3 1890
---
MEMBER SINCE January 11, 2017
Recent Activity
What chaos in Cleveland do you speak of?
He would the Bomb if hired!
That 90 is only for last week, not the season.
If so, I'm in my 40s and still have 4 years of eligibility.
He seems to be rebounding well after the USC debacle. Took a few years.
AUB looks pretty solid right now.
Who cried better, okorn or mayfield after losing his captain title and starter role?
Did anyone notice how many times, pregame and during, Joel Klatt brought up the "controversial 4th down last year"? I counted three times. Move on!
Good effort, but "from" and "some"
While I agree it's fun to make fun and criticize him, I don't think we want him there long term. He does have the potential to build that ass program.
Luckily we know of another school with depth at QB.
I know of another local team that recruits FL heavily.
Makes sense now, they the wrong team in the wrong. Explains why they weren't prepared for them.
At least you only have to put up with the game once a year! And lots of talk and stress in between of it; wait now I'm contracting myself.
Why bother with a DV; he makes a couple of valid points and states a reasonable opinion, move on.
I wouldn't consider pledges dieing from alcohol incidents as "pansy ass hazing."
Hazing is, and to an extent was, an inherent part of sports, military life, and fraternities (three places where I've seen it) anmong others areas in life. All three of those have had efforts in recent years to rectify, to a limited degree of effectiveness. The issue I see through experience was the "one up scenario." The senior person remembers his hazing experience and wants to take the same action against the junior person but has to "one-up" at the same time. X happened to me, so I have to do the same + more. It (It's) got out of control!
Hopefully you're not operating heavy equipment!?
Until you throw the baby up in the air after a TD!
Great post, thanks for sharing! Don't have coverage on the left coast and to hear that call brings back memories.
Agree, who's been criticizing him so much?