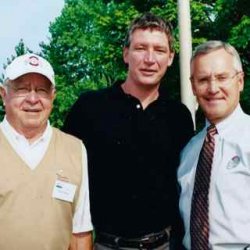 Maxxxx
---
Member since 20 July 2014 | Blog
Recent Activity
Do we know the channel it will be on?
We've got to purge the "You're not going to contend" and "It's not realistic" from our thinking. Other than a crappy arena, we've got all it takes to be top tier with the right coach. Which Matta... was.
Remodel St. John!
How about that one handed dig in the third set that we turned into a point? Highlight reel.
And give it up for St. John arena. What a venue.
Nah.
Could totally find more action in a United jetway tunnel for less $.
Bring it!
Schott blows.
Need a proper arena.
Tear down abhorrent schott or go back to St. John.
Would make a nice dang t-shirt.
Must be something in the water down there in Big D.
Looks like a Fresca.
Are you my pal... Mr. Scholarship winner?
Dang. Can't add my photo...
Schlicter? I hardly knew her.
Nice. Turnovers will kill ya.

A little of the old in and out.
He was talking about jumpshots right?
Given the regular post game party riots... that gave OSU/Columbus a black eye... that was a big F.U. slur directed our way. And probably helped hasten the demise of a once unique High Street.
Dude was a blowhard windbag POS Buckeye hater.
... not one body... not one stinkin tiger body...
Band member? Male band member? I just figured they all were required to do that before they could join the band.
Heck... check our female cheerleader at half time of the 02 Championship game. I knew we'd win after her kick. Miami's cheerleader (while fairly hot) was disinterested in addressing the ball. HELLO BALL!
I probably suck for not posting the link.
Me too. It is really the best by far to re-watch.
Maybe they will do it when we thrash Washington in the natty.
Worst generic crowd picture ever.
"Boeckman's career got sacrificed for the good of future Buckeye teams. I've never felt that was fair to either Boeckman or the other seniors on that 2008 team."
THIS!!
Boeckman did not lose us the USC game, and he would have won us that PSU game.
Alright alright. You win. They are good seats and you drive a hard bargin.
How about Tree Fiddy Fo?
I see people here saying they respect and admire Carr.
Is that an elbow he throws at a Buckeye in the video clip?
Ahhhh, nevermind... I'm sure he's a swell guy.
Anyway, what was my point?
Oh yeah... F Carr, F Hart, F Woodson, F Greese, F Harbaugh, F Biakamafuckingtooka, F ugly helmets, F Michigan University, and F god damn Lloyd fucking Carr.
Wisky coach dang quit and went to Eugene.
Apparently I'm dying to know.