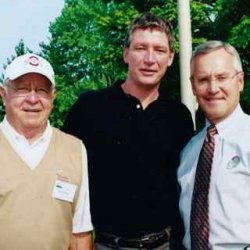 Maxxxx
---
MEMBER SINCE July 20, 2014
Recent Activity
Pritty Good. Priiiiity Priiiiiiiiiiiiiity Good.
Maybe try Bier Stub or Out-R-Inn. Varsity Club is good also and has food.
Not much left of campus. Unless you like malls
Nice!
Solid effort and not a single turnover.
Freaking relatives cousins. The worst.
Two words for ya... hunting accident.
Mums the word.
Not enough tv shots of the losing coach for my taste but a good victory nonetheless. Thanks for nothing cbs
Need to hang a BURROW banner in The Shoe next to Horvath, Griffin, George, et al.
Half sized. Or possibly with small asterisk.
How soft is the sleeping bag in your room? What's the pillow situation?
Glad Chryst got his "Wisconsin tuxedo" back from the dry cleaners in time for the photo op.
So I guess they shouldn't be #7? More like #15 or 20? Ok.

Announcers hardly mentioned us... somebody had to say OHIO for gods sake. ESPN would have looked like horses's ass's had we not said O-H-I-O!!!! And we just can't have that.
Might need to re-watch this game... I'd like to hear again how Tar Heels lost/not we won, how the kid with the sniffles is, and mostly... more about Penn State basketball!
You are SO welcome!
I knew you'd dig it the most.
Oh, it is the year. That they lose. Again.
Yet they thirst for the Ohio players that made them what they (think they) were in the past.
Bloodsuckers. Leeches.
Burn them with cigars.
Applebees? I love corporate franchise chains (from SEC-land) as much as the next guy... but there's a gazillion better places around in which to use bad grammar.
This is not Ann Arbor.
Dude. Players can respect players. But we ain't players. Screw them. You respect them? Fer what? Getting lucky and winning when they shouldn't have? Claiming pre-helmet wins? Phantom championships? Paying players? Delusional fans? Premeditated Dontre Wilson mugging? Freakshow Jim Harbaugh?
Respect. Ha. No thanks. Crush. Them. Marcus Hall all day.
Yes yes. But our guy's nickname isn't "Dutch".
Try to hang with the plot line as you wander the world.
Nice to hear the players digging the old school vibe. Maybe they should go with no high fives.
All down low. And doubles. Can you dig it?
He weighs 205 at 6'8"? He doesn't look (or play) that thin.
Left that dude hanging at the end.
Those deer don't kill themselves.
How much are your condo maintenance fees?
hmmmmmmmmmmm
mmmmm
mmm
mm
m
Such as... and such as.
Miss South Carolina is writing for a UM fan site?