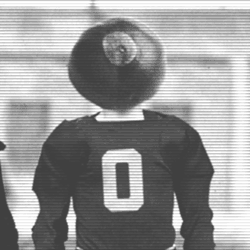 MaxPowerBucknut
---
Intermountain West
MEMBER SINCE November 29, 2014
Grew up out West but always loved the Buckeyes, and cheered for them even in the 90's when times weren't so good. Got a chance to go to Med School at OSU and jumped on it. Best decision I ever made.
Favorites
SPORTS MOMENT: Being in the 'Shoe in November 2006 for 42 - 39.
COLLEGE FOOTBALL PLAYER: JK Dobbins
COLLEGE BASKETBALL PLAYER: TBD
NHL TEAM: Montreal Canadiens (lived there for 2 years)
NBA TEAM: None. The NBA is dead to me.
MLB TEAM: Texas Rangers (lived there for 5 years)
Recent Activity
Just trying to build suspense. It's all a big production now.
Love watching BB play. His first movement off the snap is amazing. Even when he doesn't get to the QB or the RB I'm sure he creates openings for others due to people having to slide over to help since he's already half a step past his man. And really if you occupy two blockers as an interior lineman you've done your job.
Where was the content about D'Angelo Russell's possible return to Los Angeles? Did I just miss it?
Avoiding nepotism and not tolerating sub-standard performance from assistants for the sake of convenience would go a long way to improving the past two coaching regimes, although it's hard to complain about their success against TTUN and each winning a National Championship.
But I thought height didn't matter? That's what we were all saying when Tate Martell committed and was here, and that dude is a shrimp.
I agree wholeheartedly with this. That Buckeye team in that game didn't back down when it would have been easy to do so. And that punch in the mouth (Crable getting run over at the goal line) set the tone for years to come, where the Buckeyes out-toughed the maize and blue on both sides of the ball.
May it continue forever.
Going to a better opportunity though. Play for a winning team that goes to the playoffs.
Don't forget Vernon Gholston. He frequently shows up on NFL's biggest draft busts lists. If I remember correctly, I think he was a top 15 pick that never panned out at all.
Hopefully this shot for Marshall doesn't "go up in smoke..."
Who cares what Chris Cooley thinks? He's a has been.
Jay Gruden. He's not going to the Raiders.
Ah, the good old William Jennings Bryan Dorn VA...I worked there for 5 years. Can't say I'm sad to be gone.
Playing with house money at this point. Play smart (no dumb turnovers please—hopefully Jallow and Muhammad can learn to throw an entry pass before Sunday), play hard, and play loose. All pressure is on Houston at this point.
If Jackson and A Wesson can shoot the ball at all on Sunday I think they've got a decent chance. Kaleb should enjoy a big advantage inside much like he did against Iowa State.
Too bad he didn't drop that gun like he dropped that fumble against Oregon in the National Championship game...
Tough matchup. I've seen a few Iowa State games this year and they are athletic and long and can shoot the 3. Will be a difficult game to win, but it's surprising they made the tournament at all to be honest. If, after all we lost last year, someone would have asked me if I'd take an 11 seed in the NCAA tourney this year it would have been a resounding yes.
Don't mind any of those matchups except Buffalo. OSU would get curb stomped by Buffalo. I saw them play last year live in the 2nd round of the NCAA tourney against Kentucky and the Bulls hung with them most of the game until running out of steam at the end of the game due to lack of depth, and they have virtually the same team this year. That would be a crime scene.
How is a violation of OSU Athletic Department policy Holtmann's call? Those aren't obscure rules or judgement calls by the coach. Those are things that are well known by athletes, particularly ones that have been around for a couple of years. Other than that I agree with what you said, but don't try and pin this on Holtmann. This is all on Kaleb Wesson.
This is a good point. So that he can see firsthand the downside of his poor decision making. If he's removed from the pain of the consequences of his actions, perhaps he doesn't learn nearly as much.
Hopefully he didn't watch the game last night...
Hopefully whatever Kaleb did was worth costing the team an NCAA tourney berth...
Agreed. He showed zero improvement from game to game and continually made the same mistakes over and over again. Hopefully that was a Grinch problem and not a Pryor problem, but based on what I saw, he's nothing more than a gigantic liability at safety.
It doesn't matter if we know though. The crucial thing is that Kaleb knew since it "was a violation of OSU Athletic Department policy." Those kinds of things aren't arbitrary.
Cant have the inmates running the asylum. If you let your star player get away with stuff just because of his importance to a team you've lost already.
Thanks for your insightful comment.
You honestly think that another team was going to watch him score almost 30 points in the previous game and then decide to not guard him again?
*chants* Just like football.
Figured to be a tough one with Kaleb out, but even this blew my expectations out of the water. Only upside is getting some guys who wouldn't play some minutes so they're more ready when their time comes.
Is it fair to call Musa Jallow a bust yet? Two years in the program and hasn't shown anything.