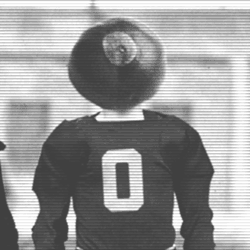 MaxMermelstein
---
MEMBER SINCE September 26, 2014
Recent Activity
Comment removed for violating the site's commenting policy.
Maybe they should start laying people off like a private business would have to do.
Oh wait, this is the public sector we're talking about...
They'll just ask students and taxpayers to pony up more money.
Probably not a day that goes by that he doesn't think about that...
$1m in 1995 was a lot of money. Of course after taxes it's probably $500k
Comment removed for violating the site's commenting policy.
Totally agree. These alarmists in the media never waste a chance to manufacture a "crisis". Then they wonder why nobody trusts them.
SARS, Bird Flu, Swine Flu, Ebola, Zika, etc. All were significantly more dangerous than this one. And we survived all of them.
This one will be no different. Doubt anybody is even talking about this in 3 months.
If you are going to get scalped tickets, make sure you know what real ones look like. Counterfeit tickets are always a problem at events like this. Local thieves love to scam out-of-towners.
I know the B10 Championship went all e-tickets this year (except for club seats) because they had so much issue with fraud.
I really hope the Heisman Committee gives these guys an allowance for a suit, because Chase Young looks like a walking NCAA violation.
If Haskins plays in that game instead of JTB, we win by 30+. JTB had a pick 6 and constantly overthrew wide open receivers.
Considering stubhub's buyer fees are like 30%...the discount makes it a little more palatable.
Keep in mind though, OSU's allocation will be hitting the market tomorrow. That will likely drive prices down more.
Maybe if LSU's plane crashes into Ohio State's bus
OSU doesn't release their ticket allotment to season ticket holders until Wednesday. I'd probably hold off on buying until those hit the secondary market. Prices for this game almost always come down the closer it gets to Saturday.
I think this game has only sold out a few times. There were open seats here the last several years....mostly nose bleed though.
An O-H-I-O chant going around your home stadium? 30-40% of your stadium taken over by opposing fans? That can't possibly help recruiting. Who would want to play for a program where your own fans don't even support the team?
I don't think OSU has even released tickets yet for the people who requested them. When those flood the market, prices will come down.
You should be able to find tickets for pretty close to face. This isn't really going to be a hot ticket with Wisconsin on the other side.
The time to be nervous was last weekend. If we lost to Penn State we were really screwed. Obviously, you want to beat TTUN, but this game really means nothing for the bigger goals.
This wasn't one of the coaches best performances. The fumbles were bad, but the play calling was equally uninspiring. Not to mention the debacle at the end of the first half.
Ha. Like saying Ted Bundy never got a speeding ticket.
Boring. Not that I'll be watching anyway.
How much do you have to pay for internet if you don't bundle?
First, you're not going to get a bespoke (custom) suit in the states for less than $1500. The places that advertise "custom" for a few hundred bucks are just taking ready-made suits and making alterations. However, there are some things on a suit you cannot really alter. If you want to look like James Bond, you need a custom suit.
If you're reasonably proportioned, an off-the-rack suit will be fine. You won't win any fashion awards, but 95% of the people out there don't know what a good suit looks like anyway.
Fabric - this is the second most important element behind fit. A super-180s wool suit will look fantastic, but it's not going to be as durable as a super-100s. Avoid anything with polyester.
Bama has been good, but most of their "Titles" over the past 10 years have been the result of flukes or just plain luck.
2010 - vs Texas. Colt McCoy gets hurt on like the first play of the game, doesn't return for the rest of the game.
2011- vs. LSU. Alabama doesn't even win their division, yet still backs into the Championship. Beats LSU, who won the SEC
2013 - vs. Notre Dame. Alabama doesn't even make this game if OSU doesn't have a postseason ban.
2016 - vs. Clemson. Ohio State was clearly the best team this year, and had the same team that throttled Bama the year prior.
2018 - vs. Georgia. Alabama again fails to even win their division.
Tickets being $1k+ will weed out a lot of the riff raff. Louisiana is a poor state and LSU is a shitty school, so I doubt many of their fans/alums have another kidney to sell.
Simply put, they'll charge as much as people are willing to pay.
A new Rolex Submariner 20 years ago was like $2,500. Today they're $10k. Inflation hasn't been 400%. But people are willing to pay it, so they'll charge it.
Committee will take a 1-loss PAC-12 or B12 Champ over a 1-loss Bama this year.
Bama got in in 2017 because OSU had 2 losses. Same reason OSU went in 2016 over a 2-loss PSU.
I don't see an easy path for Bama right now. Especially since Clemson is going to skate to a spot, LSU is probably in regardless of whether they win the SEC or not, Georgia could be in if they beat LSU, and the B10 winner will be in.
They need a whole lot of dominos to fall in their favor.
Doesn't really help us...unless PSU drops another one to Indiana or something.
NCAA is already in the middle of a bad public perception. Doubt they want to stir the pot at this point.