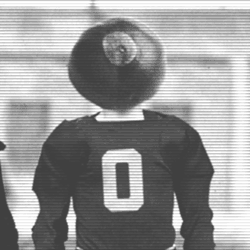 Max
---
MEMBER SINCE August 30, 2010
Recent Activity
Don't let facts get in the way of the teeth gnashing!
How different is this team if Jallow isn't out for the season? Not that he was a huge cog, but solid, athletic defender, gives you more room to sit Muhammed/Washington and less need to rely on the freshmen.
Not in full panic mode. They need to fix the turnovers. Young still isn't at 100%. We know they can play well based on the out of conference schedule. Keep working on the basics. 12-18 FTs doesn't help (Minny was worse, but still...)
A fun off-season game. Go back to 1999 and try it out some cold Sunday afternoon.
The Y in Reynoldsburg is having an open house/Grand opening. I recommend dropping a baby Ruth in the pool...
The talent level in year 1 and 2 was awful. Year 1 he took over Diop and not much else. Year 2 he had a recruiting class but I think many recruits were already committed by the time he was on the trail. Year 3 is where the rubber meets the road. These are largely his players now, so overachieving going forward is no longer a positive, unless there's an injury bug.
Get your vacation request in now for that 4 day weekend...
He's recruited well, maintained off court discipline (for the most part), and has seemingly overachieved with the talent level he has.
On the negative side, they have had more games with scoring droughts than I've seen from anyone (last year? 2 yrs ago? ... finished one game with no score in the last 8 mins, then started the next game with no points in the first 12 minutes).
It looks like when Kyle Young is active and can score, the team wins. Sure there's more to it than that - too many turnovers from the guards, and no real 3pt threat - but I'm hopeful the Young will be healthier in a few games and we get back to what we saw in December out of this group.
(and to say the BBall IQ is 0 is asinine, "no offense intended")
I think I read that Jerry Palm suggested 10 Big 10 teams could make it this year, as there's so much in the middle and just about no one is winning on the road in conference. Serious concerns about ability to score... Carton looks at times like he can create off the dribble, would love to see that developed (a la Mike Conley in 2007).
It always makes me wonder when we see each version of a sport one upping itself each year. Maybe it was a fluke in the 80s with all the super bowl blowouts and now we have historic comebacks and last second lead changes in virtually every game. Seven game world series, extra innings, all road victories for the first time. Imagine what would be improbable and historic and it's likely to happen...
Brian Brown...
Guessing it will not be the 18th, as Stadium Blitz is putting on a race there that evening - https://stadiumblitz.com/race-locations/
I count 28 listed as seniors on the roster, and losing 3-5 underclassmen, so probably not a crunch with 25 coming in. But if the writing is on the wall about playing time...
Well you could say current "peak" Clemson rose out of Dabo's early failures. A little different as we've had a consistent high level of success. I don't see this moving the needle on the program either way. The I think we lose a LOT of talent this year and the next two might be a relatively big step back just from that.
Amen. This is the first article I've read. Maybe another in a few days.
I, for one, prefer my announcers not to have catch phrases ("he gone" was about the most annoying thing ever), or focus on stories from the future.
Despite two great defenses, the good guys win a back and forth shootout, 45-40
Why anyone visits ESPN..com or watches their programming for other than live sports is unbelievable. There's a reason their name starts with 'Entertainment'.
Also, three weeks for Day and the staff to game plan. No time to look ahead the last few weeks without Western Carolina on the schedule.
Kickoff times have been set for these games since before the season started. Peach at 4, Fiesta at 8.
Personally, I prefer playing in the Fiesta, it's like a home environment. I think the regional aspect (travel for LSU and Clemson if they are 2/3 vs OSU with strong support in Tempe and local crowds for the Peach as is. Would be nice to see the #1 get to pick the location as a reward.
Can't rely on the kind of 3pt shooting, but the team seems to be able to adjust to the situation/opponent. Nice to see the offense in a conference game (those often turn into 46-42 rumbles).
Visited with my dad this summer, was a nice afternoon. Couldn't find Paul Warfield - is there a map anywhere, of the various nameplates? I know they are in rough chronological order. Sad to see a few had been willfully destroyed (maybe drunk souvenir hunters).
Jim Tressel went home to sad pizza.
At the risk of overloading a chart too much, would be interested to see that rushing by game/ypc broken further into 1st/2nd half, when they knew it was coming or we were running out the clock (the to be fair, we still throw a lot in 4 qtr blowouts).