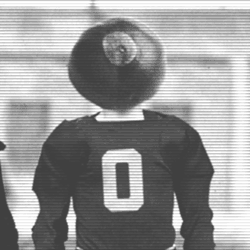 Max
---
MEMBER SINCE August 30, 2010
Recent Activity
Yeah, but which team does he like in the game ;)
You do not get to pick your own nickname (but I will let someone else tell him that)
Man I hate those Liberty commercials. My gut says Rutgers will step up after being called out, but my head says they're still bad enough to lose at home again.
GYN
Like the O/U when Houston was playing the Yankees, i can argue it going either way...
What scares me, in the first half of the NW game, we had to convert 3rd and long time after time. We succeeded, but against a good D? If they can kill the clock with a few long drives, we may not get that many chances. Optimistic but a little nervous.
In everyone's defense, last year when Wesson wasn't on the floor, the offense could stagnate, so guys took bad shots because someone had to. I remember a stretch (I think the prior season) where we finished one game going 6+ minutes without a shot, and the start of the next game had 2 pts at the 10 minute mark. A few more scoring options and some maturity for these guys will be fun to watch.
Outside of these picks, I like BG to cover vs ND +45.5. I think ND gets up and slowed it down late. Those big lines can but you tho.
If I'm making one bet, it's Auburn over FLA. Hate them, but if anything they are underrated this year.
Well, you have to get new matching shoes...
Not a fan of black Unis or blackout. Admittedly State Penn's white out looks great on tv. The blackout... Meh. Scarlett Swarm, much better.
If it's a formal event, yes?
Get the youth XL, you'll look huge.
Who cares? ESPiN is trash...
USC NW Tenn to cover in a pseudo rivalry game despite being hot garbage Wish Ole Miss OSU 56-10 A&M BYU TX ND Digging the home field underdogs this week
Put that money on Northwestern or Wiscy, if you can shower afterwards. I like ND to cover tho.
What is really "amazing" is the way Alabama's bye weeks always magically coincide with the week before their toughest opponents (I include the annual I-AA laughter the week before Auburn in there).
Some ladies like the curve ball...
That would be ballsy. He could get a swollen head.
There are hats and shirts... But I wouldn't say a lot. Sometimes it's best as a marketing practice to turn a blind eye at the fringe.
Waiting for TBDBITL to do script 'Thee'
Partly no one drafted... Partly no better recruits...
That's where I'd load up, esp if the line is over 17. I like Colorado straight up too.
I don't feel sorry for the owners because they are printing money... But surprised that they haven't gotten to the point of suing holdout players for breach of contract/lots of revenue. Maybe that would upset the Apple cart and make them have to guarantee all contracts...
*"remiss if I did NOT say..." --Grammar Greg